Joe Lieberman Drops Out of FBI Director Search Because of Trump's Lawyer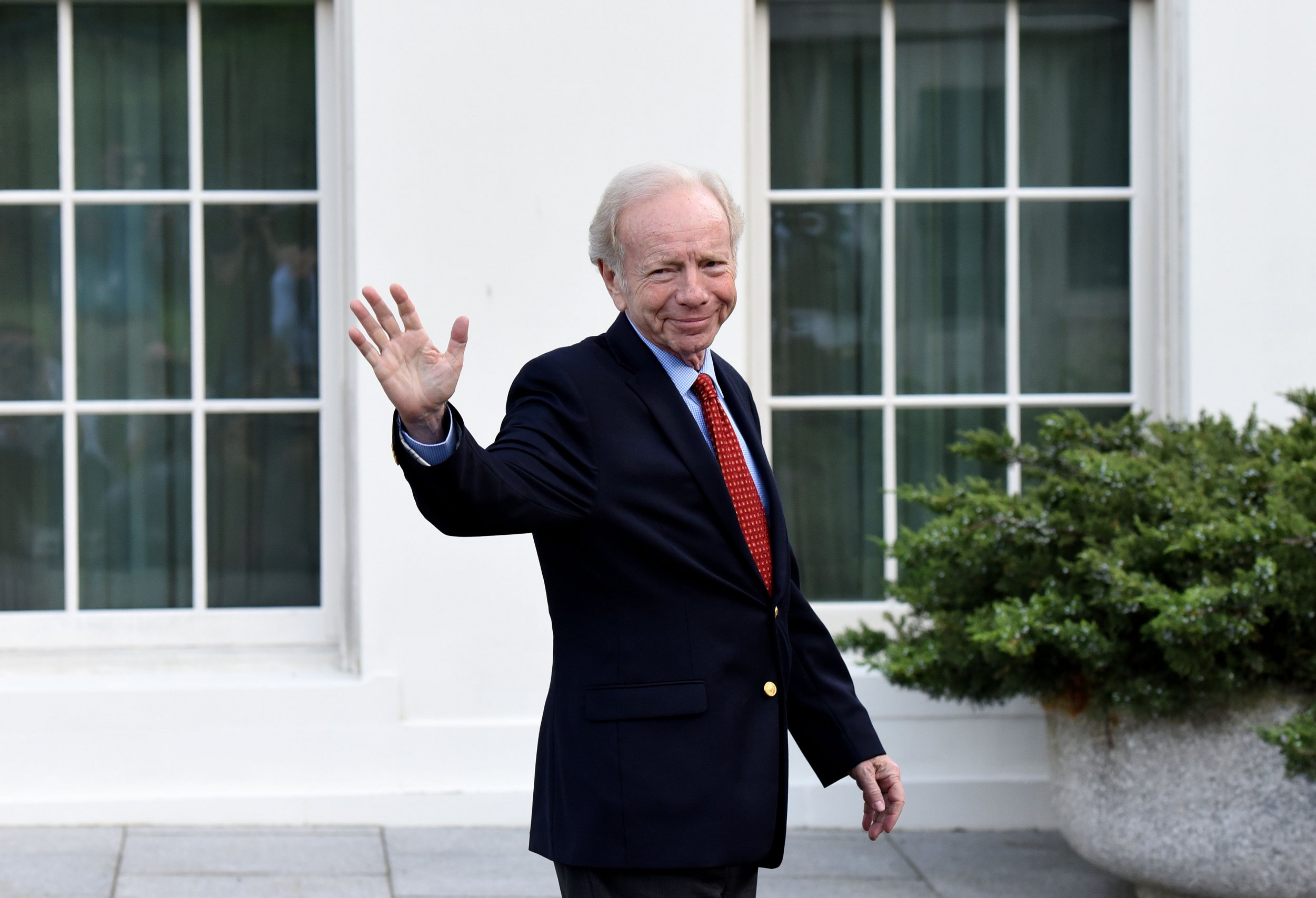 Former Senator Joe Lieberman, who a week ago was reportedly the front-runner to receive President Donald Trump's nomination for FBI director, has withdrawn from consideration for the post. In a letter to Trump dated Wednesday, Lieberman said the reason for his decision was that Trump had retained Marc Kasowitz, a partner at the firm where Lieberman works, which he believed could seem like a conflict of interest.
Lieberman, who represented Connecticut as a U.S. senator from 1989 to 2013, is senior counsel at Trump's go-to law firm, Kasowitz Benson Torres. Trump has retained Kasowitz for legal help in response to federal inquiries into Russia's meddling in the 2016 presidential election and possible collusion with Trump's campaign.
Related: Trump's search for a new FBI director has stalled
"I want first to thank you for inviting me to speak with you about the possibility of being nominated as the next director of the Federal Bureau of Investigation," Lieberman wrote to begin the four-paragraph letter, a copy of which Newsweek obtained. "Just being thought of for this position was a great honor because of my enormous respect for the men and women of the FBI and the critical and courageous work they do in protecting the American people from criminals and terrorists, and upholding our finest values."
The former senator went on to say he would withdraw his name from consideration for the nomination. "With your selection of Marc Kasowitz to represent you in the various investigations that have begun, I do believe it would be best to avoid any appearance of a conflict of interest, given my role as senior counsel in the law firm of which Marc is the senior partner," he wrote.
He closed the letter: "I wish you the very best in identifying the right person to lead this important law enforcement agency in the future."
Lieberman was not immediately available for comment. His dropping out of consideration is the latest sign that Trump's search for a person to replace James Comey, who he fired on May 9, is stalling. Besides Lieberman, at least five other contenders have withdrawn their names from consideration for the position: former Assistant United States Attorney General Alice Fisher, New York State Court of Appeals Associate Judge Michael Garcia, Senator John Cornyn, U.S. Representative Trey Gowdy and former FBI official Richard McFeely.
In addition to any appearance of a conflict of interest, Lieberman would have been the first former politician to lead the bureau in its nearly 109-year history, a fact lawmakers including Senator Claire McCaskill had said was worrisome. At 75, he would have been the oldest person in the director post, which carries a 10-year term.
Trump's nominating Lieberman also might not have not received overwhelming bipartisan support. Though he ran as a Democrat for vice president in 2000 and president in 2004, he ran for Senate as an independent in 2006 and has grown increasingly estranged from his former party. In recent months, he has become a vocal Trump supporter. "Frankly, I am surprised he would put his name out there at this moment in this environment and risk a very divisive nominating process that will further cement his negative perception with progressive [Democrats]," a political strategist who worked on Lieberman's 2004 presidential campaign told Newsweek prior to Lieberman's dropping out of FBI consideration. The strategist requested anonymity in order to speak candidly.
"I think for most Democrats, they've all but forgotten about him, which is why they're surprised that he's popped up again like this," Jim Manley, a longtime Democratic strategist who was senior communications adviser for former Senator Harry Reid, told Newsweek earlier in May. "If the administration actually thought that this was someone who could be confirmed with overwhelmingly bipartisan support, that's just yet another miscalculation…. There's not going to be a lot of Democrats willing to vote for the guy."
Republicans in the Senate, including Lieberman friends John McCain and Lindsey Graham, had praised the possibility of his receiving Trump's nomination.
Todd Stein, who worked as legislative director and general counsel in Lieberman's office from 2008 to 2011 and in various positions for the former senator starting in 2005, and who remains in touch with Lieberman, says his decision to write Wednesday's letter likely was not a hard one. "It is never hard for him to do what he thinks is the right thing, and if he felt like there was a potential apparent conflict of interest, that's why he made the decision that he did." He adds, "I think he feels very confident that had he been nominated, he would have been confirmed perhaps by a higher total number than people would think."
At least four people have not publicly withdrawn their names from consideration to lead the bureau: Acting FBI Director Andrew McCabe; former Congressman Mike Rogers; Fran Townsend, who was an adviser to President George W. Bush; and former Oklahoma Governor Frank Keating.
On Wednesday, representatives for McCabe, Rogers and Townsend declined to comment on whether they had withdrawn their names. Keating told Newsweek that he had not dropped out of consideration and that he had not heard from the White House since he met with Trump, Vice President Mike Pence and Attorney General Jeff Sessions on May 17 to discuss the post.
The Wall Street Journal first reported Lieberman's letter to Trump.