Joe Manchin, Buoyed by Polls, Raises new Concerns About Build Back Better Act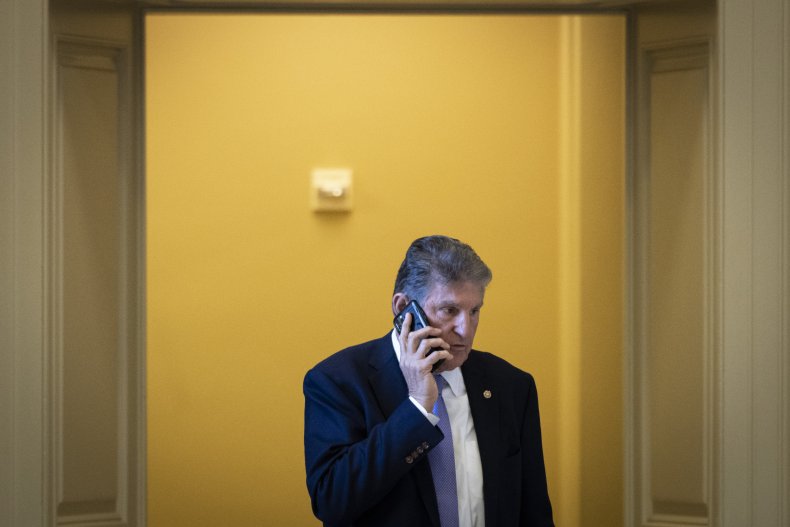 Favorable polling for Senator Joe Manchin (D-W. Va.) in his home state has raised new questions and concerns for Democratic hopes of passing President Joe Biden's social spending plan.
A poll released by MBE Research on Monday found that Manchin, a centrist who has frequently been viewed as a key obstacle to passing Biden's agenda in the Senate, had nearly double the approval rating of the president in West Virginia. On Tuesday, Manchin told reporters in Washington, D.C., that he was concerned the Build Back Better Act would not address rising inflation. The senator said that he shared the anger of his constituents over the increasing costs of groceries and gasoline.
"They're very much concerned, inflation has hit them extremely hard," Manchin said of West Virginia voters. "They have to drive ... and the cost, they see it every day. And every day they go to fill up is a dollar and a quarter more a gallon. So they're in $3.29, $3.39. A gallon of milk is now $4 in many places."
"And It's taking a toll," added Manchin. "And I hear it when I go to the grocery store, or if I go to the gas station. They say, 'Are you as mad as I am?' and I say, 'Absolutely.'"
West Virginia is the second-poorest state in the country, with a median household income of $48,850 and a poverty rate of just over 17.5 percent, according to World Population Review.
Public disclosures compiled by Open Secrets show that Manchin is in a far better financial position, having made between $591,950 and almost $1.5 million from a coal brokerage company he founded in the state during 2020 alone. He also made up to $5.1 million more from coal companies between 2011 and 2020.
The MRE Research poll found that 61 percent of West Virginia voters either "strongly" or "somewhat" approved of Manchin, while Biden's approval rating in the state was a dismal 33 percent. A 54 percent majority said that they "strongly" disapproved of Biden, with only 19 percent saying the same of Manchin.
Perhaps more worryingly for the president and others who hope to pass the Build Back Better Act, 61 percent of West Virginians said that Manchin "should oppose President Biden's multi-trillion dollar spending proposal." In contrast, 77 percent supported the $1.2 trillion bipartisan infrastructure bill that Manchin helped pass and Biden signed into law on Monday.
For Democrats to have any hope of passing the Build Back Better Act using the Senate's budget reconciliation process, they will require the vote of both Manchin and his fellow moderate Senator Kyrsten Sinema (D-Ariz.) since the chamber is split 50/50. The price tag of the bill has already been significantly reduced from $3.5 trillion to $1.75 trillion following demands from the moderates.
Newsweek reached out to the White House and Manchin's office for comment.