Joe Manchin Warns of Growing Distrust If There's No Bipartisan Cooperation on Voting Rights Bill
West Virginia Senator Joe Manchin (D) released a statement Thursday asking for bipartisan compromises to Democrats' landmark voting rights and anti-corruption bill, a measure that has alienated crucial Democratic votes over certain provisions.
Hailed by progressives as the most important piece of voting rights legislation since the Voting Rights Act of 1965, HR-1, or the For the People Act, is being met with pushback from Manchin and several others for its attempts to reduce the 60-vote threshold on the filibuster to 51. He called on Democrats to strike a balance rather than usher in a historic reform package along party lines.
"Even though our democratic institutions have survived foreign interference and a violent attempt to enter the United States Capitol during the counting of Electoral College votes, America's declining trust in the government and each other makes it harder to solve key problems," Manchin said in the statement. "That trust will continue to diminish unless we, as members of Congress, transcend partisanship to strengthen our democracy by protecting voting rights, implementing common-sense election security reforms, and making our campaign finance system more transparent."
Aside from the controversial changes to the filibuster, a provision raising the federal minimum wage to $15 an hour has divided Democrats, whose united support will be imperative to HR-1's passage in the 50-50 Senate. Arizona Senator Kyrsten Sinema has strongly opposed the elimination of the filibuster, and New Hampshire Senators Jeanne Shaheen and Maggie Hassan have expressed concerns with the provision as well.
The bill passed the House on March 4 with unanimous opposition from Republicans to the bill, which they largely see as interfering in the states' autonomy in how they handle elections.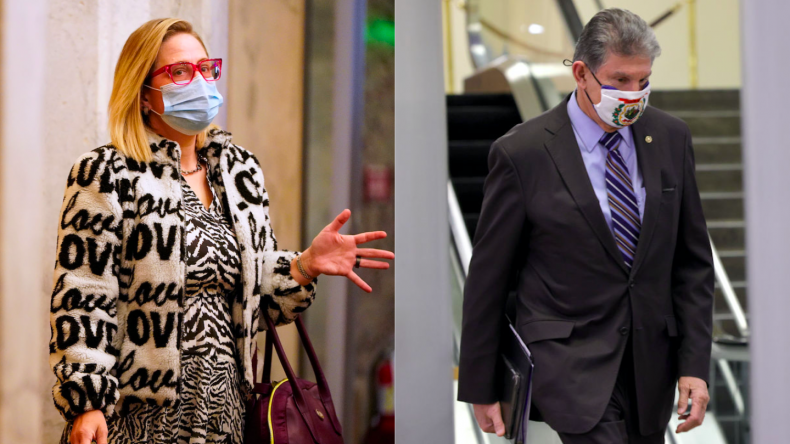 While Manchin did not name the specific provisions he feels should be amended, he pressed for focus on election security from foreign interference, campaign finance reform, and voter accessibility.
"As our lives become more complex and dominated by technology, the notion of restricting voting to a single 8 or 12-hour timeframe is not indicative of how most voters live. Expanding voter access to the polls by requiring at least fifteen days, including two weekend days, of early voting in every state will increase turnout and help individuals, especially those who have traditionally not been able to participate, cast their votes," he said.
He added that Congress can do more to uplift historically marginalized groups, such as those included in the Native American Voting Rights Act, through bipartisan collaboration.
Senate Majority Leader Chuck Schumer said during a press conference last week that a vote on HR-1 is soon to come, but with at least two thumbs down on the bill in its current iteration, whether it will live to see President Joe Biden's signature remains to be seen.
But to Manchin, what Democrats must do to keep their signature legislation breathing is crystal clear.
"Pushing through legislation of this magnitude on a partisan basis may garner short-term benefits, but will inevitably only exacerbate the distrust that millions of Americans harbor against the U.S. government. We can and we must reform our federal elections together – not as Democrats and Republicans, but as Americans to restore the faith and trust in our democracy," he said.