Joe Manchin Calls Senate Republicans 'Unconscionable' for January 6 Commission Vote
Democratic Senator Joe Manchin of West Virginia called his Republican counterparts "unconscionable" after GOP senators blocked the creation of a commission to invest the January 6 Capitol riot in a critical vote.
"Choosing to put politics and political elections above the health of our Democracy is unconscionable," Manchin said in a video shared to Twitter on Friday. "And the betrayal of the oath we each take is something they will have to live with."
His remarks come hours after a bill that would form an independent commission into the events of January 6 was filibustered in the Senate by a 54-35 vote, with only six Republicans breaking ranks to join every Democrat in favor of advancing the legislation.
The six Republican senators were Lisa Murkowski of Alaska, Susan Collins of Maine, Bill Cassidy of Louisiana, Ben Sasse of Nebraska, Mitt Romney of Utah and Rob Portman of Ohio—all of who received praise from Manchin for voting in favor of the bill.
"The failed vote in the Senate had six brave Republican votes, but that was four short of the 10 necessary to advance the legislation," Manchin said.
All but Portman voted to convict former President Donald Trump on his second impeachment charge in February. GOP Senator Patrick Toomey was not present for the vote but said in a statement that he would have supported advancing the bill.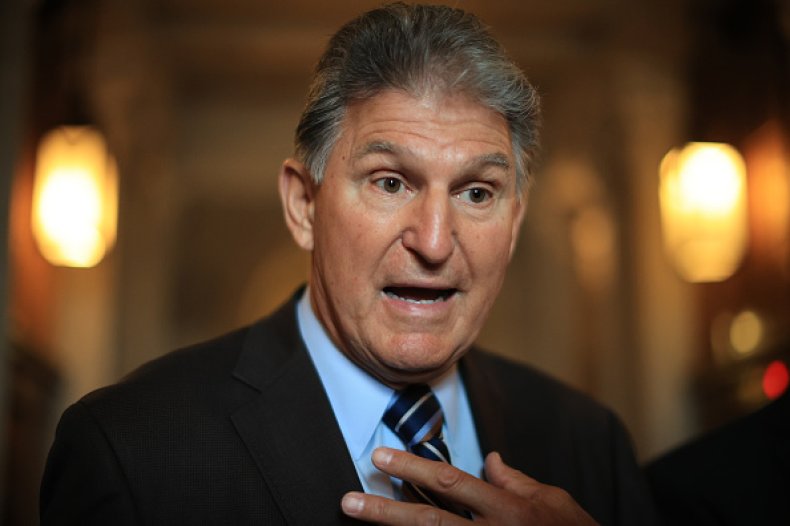 Ahead of the vote, Manchin had publicly urged his GOP colleagues to back the bill, noting that Democrats had already given Republicans concessions in the negotiations.
"Let me be clear: Democratic leadership in both the House and the Senate accepted the proposed changes from Republicans because a commission of this nature must be bipartisan to be successful," he said on Friday. "This commission passed the House with a bipartisan vote."
The senator apologized to Americans on behalf of Senate Republicans for failing to reach bipartisanship on handling a historic event.
"To the brave Capitol Police officers who risk their lives every single day to keep us safe, the Capitol and congressional staff that work around the clock to keep Congress running, even the reporters who work hard to deliver congressional news to the American people and every American who watched in horror as our Capitol was attacked on January 6th, you deserve better," he said.
Manchin continued, And I'm sorry that my Republican colleagues and friends let political fear prevent them from doing what they know in their hearts to be right."
Senate Majority Leader Chuck Schumer also slammed GOP senators for blocking the bill, saying, "Shame on the Republican Party for trying to sweep the horrors of that day under the rug because they're afraid of Donald Trump. Senate Republicans chose to defend the 'big lie' because they believe anything that might upset Donald Trump could hurt them politically."