Joe Manchin and Chris Cuomo Spar Over Filibuster in Fiery Interview
Democratic Senator Joe Manchin and CNN host Chris Cuomo sparred over the filibuster and the threat of Republicans blocking the White House agenda during a fiery interview on Wednesday night.
During the one-to-one, Manchin and Cuomo disagreed over whether it was necessary to curb the tactic, which makes it almost impossible for anything less than a supermajority of 60 senators to pass legislation in the upper chamber.
The West Virginia senator indicated, however, that he would be willing to have a discussion about the future of the Senate filibuster if the GOP voted down a bill that had bipartisan approval and amendments.
Speaking to CNN's Cuomo Prime Time, Manchin said: "I have faith democracy will survive. But it can only survive as the republic that we know … if there's a two-party system, at least a two-party system. But also a Senate that has minority input."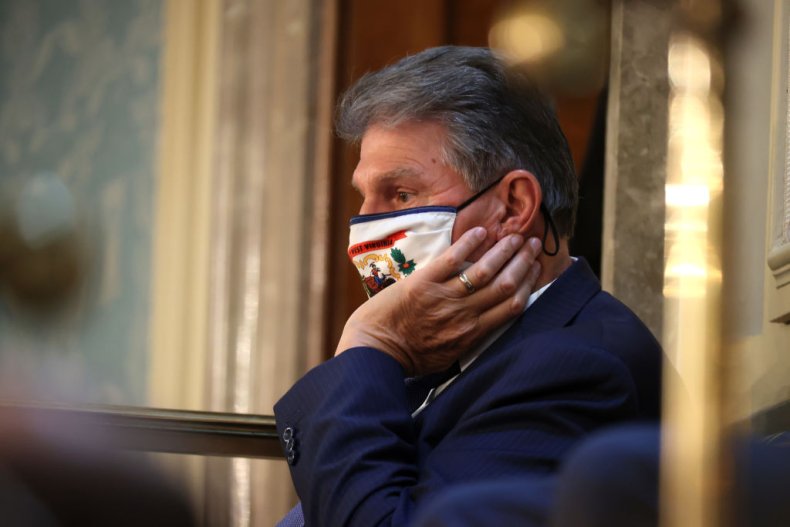 He added that there were Republicans who wanted to make "something happen" under the Joe Biden administration and were willing to work with Democrats.
The CNN host then asked Manchin about his opposition to eliminating or weakening the filibuster.
"I'm just saying, senator, right now, you have infrastructure, you have needs for families, you have a lot of gross deficits that you're dealing with," Cuomo said. "There's a chance that you get none of it passed. Forget about background checks or anything like that…"
Sen. Manchin interrupted and said: "Let's see what we've already done, Chris. Look what we've done: $1.9 trillion. Look at what we did last year, all in a bipartisan way. Look at what we did this year. We didn't do it in a bipartisan way, but we did it because it needed to be done with the pandemic we had."
"But you didn't do it bipartisan," Cuomo replied.
"No, we had a process of bipartisanship to a certain extent…" Manchin said, before Cuomo interjected that there had been "no votes" from the GOP benches.
The CNN host added: "As you know, you went through reconciliation because they weren't going to work with you on it. [Mitch] McConnell had it locked down."
Manchin countered that the upper chamber had almost unanimously backed an anti-Asian hate crime bill in April.
Cuomo also asked the senator if he would reconsider how to get President Biden's infrastructure plans passed if Republicans opposed them in the Senate. Manchin said he would be willing to have "another discussion" if the GOP refused a package in which everyone had had input and adjustments had been made accordingly.
When he went on to talk about how Biden had achieved a lot in 100 days, Cuomo fired back: "But not with them. Not with them."
Manchin replied: "Basically, he got more done. He's put a plan out there and he got more done."
The CNN host repeated that none of those legislative wins had been thanks to Republican votes.
The pair then rowed over remarks made by Senate Minority Leader Mitch McConnell, indicating that the Republican caucus' aim was to put roadblocks in front of Democratic lawmakers and the White House.
Speaking to reporters on Wednesday, McConnell said his party was "100 percent" focused on "stopping" the administration and argued that a "narrow majority" of Democrats in the Senate threatened to turn America into a socialist country.