Sen. Joe Manchin (D-W. Va.) says attempts to eliminate fossil fuels will make climate change "worse" while condemning a key provision of the Democratic infrastructure bill.
Manchin told CNN that he was "concerned" about language targeting fossil fuels shortly after attending a meeting discussing the plan with fellow Democrats on Wednesday. The moderate Democrat from coal-producing West Virginia, who has frequently been accused of obstructionism by progressives in his party, took issue with "the climate portion" of the $3.5 billion proposal.
"If they're eliminating fossils, and I'm finding out there's a lot of language in places they're eliminating fossils, which is very, very disturbing, because if you're sticking your head in the sand, and saying that fossil [fuel] has to be eliminated in America, and they want to get rid of it, and thinking that's going to clean up the global climate, it won't clean it up all," Manchin said. "If anything, it would be worse."
Democrats are hoping to push the bill through Congress and onto the desk of President Joe Biden using the Senate's budget reconciliation process. The strategy would allow them to pass the proposal without any support from Republicans. However, Manchin's approval of any such plan would be crucial since Democratic votes would have to be unanimous. The upper chamber is evenly split, with Vice President Kamala Harris holding the power to break tied votes.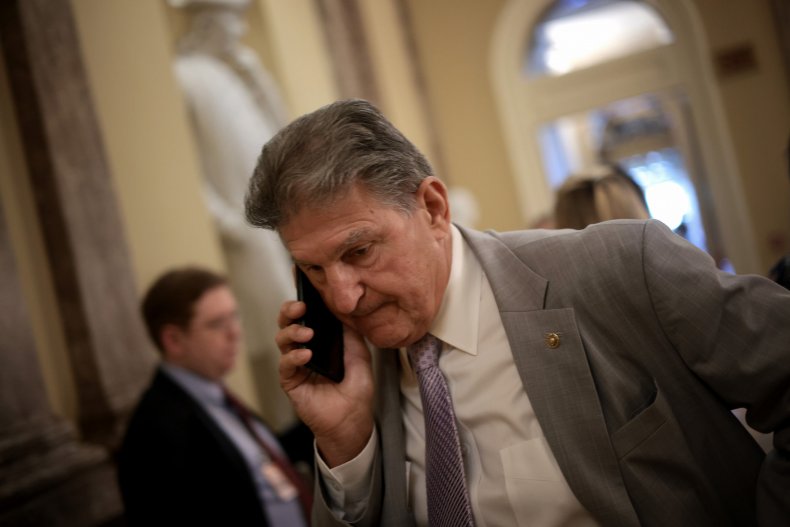 Despite Manchin's remarks, an overwhelming majority of scientists agree that eliminating fossil fuels could help to mitigate, not increase, the potentially devastating effects of climate change. Burning fossil fuels releases carbon dioxide into the atmosphere, causing temperatures to rise by trapping heat in the atmosphere.
Manchin made similar comments to The Washington Post after Wednesday's meeting, while clarifying that he believes that working to eliminate fossil fuels could worsen climate change because "there won't be another country who will step to the plate to do the research and development that will fix the emissions that are coming from fossil right now."
Rep. Jamaal Bowman (D-N.Y.), a progressive proponent of the Green New Deal, denounced Manchin's remarks. Last month, Bowman dubbed Manchin "the new Mitch McConnell" over his refusal to eliminate the filibuster or back the For the People Act, the massive Democratic voting rights bill.
"You have parts of the country that are reaching 118 degrees, parts of the country have never been that hot, recent storms on the east coast, massive flood and destruction of property — I mean, climate change is here and it's real," Bowman told The Post.
"I encourage my colleagues to be on the right side of history — this about their legacy, and all of our legacies: how do we respond to the climate crisis that's right in front of us?" added Bowman. "History will tell the story of who answered that question correctly."
Newsweek reached out to Manchin's office for comment.