Joe Manchin Deals Blow to Democrats' Stimulus Plan, Won't Support It Without Bipartisan Agreement
Democratic Senator Joe Manchin said Tuesday he is opposed to passing an economic relief bill without bipartisan agreement.
Asked by reporters if he would support a budget resolution to pass the legislation, Manchin said, "I will only support moving in a bipartisan way." He added, "That means an open process. I've been very clear about that."
Manchin also released a statement on his stance, where he said, "I will vote to move forward with the budget process because we must address the urgency of the COVID-19 crisis. But let me be clear—and these are words I shared with President Biden—our focus must be targeted on the COVID-19 crisis and Americans who have been most impacted by this pandemic."
"The President remains hopeful that we can have bipartisan support moving forward. I will only support proposals that will get us through and end the pain of this pandemic," the statement added. "For the sake of the country, we must work together with laser focus to defeat the COVID-19 crisis, support our neighbors and communities who continue to suffer and get back to a more normal life as quickly as possible."
Manchin's comments come just a day after Democratic leaders in the House and Senate filed a joint budget resolution in an effort to pass President Joe Biden's $1.9 trillion coronavirus relief plan without any Republican votes. The resolution was filed by House Speaker Nancy Pelosi and Senate Majority Leader Chuck Schumer.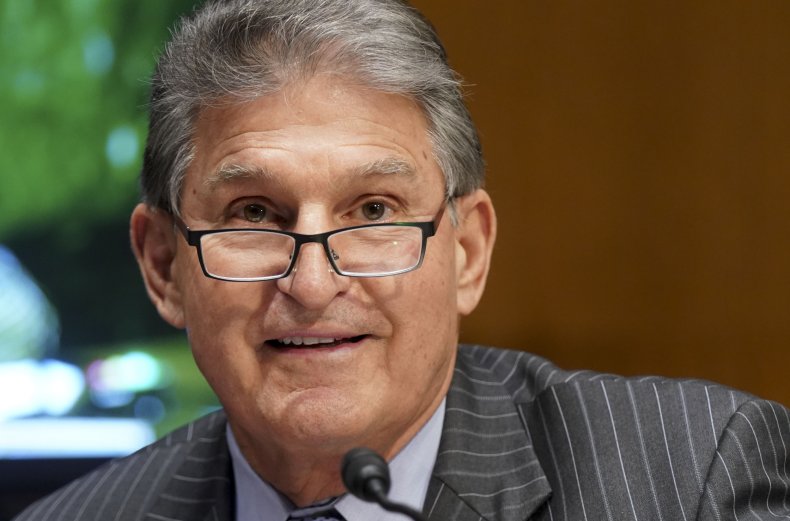 "Congress has a responsibility to quickly deliver immediate comprehensive relief to the American people hurting from COVID-19," Schumer and Pelosi said in a joint statement. "The cost of inaction is high and growing, and the time for decisive action is now."
But to pass the bill without bipartisan support, Democrats will need all members of their party to vote in favor.
Speaking with The Hill, Manchin also signaled his opposition to increasing the minimum wage to $15 per hour, which is part of Biden's plan.
"No, I'm not [in favor of the wage increase]. I'm supportive of basically having something that's responsible and reasonable," Manchin told The Hill.
While Manchin expressed his opposition to raising the minimum wage and passing the stimulus without bipartisan support, just last week Senator Dick Durbin confirmed that discussions were underway to pass the $15 minimum wage bill without any GOP support.
"It's being discussed. I don't know that a final decision has been reached," Durbin told The Hill while speaking about increasing the minimum wage through the budget reconciliation process.
Newsweek was directed to Manchin's statement after reaching out to his office for comment.