Joe Manchin Dodges When Fox News Host Asks if He Identifies as Democrat
Senator Joe Manchin declined to say whether or not he still identifies as a Democrat when asked about his political future by Fox News host Maria Bartiromo on Sunday.
Manchin, a centrist Democrat from West Virginia, has found himself at odds with members of his own party in recent years following several clashes over President Joe Biden's key legislative priorities. Manchin has opposed some of the president's policies, including a massive social spending bill, drawing backlash from more liberal Democrats.
Most recently, Manchin voiced opposition to a Biden administration rule that would allow Wall Street firms to base their investment strategies for Americans' retirement funds on social issues, rather than solely profits.
Speculation grew by some that Manchin could leave the Democratic Party and change his party affiliation to independent after Senator Kyrsten Sinema, of Arizona, registered as an independent after high-profile skirmishes with other Democrats over policy.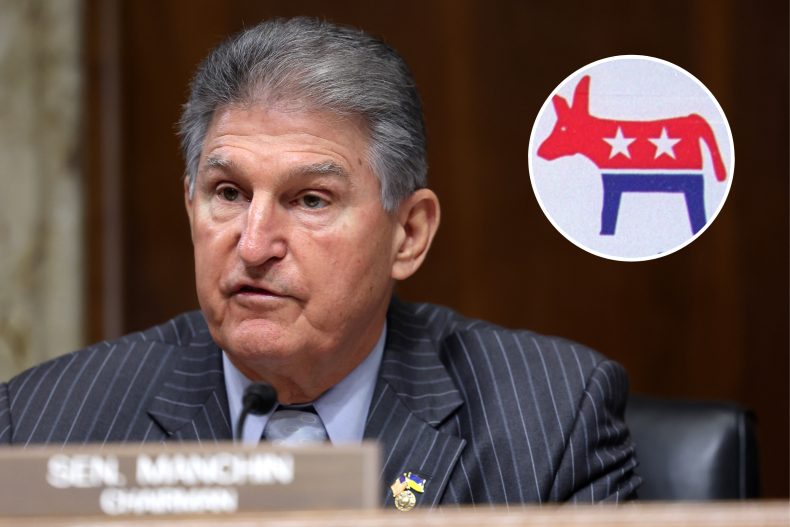 As Manchin weighs whether to run for reelection in a state that heavily backed former President Donald Trump in 2020, he appeared on Fox News' Sunday Morning Futures to discuss his priorities for the next few years.
During the interview, Bartiromo pressed the senator on whether he still identifies as a Democrat following these high-profile debates.
"I identify as an American. I'm an American through and through," Manchin replied. "My main concern, to all of your viewers, is how do we bring this country together. How do we make it work? How do we make Democrats and Republicans become Americans again, and not just party affiliates? This is what's happening right now. We're pushing people further apart, making people take a side, and rewarding for bad behavior."
During the first two years of the Biden administration, Democrats held only 50 votes—giving Manchin, long viewed by some as the most moderate Democrat in the chamber—substantial influence over crafting legislation and over judicial nominees. However, Democrats flipped a Pennsylvania Senate seat during the midterm elections, stripping at his influence.
Manchin's Chances of Winning Reelection in 2024
Despite clashes, Democrats are banking on Manchin running for reelection, though he has not said whether he plans to run again for another Senate term. West Virginia is one of the most conservative states that has reliably voted for Republicans in recent years. Experts expect that Manchin would more-than-likely be replaced by a Republican, and holding this seat could be key to Democrats retaining Senate control in 2024.
Manchin won by only about 3 percentage points during his 2018 election.
One recent poll found Manchin having a shot at overcoming West Virginia's partisan lean to win reelection in 2024. The Senate Leadership Fund poll, conducted by The Tarrance Group from February 5 to 7, found Manchin leading West Virginia Attorney General Patrick Morrisey by 10 points and GOP Representative Alexander Mooney by 15.
However, Governor Jim Justice, a Republican, held a 10 point lead against Manchin, according to the poll, which surveyed 609 likely voters and had a margin of error of 4.1 percentage points, according to Politico.
Newsweek reached out to Manchin's office for comment.