Joe Manchin Has Often Been at Odds With Dems, but His Vote Has Never Packed This Much Wallop
As a conservative Democrat, Senator Joe Manchin (D-W.Va.) has often been at odds with his own party in the Senate throughout his career, but his vote has never wielded as much power as it does right now.
The senator represents a key tally in the deadlocked Senate for President Joe Biden's Build Back Better plan, which would allocate $1.75 trillion for social spending, welfare programs and clean-energy initiatives.
The 74-year-old Manchin has been West Virginia's senior senator since 2010, and after he pulled his support of the agenda, received a fury of backlash from Democrats after previously committing to the president to help pass the legislation.
Manchin announced Sunday on Fox News that he simply couldn't vote for the legislation because he "cannot explain the sweeping Build Back Better Act in West Virginia."
One expert told Newsweek that Manchin's decision to walk back a "yes" stance on the bill was puzzling, and he could end up alienating the shrinking number of West Virginia registered Democrats who have always supported him. This could prove troublesome for Manchin as he looks toward his 2024 campaign.
John C. Kilwein, associate professor of political science at West Virginia University, told Newsweek in regards to Manchin voting "no" that "I don't see really what he gained from it ... you can see palpable anger from the White House and from you know, a significant portion of the Congress."
"I think the group he's most alienated are those progressives and committed Democrats in West Virginia because this really does seem like a slap in the face," Kilwein continued.
"I don't really see a way he can do it," Kilwein added when asked if Manchin could win re-election in 2024 without the support of West Virginia Democrats. "The registration numbers have definitely gotten swung in favor for the Republicans and independents but there's still you know, his margin was so tight last time."
"So it's not like he can run the table on the right side of the spectrum and he's gonna need Democratic support."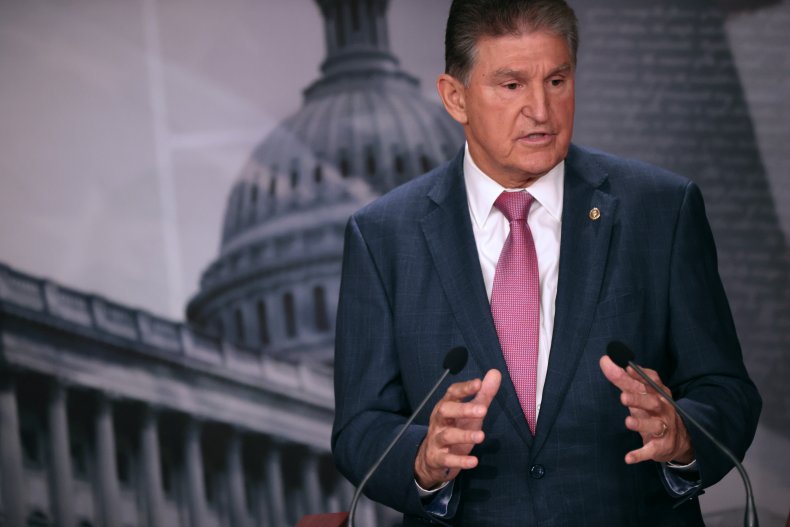 However, Tom Susman, a partner at West Virginia's TSG Consulting, believes that Manchin may not see much of a blowback due to the state's lack of a significantly organized Democratic Party. Indeed, West Virginia has been swept by a GOP wave over the past few decades, and is now considered a deeply red state.
"There's not a really well organized Democratic Party in West Virginia, so I don't know that impacts him within the party structure given that he's really a party of one right now being Joe Manchin in terms of being the only statewide elected Democrat," Susman told Newsweek. "For the Dems, the risk he runs is that those folks either don't go vote in the 2024 election or they just skip over it and they just don't see a difference between him and Republicans."
"For people in West Virginia, it's Joe Manchin all the time ... so if it's about name ID, he's got it. Now how that translates to votes in three years? I have no idea," Susman added.
Despite Manchin asserting that he could not explain a vote for Build Back Better to the people of his state, recent polling has found that a majority of West Virginians support either all or part of the president's agenda.
A September survey of West Virginians by labor constituency BlueGreen Alliance reported that many likely voters in that state supported many of the provisions put forth by the Build Back Better plan.
This includes 77 percent support for "rebuilding America's water infrastructure to have cleaner, safer water," and 73 percent support for "strengthening and supporting America's human services workforce, including care providers, front-line healthcare workers, and educators," according to the poll.
The front page of the Charleston Gazette-Mail published a headline on Sunday stating simply, "We need this so bad" regarding the Build Back Better package.
Additionally, Representative Ilhan Omar (D-Minn.) tweeted Sunday that "West Virginia is 50th in public health. 50th in childcare. 48th in employment ... this has nothing to do with [Manchin's] constituents. This is about the corruption and self-interest of a coal baron."
Newsweek has reached out to Manchin's office for comment.
Alexandra Hutzler contributed to this report.