Joe Manchin Only Democrat to Join Republicans in Vote to Ban Critical Race Theory Funding
Senator Joe Manchin of West Virginia was the only Democrat to vote early Wednesday in favor of blocking federal funding from being used in the teaching of critical race theory in prekindergarten and K-12 schools.
The vote was held shortly after midnight Wednesday to decide on an amendment introduced by Arkansas Senator Tom Cotton during the Senate's budget resolution negotiations for the 2022 fiscal year.
Aside from Manchin, the 49 other senators who voted in favor of the amendment were all Republicans. Every other Democrat in the Senate voted against the amendment's passage, with only one senator—Republican Mike Rounds of South Dakota—not voting. The amendment passed 50-49.
Attention has focused frequently on Manchin because of his swing vote potential this year after Democrats gained a majority in the Senate. With 48 Democratic senators and two independents who caucus with the Democrats, Vice President Kamala Harris can break ties when they occur in the chamber.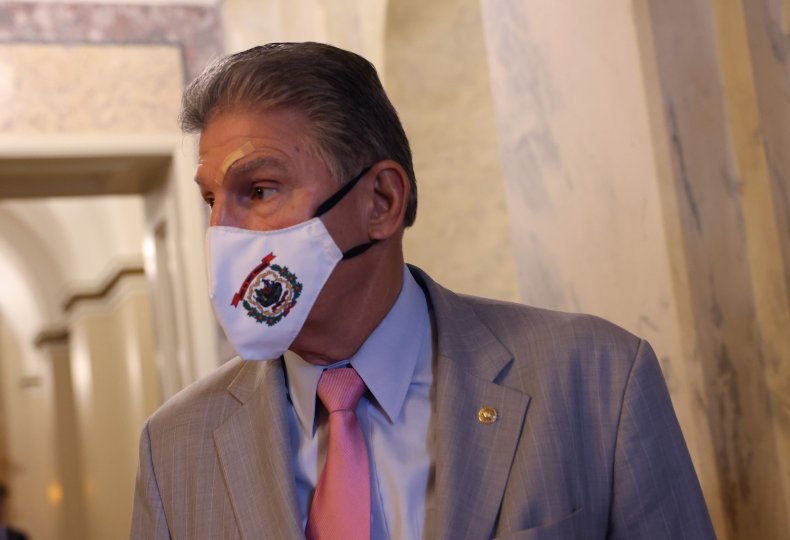 Debate over critical race theory has divided politicians in the nation's capital and throughout the U.S. in recent months. The idea behind it is to consider American history "through the lens of racism," according to The Associated Press. A handful of states with Republican governors have taken steps to restrict critical race theory teaching in schools, the Associated Press reported.
The amendment was intended to block federal funding for the promotion or affirmation of critical race theory teaching in prekindergarten, elementary and secondary educational programs, according to a Tuesday press release from Cotton's office.
"This amendment will ensure that federal tax dollars are not abused to promote CRT in our schools," says a one-sheet provided by Cotton's office.
The amendment's official stated purpose is to "establish a deficit-neutral reserve fund relating to prohibiting the teaching of critical race theory in prekindergarten programs and elementary and secondary schools."
While introducing his amendment on the Senate floor, Cotton said the country's future "depends on the next generation of kids loving America and loving each other." He described critical race theory as "an un-American ideology" and suggested those who support it "want to teach our children that America is not a good nation but a racist nation."
"Those teachings are wrong, and our tax dollars should not support them," Cotton said. "My amendment will ensure that federal funds aren't used to indoctrinate kids as young as pre-K to hate America."
Before his amendment passed in the Senate, Cotton's office identified the senator as "a leader in the fight against critical race theory." Last month, he introduced a bill aimed at blocking federal funding from K-12 schools, colleges and universities that promote the teaching of critical race theory.
Newsweek reached out to Manchin's office for comment and will update this story with any response.