Joe Manchin Opens Door to Making Filibuster 'More Painful' to Use Amid Calls to End It
Senator Joe Manchin, a West Virginia Democrat, reiterated his unwavering support for keeping the Senate's contentious legislative filibuster rule in place, while suggesting that he may be open to making adjustments to how it can be utilized.
Manchin, a moderate, has repeatedly pushed back against calls to end the filibuster, which many Democrats believe is the only way to achieve President Joe Biden's policy agenda.
Under the current filibuster rules, most legislation needs at least 60 votes in the Senate to pass. With an evenly split Senate—50 to 50—and GOP lawmakers largely opposed to Biden's agenda, convincing 10 Republican senators to back Democratic bills seems like a nearly insurmountable obstacle. All 50 senators in the Democratic Caucus would need to support ending or modifying the filibuster for changes to be made.
Manchin, as well as Senator Kyrsten Sinema, an Arizona Republican, have both publicly voiced their opposition to ending the legislative. Biden has voiced support for maintaining the filibuster as well.
But Manchin told Fox News Sunday this weekend that he thinks using the filibuster has become too "comfortable" and should be more "painful."
"The filibuster should be painful. It really should be painful. We've made it more comfortable over the years, not intentionally—maybe just it evolved into that. Maybe it has to be more painful. Maybe you have to stand there. There's things we can talk about," Manchin said.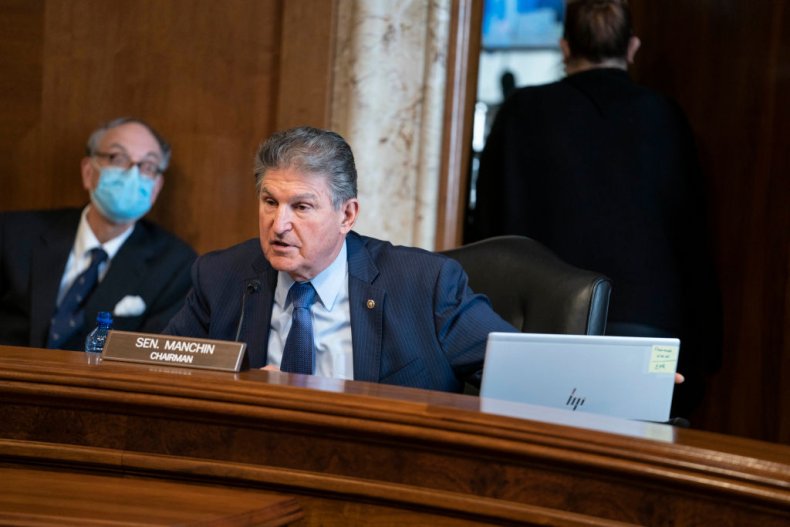 However, the Democratic senator also defended the importance of the filibuster. He argued that the Senate should continue to be required to take into consideration the views of the minority party.
"I'd make it harder to get rid of the filibuster. I'm supporting the filibuster, I'm going to continue to support the filibuster," Manchin said. "I think it defines who we are as a Senate. I'll make it harder to get rid of it, but it should be painful if you want to use it."
Historically the filibuster was not so frequently used to block the passage of legislation, but that has changed in the past couple decades. A 2020 Brookings Institution report found that more filibuster cloture (or the closing of debate) motions have been filed in the past two decades than in the preceding 80 years. Many analysts see this as a key reason behind constant partisan deadlock in the Senate.
Many progressive Democrats have called for ending the filibuster, as they see this as the only way to successfully pass key legislative priorities such as the Raise the Wage Act to increase the federal minimum wage to $15 per hour; the Equality Act to ban discrimination against LGBTQ individuals; and the For the People Act to shore up and expand voting rights. Although these bills have all passed in the House of Representatives, they currently look unlikely to pass in the evenly split Senate barring some modification of the filibuster or terminating the legislative rule entirely.
Experts have outlined different ways in which the filibuster could be adjusted without ending it completely, although many caution that changes would likely lead quickly to the legislative rule coming to an end entirely. Some have suggested re-implementing a so-called "talking filibuster," which requires senators pushing the measure to remain on the floor for it to continue. This would be expected to make it difficult to sustain an indefinite filibuster and could lead to more compromise.
Newsweek reached out to Manchin for further comment, but did not immediately receive a response.