Joe Manchin, a Pariah Among DC Democrats, Isn't Winning With Republicans in West Virginia
Sen. Joe Manchin, is the odd man out among Democrats in Congress and the lone statewide Democrat in West Virginia doesn't have a stronghold on voters in his heavily Republican home state, either.
Manchin built his success as a moderate Democrat in an increasingly red state by walking a political tightrope that didn't always adhere to party principles. His penchant for bipartisanship, disdain for gutting the filibuster and opposition to the For the People Act riled his colleagues in Congress, but for Republicans in West Virginia, Manchin's pushback to the Democratic agenda doesn't go far enough.
"Just because he opposed the For the People Act doesn't get him much credit with republican voters from my perspective," John Findlay, executive director of the WVGOP told Newsweek. "We have bigger issues than just this one particular bill that we really wanted to see Joe Manchin take a stand on."
Although Manchin's been seen as a fly in the ointment of Democrats' plans, he's voted with President Joe Biden 100 percent of the time, according to FiveThirtyEight. That includes votes to confirm Biden's nominees, some of whom support the president's push to greatly reduce fossil fuels and ban fracking.
Findlay called it an "assault on our way of life" in West Virginia and said Republicans will continue to pressure Manchin to "vote the right way." At the end of the day, Manchin, who is up for reelection in 2024, is not a conservative, Findlay said, and voters in West Virginia are ready for a "real Republican" to represent them.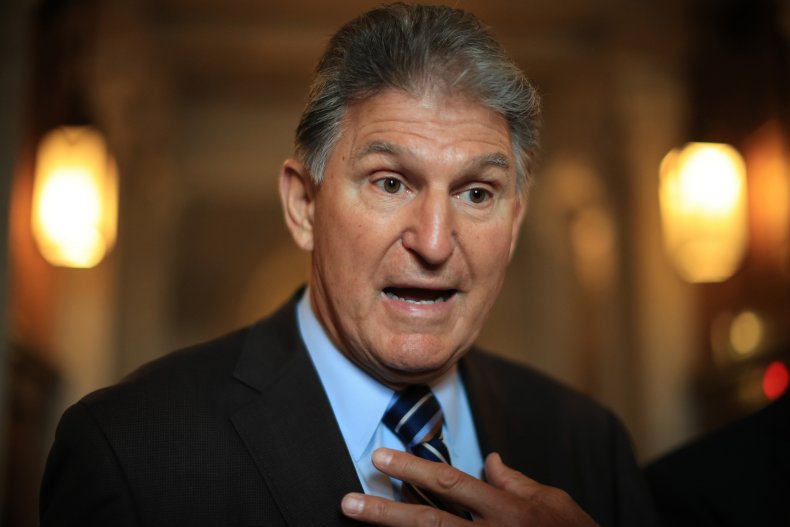 In May, a bipartisan group of 54 of the 55 county clerks in West Virginia sent Manchin, as well as Sen. Shelley Moore Capito, a Republican, a letter urging them to reject the For the People Act. The group included 17 Republicans, who, Hoppy Kercheval, host of MetroNews Talkline, a statewide radio show in West Virginia, said, are likely to be pleased with Manchin's opposition.
Manchin rejected the idea that protecting the right to vote should be done along party lines in an op-ed for The Charleston Gazette-Mail. He criticized legislators for using the issue to seek "partisan advantage" and said he opposed the For the People Act because passing it in a partisan fashion would only deepen political divides.
Gutting the filibuster, which would allow Democrats to pass measures without Republican support, would eliminate the "frustrating and slow" process of passing legislation, according to Manchin. But, the long-time opponent to the reform, said it would also allow one party to "dictate and demand everything and anything it wants, whenever it wants."
"I have always said, 'If I can't go home and explain it, I can't vote for it.' And I cannot explain strictly partisan election reform or blowing up the Senate rules to expedite one party's agenda," Manchin wrote.
The Charleston Gazette-Mail was inundated with responses to Manchin's op-ed and the vast majority reflected negatively on the senator, according to an individual who asked to remain anonymous because they weren't authorized to speak on the topic. One letter to the editor called Manchin "cowardly" and speculated he was "reading the tea leaves" because nearly 70 percent of West Virginians voted for former President Donald Trump.
However, Kercheval hasn't seen overwhelming support for Manchin among Republicans. Some callers expressed appreciation that Manchin is "going to stick to his guns" on these issues, Kercheval said, but another group of conservatives are "looking at this wearily." They're waiting to issue a ruling on Manchin until they see how he actually votes.
Manchin won a special election in 2010 with 54 percent of the vote and then was elected to a full term in 2012 with 61 percent of the vote. His most recent campaign proved to be the closest of his career and in 2018, he only won by about three points, an indication of the apathy the senator faces at home.
"He's been the one Dem in the state who's shown he can get reelected in a deeply red state," Mike Plante, a Democratic consultant in West Virginia, told Newsweek. "I think he continues to appeal to a lot of West Virginians but the state has moved farther to the right and it's gotten more tribal and hyper-partisan and the letter after your name means a lot more to most people than other things."