Joe Manchin's Prayers Were Answered
Weeks before American voters headed to the ballot for the November 8 midterm elections, Democratic Senator Joe Manchin expressed one wish: for the 50-50 tie between Democrats and Republicans in the Senate to come to an end.
"I'm just praying to God it's not 50-50 again," the West Virginia senator told NBC News on September 29. "I'd like for Democrats to be 51-49. But, whatever happens, I hope it's not a 50-50."
In the interview, the centrist Democrat senator added that he was happy to relinquish his power as kingmaker, talking about it in terms of "it is what it is. You've got to do your job."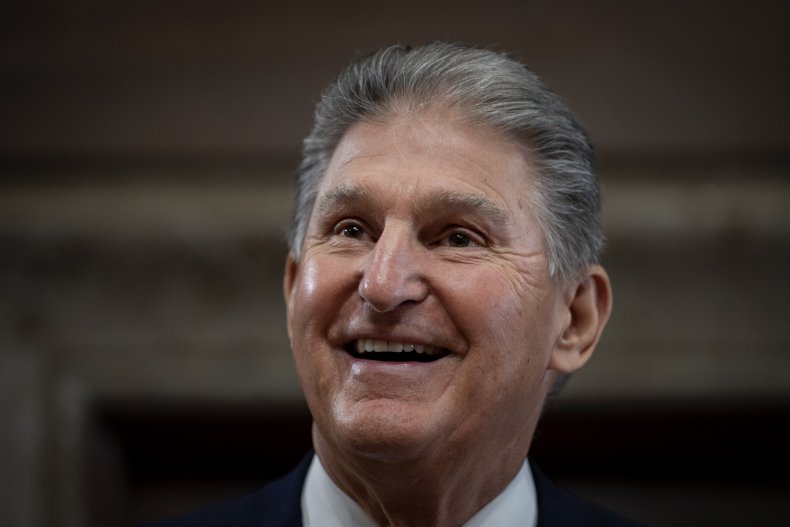 Manchin's prayer was answered, as the victory of incumbent Senator Raphael Warnock in the Georgia Senate runoff on Tuesday night gave Democrats a 51-49 majority after two years of the highest chamber being split 50-50 between the two parties. It was the longest evenly divided Senate in history.
However, while this was exactly what Manchin was hoping for, the senator has also now lost his power to shape Democrat legislation. Over the past two years, Manchin often acted as kingmaker, casting the decisive vote on a range of Democratic priorities—including Biden's climate spending package.
The $369 billion package received Manchin's backing only after President Joe Biden's administration made significant concessions to the requests of the West Virginia senator, whose family owns a coal-trading business. Manchin's vote was necessary to pass the package, as no Republican supported the measure.
The Inflation Reduction Act of 2022—rather less than the $3 trillion deal that had been proposed—aims to reduce carbon emissions by roughly 40 percent by 2030. The legislation, effective from August 16, 2022, also targets lower health-care costs and offered a down payment on deficit reduction to fight inflation.
Manchin had stated that he would support only the bills about health care and pharmaceutical prices because he had concerns over how inflation would affect the climate spending.
The initial climate bill proposed by the Biden administration had been written in such a way as to receive Manchin's approval, but the result was still celebrated by the government, weeks after Senate majority leader Chuck Schumer had declared the bill "dead."
The 51-49 Senate majority will give Democrats much more control of the upper chamber and likely ease the passing of any contentious moves by the senators.
On the other hand, a Republican majority in the House is expected to make the passage of measures pushed forward by the Biden administration a little harder in the coming months.