Just minutes after he released a statement announcing that he would vote "yes" for Supreme Court nominee Brett Kavanaugh, Democratic Senator Joe Manchin was shouted down by protesters as he tried to explain the reason behind his vote.
"Shame, shame, shame!" shouted some of the female protesters who besieged the Hart Senate Office Building in recent days in opposition to the Supreme Court nominee. "Shame on you!" they said, in addition to "Look at us, look at us!"
Manchin announced that he would be voting for President Donald Trump's nominee just moments after Republican Senator Susan Collins appeared on the Senate floor to announce that she would cast her vote for Kavanaugh on Saturday. Collins's vote effectively gave Republicans the 50 votes they needed, together with Vice President Mike Pence's tie-breaking vote, to confirm Kavanaugh to the Supreme Court.
The timing of Manchin's announcement was widely criticized, coming seconds after it was clear his vote would no longer be the decisive one that put Trump's nominee on the highest court in the land.
Manchin is up for re-election in November in West Virginia, a state Trump won by 42 points in 2016. Polls indicated that Manchin is locked in a close race with Republican West Virginia Attorney General Patrick Morrisey.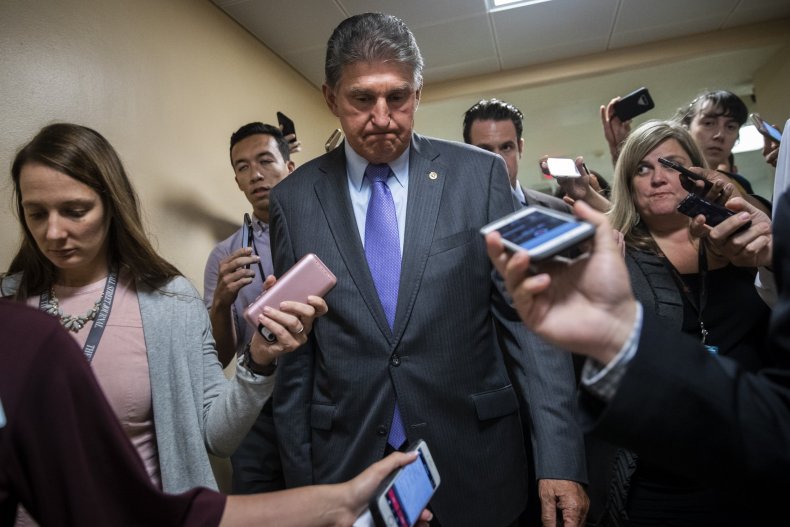 Already controversial over fears expressed by many that Kavanaugh would support overturning Roe V. Wade, the landmark legislation legalizing abortion, Kavanaugh's nomination became even more fractious when allegations emerged of sexual misconduct from three women. Last week, California professor Christine Blasey Ford testified before the Senate Judiciary Committee that Kavanaugh sexually assaulted her at a high school party in the 1980s.
Kavanaugh gave a furious response to the allegations, claiming they were a part of a Democratic hit job manufactured as revenge for the 2016 election and on behalf of the Clintons.
While he said he had concerns, Manchin said he saw enough in Kavanaugh to vote to confirm him.
"I have reservations about this vote given the serious accusations against Judge Kavanaugh and the temperament he displayed in the hearing," Manchin said in his statement. "And my heart goes out to anyone who has experienced any type of sexual assault in their life. However based on all the information I have available to me, including the recently completed FBI report, I have found Judge Kavanaugh to be a qualified jurist who will follow the Constitution and determine cases based on the legal findings before him. I do hope that Judge Kavanaugh will not allow the partisan nature this process took to follow him onto the court."