Joe Manchin Raises New Questions About Social Spending Bill
Senator Joe Manchin implored fellow Democrats on Monday to hold an immediate vote on the bipartisan infrastructure bill as negotiations over President Joe Biden's social spending package continue, with Manchin not yet backing that bill.
The $1.2 trillion infrastructure framework—also known as BIF, for Bipartisan Infrastructure Framework—passed the Senate in August. But the legislation has been stalled in the House of Representatives as Democrats try to reach agreement on Biden's economic legislation.
"In my view, this is not how the United States Congress should operate," Manchin said at a news conference Monday. "The political games have to stop. Twice now the House has balked at the opportunity to send the BIF legislation to the president."
He continued, "It is time to vote on the BIF bill up or down and then go home and explain to your constituents the decision you made."
Progressives have threatened to tank the infrastructure bill unless Congress also votes on Biden's sweeping spending plan to expand the social safety net and combat climate change.
Manchin is a critical vote in the Senate as Democrats attempt to pass Biden's multitrillion-dollar spending bill via reconciliation, a legislative process that will allow the party to bypass the 60-vote filibuster rule.
"Holding this bill hostage is not going to work and getting my support for the reconciliation bill," Manchin said.
Manchin on Monday also raised new questions about the $1.75 social spending plan released by the White House last week. The West Virginia senator said he won't support the bill until there is "greater clarity" about the impact it will have on inflation and the national debt.
"For example, how can I in good conscience vote for a bill that proposes massive expansion of social programs when vital programs like Social Security and Medicare face insolvency and benefits can start being reduced as soon as 2026 in Medicare and 2033 in Social Security?" Manchin asked. "How does that make sense? I don't think it does."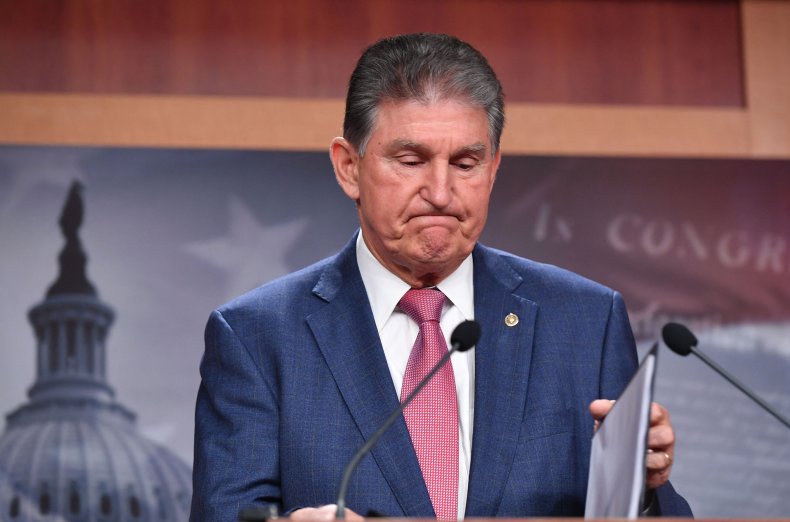 The White House said its plan will address all of the senator's concerns.
"Senator Manchin says he is prepared to support a Build Back Better plan that combats inflation, is fiscally responsible, and will create jobs," press secretary Jen Psaki said in a statement.
"The plan the House is finalizing meets those tests—it is fully paid for, will reduce the deficit, and brings down costs for health care, child care, elder care, and housing. Experts agree: Seventeen Nobel Prize-winning economists have said it will reduce inflation. As a result, we remain confident that the plan will gain Senator Manchin's support," Psaki said.
While not yet finalized, the outline released by the administration last week focuses on child care and education by providing universal, free preschool for all 3- and 4-year-olds in the country and limiting the price of child care to no more than 7 percent of a family's income for those earning up to 250 percent of the state median income.
The proposal also includes $555 billion to address the climate crisis.
Update 11/1/2021, 3:30 p.m. ET: This story has been updated with additional remarks from Senator Joe Manchin and a response from the White House.