Joe Manchin: Reconciliation Deal 'Not Going to Happen Anytime Soon'
Senator Joe Manchin said he doesn't think Democrats will reach a deal on a reconciliation framework by Friday—the deadline set just a few days ago by Majority Leader Chuck Schumer.
"This is not going to happen anytime soon, guys," Manchin told CNN's Ted Barrett on Thursday. "They're trying to get a meeting of the minds."
But the West Virginia lawmaker said he believed the party is making "good progress" as negotiations continue on the multi-trillion-dollar spending package.
"There's a lot of details," Manchin said. "Until you see the text and the fine print, it's pretty hard to make final decisions."
Democrats have been working for weeks to draft the reconciliation bill, a centerpiece of President Joe Biden's Build Back Better domestic agenda to expand the social safety net and address climate change.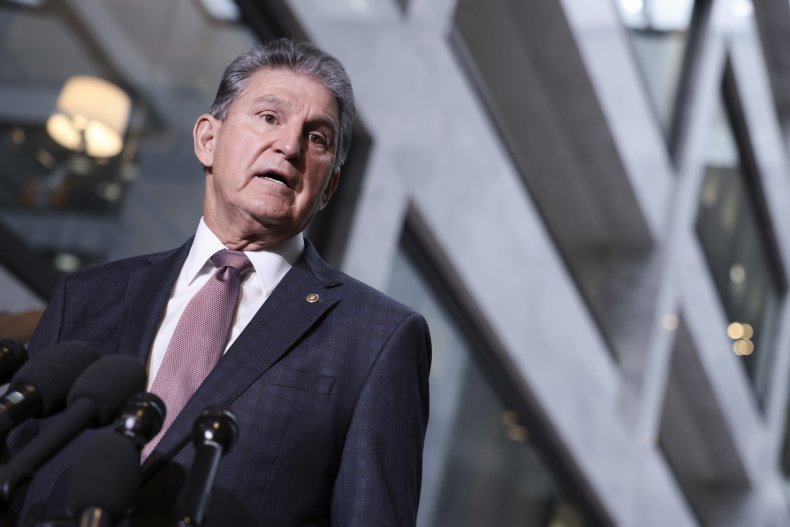 The legislative process will allow Democrats to pass the package without any Republican support. But they can't afford to lose any support from their own caucus in the evenly divided Senate, including that of Manchin or his fellow moderate, Kyrsten Sinema.
Schumer sounded optimistic a deal could be reached as early as this week after what he called a "spirited discussion" with members on Tuesday.
"There was universal, universal agreement in that room that we have to come to an agreement and we've got to get it done and want to get it done this week," Schumer told reporters.
Both the White House and congressional leaders said talks have sped up this week. Biden on Tuesday held two different meetings with moderate and progressive wings of the House of Representatives.
Progressive Chair Pramila Jayapal told reporters that it was a "really good, productive meeting" and that a majority of her caucus's priorities will make it into the reconciliation bill.
"We all feel still even more optimistic about getting to an agreement," Jayapal said.
The Washington Democrat also said the spending package's original $3.5 trillion topline could be reduced $1.9 trillion to $2.2 trillion.
To reduce the price, negotiators are reportedly considering cutting a measure for two free years of community college and slashing a 12-week paid family leave program to four weeks. Also possibly off the table is an expanded Child Tax Credit.
White House press secretary Jen Psaki told reporters Wednesday that Biden is aware he's "not going to get everything he wants in this package."
"Nor will Speaker Pelosi, nor will Leader Schumer, and nor will any member of Congress, probably. And that's what compromise and negotiations is all about," Psaki said.