Senator Joe Manchin (D-W.Va.) set a personal fundraising record for a non-election year in 2021 by bringing in more than $4.8 million. Meanwhile, Kyrsten Sinema (D-Ariz.), who has joined Manchin in stalling Democratic legislation in Congress, has seen many of her biggest donors withdraw their support in recent weeks.
Records from the Federal Election Commission (FEC) show Manchin brought in $4,827,680.45 in 2021, including nearly $1.6 million in the fourth quarter. During his most recent off-year in 2017—the year before he sought reelection—his fundraising amount was $3.8 million 2017, according to Bloomberg.
Bloomberg noted that Sinema's campaign had yet to file its report with the FEC, but CNBC reported that she has raised more than $2 million throughout the 2022 election cycle. However, she's also seen major donors announce they are withdrawing further financial support from her political career. This includes EMILY's List, an abortion rights group that was the senator's biggest donor, who contributed more than $400,000 to her campaign from 2015 to 2020, according to OpenSecrets.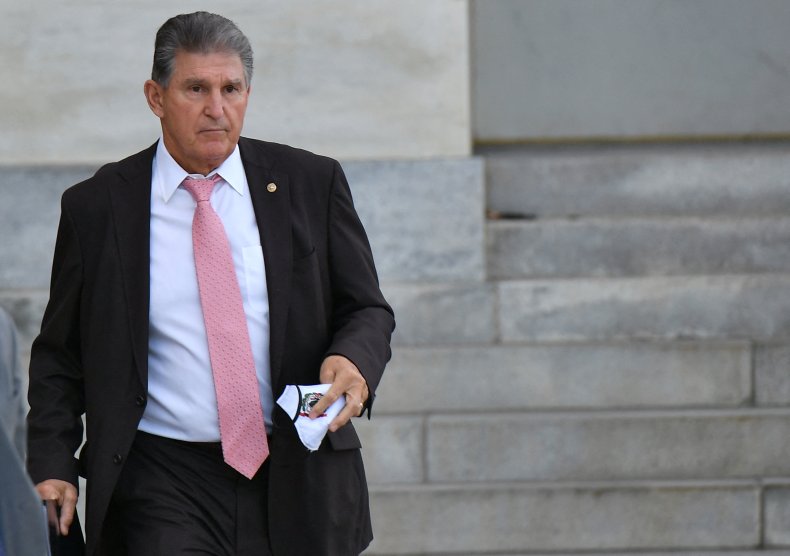 Manchin and Sinema have drawn the ire of fellow Democrats in the Senate for digging in their heels against legislation such as President Joe Biden's $1.2 trillion Build Back Better framework. Both have also notably opposed changing rules to the legislative filibuster to pass voting rights reform, which led to Emily's List's rebuke of Sinema.
"Right now, Senator Sinema's decision to reject the voices of allies, partners and constituents who believe the importance of voting rights outweighs that of an arcane process means she will find herself standing alone in the next election," Laphonza Butler, the president of EMILY's List, said in a statement on January 18.
Bloomberg noted that a large portion of Manchin's fourth quarter funds came from financial industry figures, who gave $234,000 to his campaign, and individuals who work in the real estate industry ($116,000).
The media company also reported that contributions of more than $200 for the West Virginia Democrat totaled $1.2 million, however only $7,155 of that money came from West Virginia residents.
Financial records show that Manchin's campaign received large donations from companies such as Facebook (aka Meta), CVS Health, Lowe's, Anthem, Cigna, Boston Scientific, Cheniere Energy and Emergent BioSolutions.
Ken Langone, the co-founder of Home Depot and a big donor to the Republican Party, gave Manchin's campaign $5,800 after the senator blocked the Build Back Better spending package. Langone, who supported former President Donald Trump in 2016, also recently donated to Country Roads, Manchin's PAC.
Manchin's campaign also saw large donations from other individuals who have been big givers to the GOP in the past, including real estate magnate Richard LeFrak, businessman and Trump's ambassador to Morocco David Fischer and real estate titan John Cushman III.