Joe Manchin Says He's Approached About Switching to GOP Everyday, 'Would Be Much Easier'
Senator Joe Manchin said he's approached "every day" about the possibility of switching political parties.
Speaking at the Economic Club of Washington D.C. on Tuesday, the West Virginia Democrat addressed recent reports that he's been encouraged to join the Republican Party.
"Would it be easier for you to do that?" the moderator asked.
"It would be much easier, my goodness," Manchin replied. "But is that the purpose of being involved in public service, because it's easy?"
But Manchin dismissed a question about whether he's considering such a move, telling the audience, "No. I've never thought ... What I'm telling you now is who I am. Do you think by having a D or an R or an I is going to change who I am? I don't think the Rs are going to be any more happy with me than Ds are right now."
Manchin then quipped, "I don't know where I belong," prompting laughter from the crowd.
All eyes have been on Manchin, as well as Arizona Senator Kyrsten Sinema, as Democrats work to pass President Joe Biden's "Build Back Better" domestic agenda. The two moderates represent key votes needed to pass Biden's budget plan in the evenly divided Senate.
The reconciliation process will allow Democrats to bypass the Senate filibuster and send the "Build Back Better" package to the president's desk without any Republican support.
"This position, I wouldn't wish it on anybody," Manchin said when asked about all the attention he's received amid negotiations. He added that it's "no fun" to be a deciding vote in the upper chamber.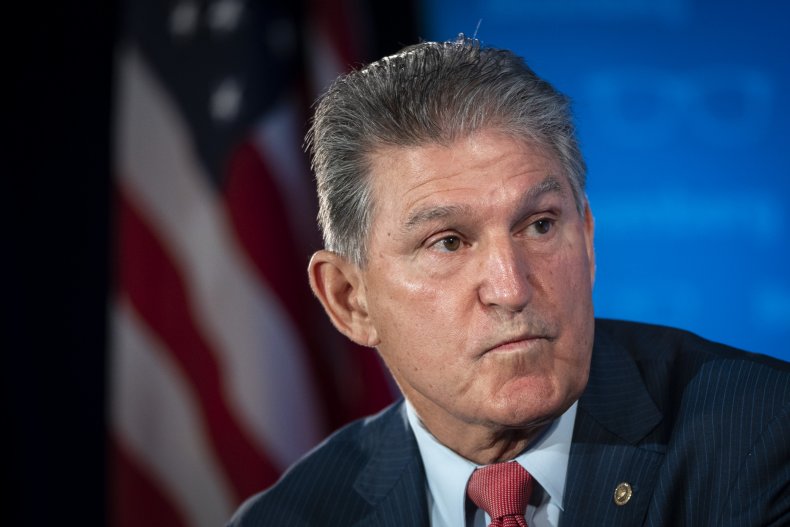 The multi-trillion-dollar budget reconciliation bill includes several measures to expand the social safety net and address climate change.
Manchin and Sinema have both opposed the plan's original price tag of $3.5 trillion, as well as individual provisions on climate change or healthcare.
Both lawmakers have met with Biden several times over the past week as the party zeros in on a deal. Manchin described his discussion with the president in Delaware over the weekend as "positive."
Manchin said Tuesday that he thinks there is a "high probability" that Democrats will pass both the reconciliation package and the $1.2 trillion bipartisan infrastructure bill in the near future.
He also said he hopes the bipartisan infrastructure deal is passed by the end of this week, so the president can tout the achievement when he travels to Rome for the G20 meeting and Glasgow, Scotland for a climate summit.
House Speaker Nancy Pelosi said on Sunday that Democrats are planning to have an "agreement" on a framework for Biden's budget plan and a vote on the bipartisan infrastructure bill in the next week.
"That's the plan," Pelosi told CNN's State of the Union.