While West Virginia Senator Joe Manchin acknowledges that the threat of inflation is "real," he said that he doesn't think it's up to Congress to fix it.
The Labor Department announced on Thursday that annual inflation had increased at its fastest pace in 40 years. However, Manchin said in a statement emailed to Newsweek that Congress cannot add "more fuel to an economy already on fire" by intervening. He believes it's time for the Federal Reserve to take the reins.
Inflation is "draining the hard-earned wages of every American" and "causing real and severe economic pain that can no longer be ignored," the moderate Democrat said in his emailed statement. "It's beyond time for the Federal Reserve to tackle this issue head-on, and Congress and the Administration must proceed with caution before adding more fuel to an economy already on fire."
In the past 12 months ending January, consumer prices increased 7.5 percent, according to the Labor Department. It's the largest annual rise since the period ending February 1982. The food prices rose 7 percent while the energy prices increased 27 percent over the last 12-month period, as well. All items prices excluding food and energy increased 6 percent, which is also the largest rise in an annual period since the period ending August 1982.
Manchin echoed his statement to Newsweek while speaking to reporters on Capitol Hill Thursday. "We have inflation, and we have basically an economy that's on fire...We've got to get our house in order," the senator said. "This inflation is real. It's harming people. It's 7.5 percent. That's a tax, and it continues to increase. It's not decreasing.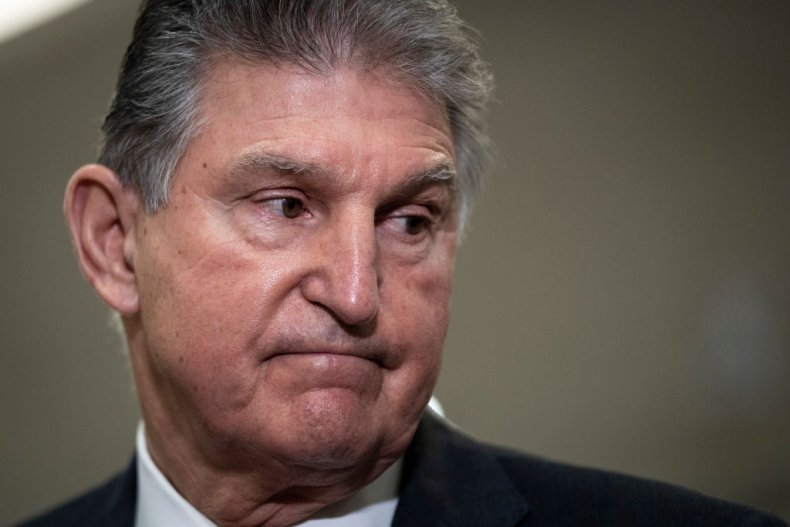 "So, the feds have to step up to the plate and do something," he continued. "The administration has to. We all have to work together right now to get our financial house in order. If not, it's going to be absolutely horrible what it's going to do to the American economy."
President Joe Biden's $1.7 trillion Build Back Better bill was rejected by Manchin, who denied that the social and climate spending proposal would improve inflation. Manchin has cited the increasing national debt as a reason to oppose the bill. He also expressed concern for the cost of the bill.
"...Only in Washington, D.C. do people seem to think that spending trillions more of taxpayers' money will cure our problems, let alone inflation," Manchin told The Hill in December ahead of a call about the bill with President Biden.
Manchin also told Politico that he wanted to begin with tax reform and also cut majorly cut the deficit and bring debt on a "downward trajectory,"
The Federal Reserve has signaled it will increase interest rates this year starting at the Fed's policy meeting set for March 15 and 16, Newsweek reported. It is unknown how much it intends to raise interest rates. Throughout 2022, there could be several increases to the interest rate, Federal Reserve Chairman Jerome Powell suggested.
"Now, more than ever, we must remember it is not our money, it's the American people's money. It is not our economy, it's their economy," Manchin said in his statement to Newsweek. "We all have a responsibly to do all that is possible to roll back inflation and manage our debts because the longer we or the Federal Reserve waits to act, the more economic pain will be caused."
Update 02/10/22, 2:25 p.m. ET: This article has been updated with more background information and a statement from Senator Joe Manchin.
Update 02/10/22, 1:30 p.m. ET: This article has been updated to add background information and context.