Joe Manchin Says Paid Family Leave Doesn't Belong in Social Bill After It's Added Back In
Senator Joe Manchin said Thursday he wants to pass paid family leave, just not in President Joe Biden's Build Back Better social bill.
Appearing on CNN's New Day program, Manchin objected to his Democratic colleagues putting paid family leave back in the $1.75 trillion social safety net package.
"I don't think it belongs in the bill," Manchin told co-host John Berman. "That's a piece of legislation that really is needed from the standpoint of if we do it and do it right."
Manchin said he believed the policy could garner bipartisan support if it's done outside the party's reconciliation process, which Democrats are using to pass the massive package without Republican support.
"Let's get it done in regular order through the process," the West Virginia Democrat said. "It'll last. It'll be forever."
The White House first included 12 weeks of paid family and medical leave in the original Build Back Better proposal, but the measure was slashed from Biden's framework as Democrats whittled the bill down to a lower price tag.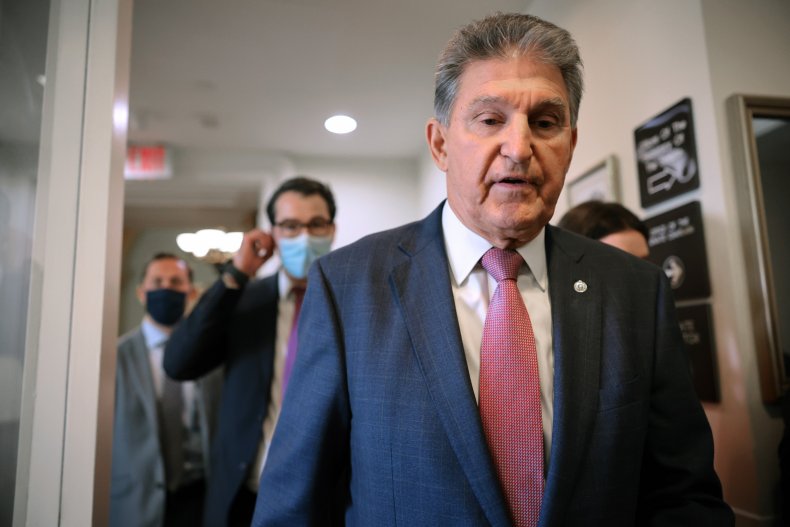 As negotiations continued this week, House Speaker Nancy Pelosi announced that paid family and medical leave is making its way back into the sweeping social safety net and climate change bill.
"I have asked the Ways and Means Committee for its legislation for Paid Family and Medical Leave to be included in this morning's hearing," Pelosi wrote in a letter to the Democratic caucus on Wednesday. "Chairman Richie Neal and the Committee staff have worked on this priority for a long time and were ready."
Neal said in a statement that paid family leave will "finally give workers and their families the peace of mind of knowing that when disaster strikes, they can rely on paid leave to avoid total crisis."
Democrats are looking to include four weeks of paid family leave in the package, ABC News and NBC News reported.
A recent poll from Politico/Morning Consult found the policy had broad support across the political spectrum, with 70 percent of registered voters backing the measure. Approximately 82 percent of Democrats and 58 percent of Republicans surveyed said they liked the policy.
Manchin is a critical vote in the negotiations, as Democrats can't afford to lose a single member of their caucus in the evenly divided Senate to pass the legislation via reconciliation.
When asked if he would vote against the entire package due to the paid family leave provision, Manchin told CNN's Berman: "I'm not saying what I'm going to vote, I haven't seen the bill yet."
Newsweek reached out to Speaker Pelosi's office for a response to Manchin's comments.