Joe Manchin Says Stimulus Package's Unemployment Benefits Should Stay at $300
Senator Joe Manchin is looking to decrease the unemployment payments in President Joe Biden's American Rescue Plan by $100, saying that giving people a financial boost at this point doesn't make sense.
The relief package would increase the federal unemployment benefit to $400, a $100 raise from the bill that was passed in December. Benefits are set to expire on March 14, raising the pressure for the Senate to pass another relief package, but Democrats face pressure from progressives to do more and moderates to do less.
Manchin told reporters at the Capitol on Tuesday that he supports $300 weekly unemployment payments because it's "consistent with what we've been doing."
The West Virginia Democrat said he would be fine with the payments going through August, as per the package. But with the assumption that most people will be inoculated against the coronavirus in June or July, he said businesses that are reopening will need their employees back at work.
"Some of these things here just doesn't make sense. It doesn't incentivize people," Manchin said. "It'd be awful for the doors to open up and there's no one working. You got a lot of customers, no one working. That's the problem."
Manchin said he expected that most of the details about unemployment benefits could be worked out Tuesday or Wednesday morning and noted that Biden is staying out of the debate.
"You know Joe's put in a hard position because you know he's got people beating on him all over the board," Manchin said. "So, I don't remember him getting involved in that at all, to where he was saying, 'Ok, yeah we'll do this or that.'"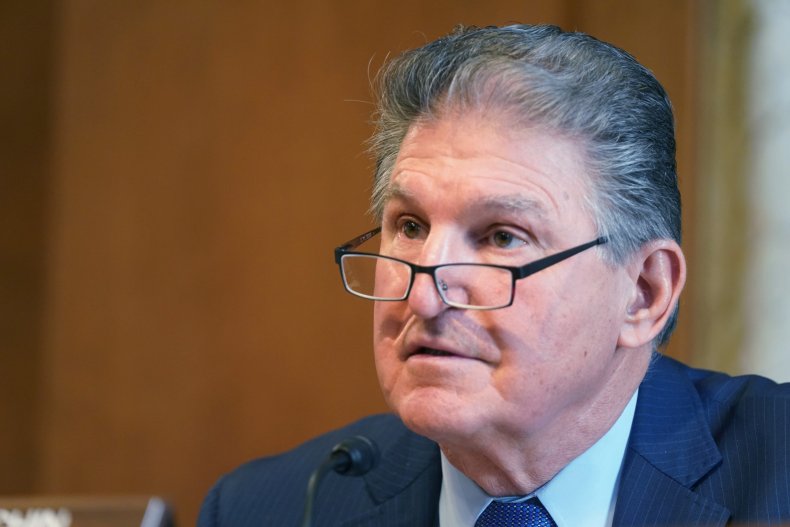 On Friday, the House of Representatives passed the American Rescue Plan, largely along party lines. Only two Democrats voted against it and no Republicans voted in favor of it. At a $1.9 trillion price tag, it would be the second-largest relief package in modern American history, and Democrats could pass it without Republican support in the Senate.
Using a method known as reconciliation, Democrats could pass the relief package with a simple majority, which they have with support from all 48 Democrats, the two independents who caucus with them and Vice President Kamala Harris' tie-breaking vote. However, losing just one member of the party or either of the two independents would require Republican support and Democrats don't have a clear consensus.
On Monday, a group of moderate Democrats, including Manchin and Senator Jon Tester met with Biden at the White House to discuss potential changes to the relief package. They're looking to send out "targeted" relief, including limiting eligibility for another round of stimulus checks. But, limiting relief, including scratching the $15 minimum wage provision, could pose a problem for support from more progressive members of the party.
Representative Pramila Jayapal of Washington, chair of the Congressional Progressive Caucus, told reporters if the package is "watered down" it's "a whole different issue," indicating it could lose support in the House once it's sent back for a final vote.
Newsweek reached out to Senator Joe Manchin for comment but did not receive a response in time for publication.