Joe Manchin Signals He's Open to Increasing His Reconciliation Bill Limit by $700B
Senator Joe Manchin said Tuesday he isn't ruling out a budget reconciliation bill higher than his previous $1.5 trillion topline.
Manchin signaled to CNN's chief congressional correspondent Manu Raju that he's open to considering a price tag between $1.9 trillion and $2.2 trillion—a figure President Joe Biden reportedly floated to the Democratic caucus last week.
"I'm not ruling anything out," Manchin told the news organization.
The West Virginia Democrat declined to give an exact amount when asked what would be the highest he would go for the spending package. Manchin told Raju, "The bottom line is I want to be strategic, to do the right job, and we don't basically add more to the concerns we have right now."
Eyes are on Manchin, as well as Arizona Senator Kyrsten Sinema, when it comes to the fate of the spending bill. Democrats aim to use the reconciliation process to implement much of Biden's "Build Back Better" economic agenda without the need for Republican votes.
But the party can't afford to lose any caucus support along the way, and the two moderates have totally dismissed the proposal's original $3.5 trillion topline.
Manchin last week proposed a $1.5 trillion limit, which progressives quickly said was "not going to happen."
Both Manchin and Sinema have been targeted by protesters over the past week for their positions on budget reconciliation. Sinema fired back at activists who followed her into a bathroom at Arizona State University over the weekend, calling their behavior "unacceptable."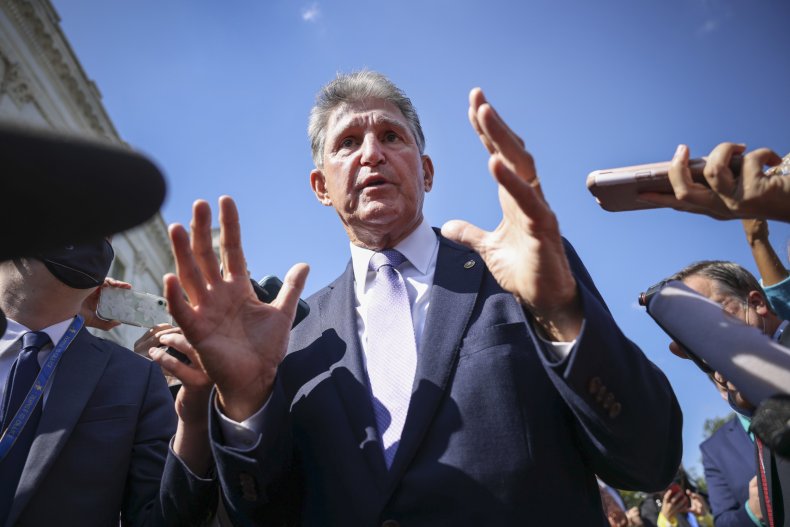 Yesterday, the White House said Biden was meeting with progressives to further negotiate the issue. Press secretary Jen Psaki said the discussion would include the "recognition that this package is going to be smaller than originally proposed."
White House spokeswoman Karine Jean-Pierre told reporters on Air Force One Tuesday that Biden had also met with another group of House Democrats to discuss the economic package.
"It was a constructive meeting on both of his pieces of economic policy that we've been talking about: Build Back Better agenda and the bipartisan infrastructure," Jean-Pierre said.
Senate Majority Leader Chuck Schumer stressed Monday that both bills must be passed by the end of October.
Schumer also advised his colleagues that Congress and the White need to reach an agreement on the details of the spending bill "preferably within a matter of days" in order to get it finished in time.
"None of this is going to be easy," the majority leader said in a speech from the Senate floor. "It'll require sacrifice, compromise and finding common ground. Nobody is gonna get everything they want."