Sen. Joe Manchin (D-WV) may be a thorn in the side of his fellow Democrats in Congress. But for some of Manchin's colleagues on Capitol Hill—and those campaigning to join him there—he is also great fodder for donation-raking ads on Facebook and Instagram.
Since the House sent President Joe Biden's Build Back Better package up to the Senate in November, 15 Democrats have run more than 700 ads targeting their party bedfellow Manchin on the platforms, as the multi-trillion-dollar plan stalls in large part because of him.
"It is extremely uncommon to name a party colleague in a negative ad outside of a primary—but then again Joe Manchin isn't a typical Democrat," Nate Lerner, founder of digital political consultancy Build The Wave, told Newsweek.
The Senate is divided 50-50 between the Democratic caucus and the Republicans, with Vice President Kamala Harris having a tie-breaking vote. Manchin, who sits on the right of the Democratic party, is a firm "no" on Build Back Better. No Republicans support Biden's plans.
Manchin argues the plans are too expensive and will destroy energy jobs in his coal-reliant state. Build Back Better also faces an obstacle in Sen. Kyrsten Sinema (D-AZ), who objects to some of it, though to a lesser extent than Manchin. She has faced less internal opprobrium.
Moreover, the pair are blockading Democratic proposals to upend the Senate filibuster so that voting reform legislation can pass without having to reach the 60-vote threshold. They support the filibuster, arguing it encourages much-needed bipartisanship in a time of divisiveness.
"I think we will see more of it moving forward as progressives split further from right-leaning Democrats like Manchin and Sinema," said Lerner, who is a veteran strategist of multiple Democratic campaigns, including Obama 2012 and Yang 2020.
Some of the rhetoric from Democrats against Manchin in their ads is sharp.
"Folks, I'm PISSED!" says an active Facebook and Instagram ad from Rep. Tim Ryan (D-OH), who is campaigning for the U.S. Senate in Ohio. "Joe Manchin just said he can't support the Build Back Better Act after MONTHS of stringing along negotiations."
The image shows Ryan standing proudly in the foreground as the faded blue face of Manchin looms over him in the background. There is a link to Act Blue, the left-wing fundraising platform, urging people to donate to Ryan's campaign.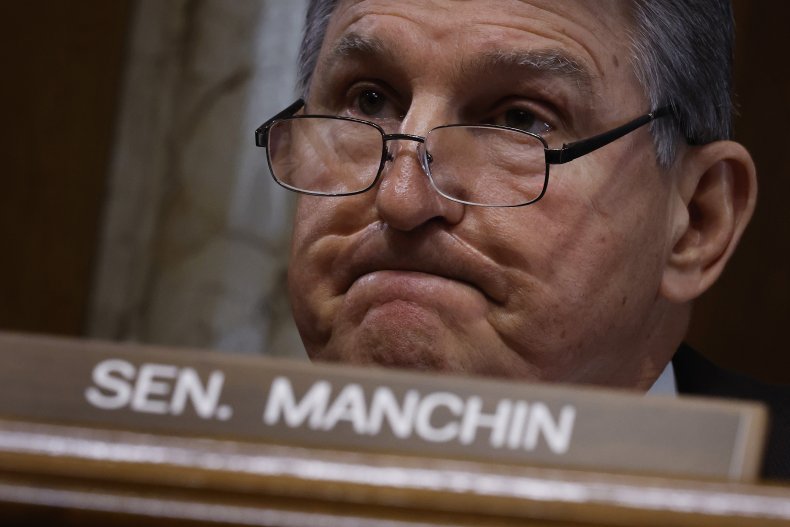 Seven other Democratic candidates for the U.S. Senate have also used their would-be colleague Manchin as a prop for their campaigns.
They include Lt. Gov. John Fetterman and State Rep. Malcolm Kenyatta in Pennsylvania; Adm. Michael Franken in Iowa; Lt. Gov. Mandela Barnes and basketball executive Alex Lasry in Wisconsin; and U.S. Marines veteran Lukas Kunce and U.S. Air Force veteran Jewel Kelly in Missouri.
Two Democratic members of the progressive "Squad" in the U.S. House—Rep. Alexandria Ocasio-Cortez (D-NY) and Rep. Ilhan Omar (D-MN)—have also deployed anti-Manchin ads in the past few weeks.
So have Rep. Pramila Jayapal (D-WA) and Rep. Veronica Escobar (D-TX), plus Ryan as mentioned before.
There are also two candidates vying for the U.S. House running ads about Manchin—Muad Hrezi, a former policy staffer to a U.S. senator, in Connecticut, and Bob Lorinser, a physician and former State Department diplomat, in Michigan.
Chris Couch, a Democratic party staffer running for the state legislature in Kentucky, also ran an anti-Manchin ad in his own campaign.
"I don't remember hearing a peep about inflation or debt when Joe Manchin voted for a $25 BILLION kicker to the defense budget earlier this month. Not a peep," said a Facebook ad from Franken, a retired three-star admiral in the U.S. Navy, that ran at the end of December.
"But Senator Joe Manchin just went on Fox News and said that he will NOT vote for President Joe Biden's Build Back Better plan! [...]
"I'm running for Senate against Chuck Grassley in Iowa because I am sick of Republicans acting like Trump's lap dogs, and I am just as fed up with Democrats who are blocking us from doing anything to confront the climate crisis, take on Big Pharma, or rein in Wall Street."
The image features a color picture of Franken saluting in his naval uniform and a frowning Manchin in black-and-white. It links to Franken's Act Blue donations page, urging people to "give now to elect a Democrat who will vote like a Democrat."
Lasry's two ads, which ran on the two platforms, shared a Washington Post article about Manchin's comment that he "cannot vote" for Biden's spending package. The image was of the senator.
"This is what happens with a government that's full of career politicians who have lost sight of the needs of the people they represent," said one Lasry ad, which then turned its attention to his incumbent Republican rival in Wisconsin, Sen. Ron Johnson.
Jayapal ran 183 ads in December and January attacking Manchin for his "insistence on retaining the Jim Crow filibuster"; for "saying 'no' to what people across America want, need, and deserve"; and for "a betrayal of the millions of voters who elected Democrats."
One of Omar's recent ads declared that "unlike Joe Manchin and other corporate Democrats, Ilhan refuses to take corporate PAC money," and urged people to "chip in" to her campaign.
Jewel Kelly's ad claimed that Manchin's "actions fit the very definition of extreme and persistent subservience to the coal industry, his actions are an intense example of conflict of interests—occupied by greed."
The text continued: "Senator Manchin has rejected mainstream democratic positions, and instead embraced the pathetic excuses parroted by the radical right.
"Senator Manchin Is No Moderate."
An ad from John Fetterman said: "Democrats should vote like Democrats. But right now two Democratic senators, Joe Manchin + Krysten Sinema, are holding up Biden's agenda and preventing Democrats from Building Back Better."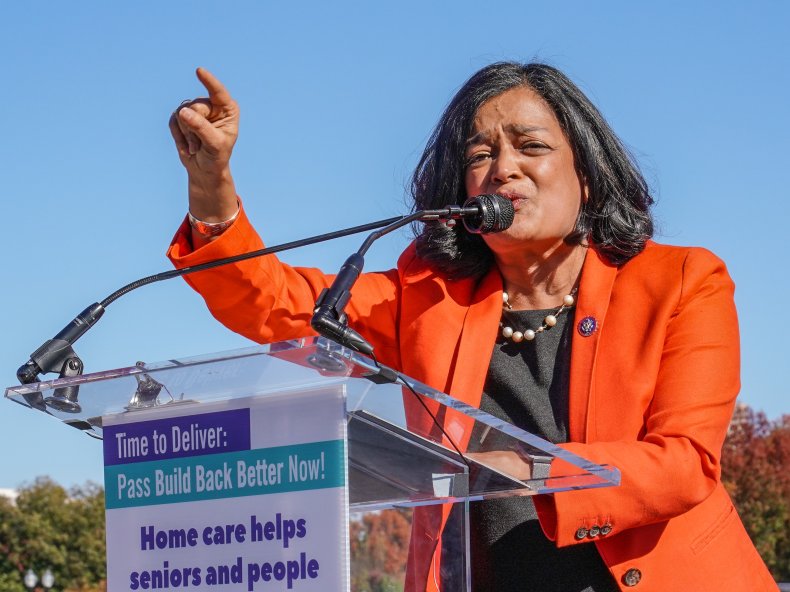 Many Democrats see Manchin as fair game because of his stance on Build Back Better and for opposing reform or removal of the Senate filibuster, along with Sinema.
On January 13, Ocasio-Cortez posted 72 ads to Facebook and Instagram imploring people to pressure Manchin and Sinema on this issue, including an image of the senators.
One version of those ads asked: "Can you send a letter to Senators Manchin and Sinema right now calling on them to support changes to the filibuster rules so that we can protect our democracy?"
Ocasio-Cortez had two weeks earlier run an ad calling out Manchin for rejecting Build Back Better: "We won't let Joe Manchin torpedo the President's agenda – the people's agenda."
"Some of these ads are run by the Squad Victory Fund, part of whose mission is to advance a more progressive vision for the Democratic Party," Lauren Hitt, a spokeswoman for Ocasio-Cortez, told Newsweek.
"The ads run directly by our campaign specifically ask people to contact the senators' offices to encourage them to support reforming the filibuster, so we could pass voting rights protections—which the Majority Leader was also encouraging activists to do last week."
Schumer had told activists at a recent Center for American Progress event that "getting as many calls and emails and everything else to both senators Manchin and Sinema...is important" to pressure them over changing Senate rules to passing voting rights legislation, per Politico.
"It isn't normal for lawmakers to so publicly call out a member of their own party, but we're in decidedly abnormal times," Max Burns, founder and chief strategist of the progressive political consultancy Third Degree Strategies, told Newsweek.
"For Manchin, he has two strikes against him from the start: he's preventing the passage of Democratic policies that are popular with voters and which the party messaged heavily during the 2020 campaign, and he's clearly being left behind by Democrats' broader realignment to the left of where the party usually sits. Kyrsten Sinema faces the exact same problem."
Burns also pointed to the Trump administration for "normalizing this kind of specific, humiliating call-outs to members of your own party."
"There's hardly an incumbent Republican who Trump hasn't at some point torched, and the Trump campaign really perfected the name-and-shame approach as a fundraising and base-energizing tool," Burns said.
"That's a really tempting approach when our political process increasingly depends on raising absolutely massive sums of money for what has become a permanent campaign cycle."
There is, however, the risk of tarnishing the image of the party more broadly in the eyes of voters. "It is a bit damaging to the Democratic party as it creates internal division and makes the progressives feel further disconnected from their own party," Lerner said.
"But keep in mind Manchin is hardly the face of the party—ads against Pelosi, Schumer, or Biden would be much more concerning.
"I'd say the risk of internal division and the optics it creates are not worth the rewards, especially considering the rewards are really limited to just additional funds for progressives in already safe districts.
"But Manchin is also held in such low regard within the party, including moderates and liberals, that the overall damage to the party is limited."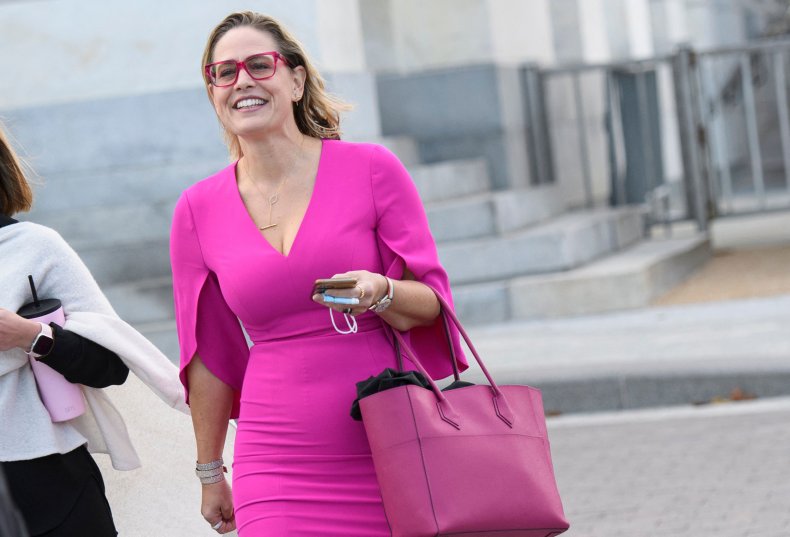 Even candidates running for the U.S. House in districts far from Manchin's home state of West Virginia see value in using his name.
Muad Hrezi is running in the Democratic primary for Connecticut's 1st congressional district, a safe seat for Democrats that is currently held by Rep. John Larson, who sits on the left of the party.
"Corporate candidates like Joe Manchin and my opponent don't get it. They're out of touch, and we're out of time," said Hrezi's ad, posted to Facebook and Instagram back on December 20.
Hrezi told Newsweek: "I'm running for Congress because for too long the people in my district have had a representative who has put the interest of his corporate donors ahead of his constituents."
Newsweek contacted all lawmakers and candidates named above, including Manchin, for comment.
Substantially fewer Republicans than Democrats have used Manchin's name in recent weeks.
Six serving or aspiring Republican lawmakers have run Facebook and Instagram ads featuring Manchin during the same period. There were six ads, most of which defended or praised Manchin in some way.
Paul Bettencourt, a Republican state senator in Texas, ran an ad across the two platforms between December 19 to 23 in which he called Manchin's rejection of Build Back Better "an early Christmas gift to the nation" and shared a link to a Fox News article on the subject.
"Spread the word that Senator Joe saying NO to President Joe keeps us all from getting a lump of coal now! This fight in the Congress is going to go 'nuclear' and our 50 Republicans plus Senator Manchin need our support too!"
Manchin has run no ads on Facebook or Instagram during this period, either on his official senator page or his personal one.