Joe Manchin Won't Nix Filibuster to Get Capitol Riot Commission: 'Won't Destroy Our Government'
Democratic Senator Joe Manchin says he has no plans to end the filibuster in order to get a January 6 commission bill passed. "I'm not ready to destroy our government, no," he told reporters on Thursday. "I think a bill will come together. You have to have faith."
Senate Republicans are expected to block a House-passed bill that would create a commission to investigate the events at the U.S. Capitol on January 6. Some Democrats have argued that the Senate should gut the filibuster's 60-vote threshold in the narrowly divided chamber on order to advance the legislation.
"As far as I'm concerned, that is the kind of issue which should be majority-vote decided. They're going to use the filibuster on it, and it's really a sad day," Senate Majority Whip Dick Durbin, an Illinois Democrat, told reporters on Wednesday.
Most Democrats support eliminating the filibuster, which would allow legislation to pass with a majority vote. But Manchin has remained defiant on keeping the filibuster, even though he's expressed frustration over the Republican refusal to vote in favor of a January 6 commission bill.
"There was a lot of negotiations, and the leadership of the Democrats, on both the House and the Senate, have agreed to the recommendations that were made, to make the adjustments," the West Virginia Democrat said. "There's no reason for a Republican not to vote for this unless they don't want to hear the truth."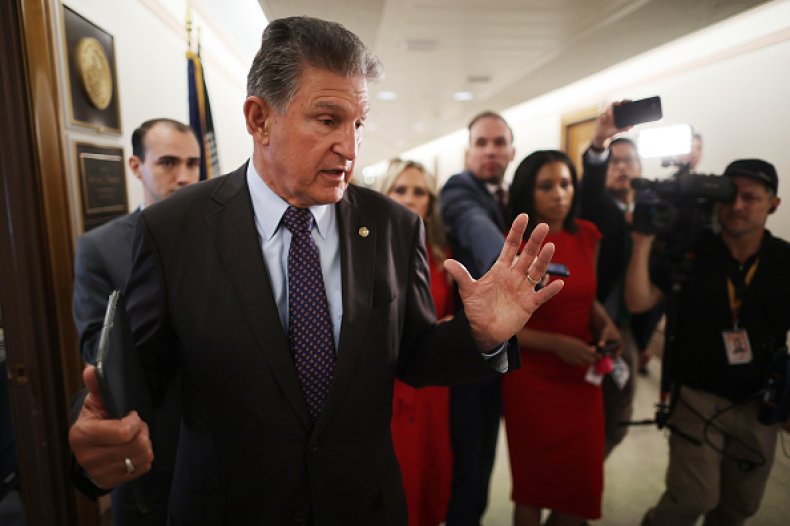 He continued, "I don't know why anyone would not want to know what went on for the first time in the history of our country—an insurrection, this never, ever happened before—and now being afraid to find out what really happened and how we prevent it from ever happening again. We're so divided. We have to come together."
Asked if he had anything to say to Republicans planning to vote against the bill, the senator said, "The truth will set you free."
Manchin and Democratic Senator Kyrsten Sinema have publicly urged their GOP colleagues to back the bill, but only three—Senators Mitt Romney, Susan Collins and Lisa Murkowski—have expressed support for the legislation.
Romney has warned the GOP that blocking the commission would not reflect well upon the party. "Republicans would be seen as not wanting to let the truth come out," he said on Wednesday. "I don't believe that's what's the motivation, but I think that's the perception."
He added, "I think the real motivation is that Republicans feel that the January 6 commission is designed by Democrats to further their political interests and to help them for the '22 elections. Republicans don't feel that's a cause they want to join in."
Senate Minority Leader Mitch McConnell has objected to the commission bill, calling it a "purely political exercise" and indicating that he wants to move past the events of January 6.