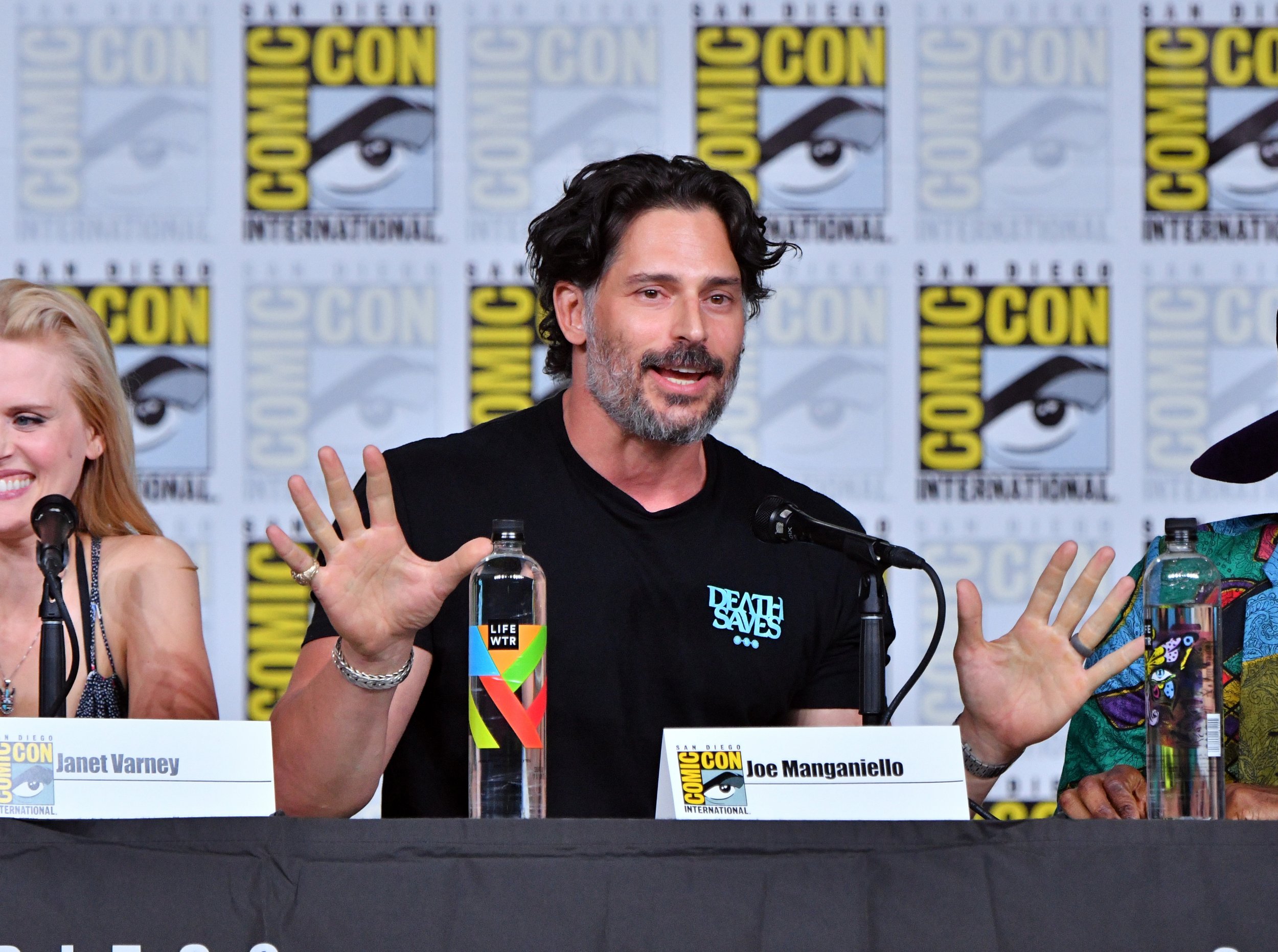 Joe Manganiello will play Slade Wilson/Deathstroke again, MTV reported Monday.
The actor has been at San Diego Comic-Con multiple times, for the HBO series True Blood, which aired 2008 to 2014. "It was a certain type of audience," he told MTV at this year's convention. "Every once in a while, you get a, 'Hey, you were Flash Thompson. Hey, you kind of belong here, but sort of not.'" That changed once he was cast as Deathstroke. Since his cameo at the end of Justice League in 2017, fans have wanted to know when they'd see Slade Wilson again.
"I say it's in the works because it is," he told MTV. "There's nothing further that I can say without speaking out of school because I'm part of a team, I'm part of a locker room. You don't talk outside the locker room. … They want the character to happen. It's just when he happens." Everyone involved wants to do the character in the right way.
Manganiello's Deathstroke appeared in a post-credits scene in Justice League. He joined Lex Luthor (Jesse Eisenberg), who had escaped from prison, on his yacht. Lex wanted to level the playing field against the Justice League by forming a league of their own.
Manganiello was cast as Deathstroke in The Batman, starring Ben Affleck as the titular character, Entertainment Weekly reported in 2016. There have been several changes during production of the movie that leaves his future in it up in the air.
Affleck was originally going to direct the film but announced he couldn't do that and star in it in a statement posted by EW in January 2017. "Together with the studio, I have decided to find a partner in a director who will collaborate with me on this massive film," he told the publication.
Matt Reeves (War for the Planet of the Apes) signed on to direct the film, EW reported in February 2017. He wrote a new script for the movie, and it centers on a young Batman, according to The Hollywood Reporter in June.
There were also talks of a solo Deathstroke movie starring Manganiello, to be written and directed by Gareth Evans (The Raid), TheWrap reported in 2017.
While he couldn't give any definitive news about his future on the big screen as Deathstroke, Manganiello talked about the streetwear line, Death Saves, he started "to try to put everything back underneath one umbrella," he told MTV at SDCC. "Back in the '80s when I was growing up, you had six categories to choose from and that was it. There were a lot of things that used to go together logically that somehow fractured."