Joe Miller's Collapse: A Real Trend or Just Half-Baked Alaska Analysis?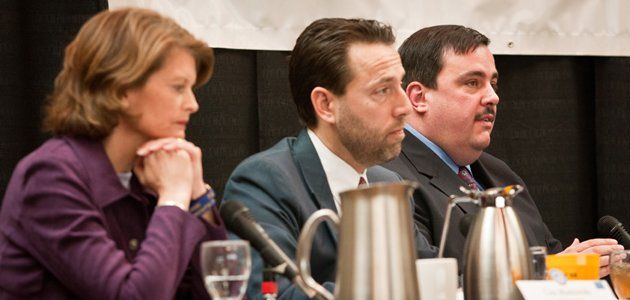 Is Tea Party–backed Alaska Senate candidate Joe Miller falling apart? As the Republican nominee struggles with a proliferating set of gaffes and revelations, the vultures are circling. The New York Times reports that incumbent senator Lisa Murkowski—who lost the GOP primary to Miller but opted for a write-in campaign—is "the candidate treated like the front-runner." The Atlantic says he's lost his momentum.
But is Miller really on a bridge to nowhere? Prognosticators shouldn't count him out yet.
The allegation is that Miller is just too far right and too undisciplined to win (someone should tell that to Sharron Angle, who is still in a good position to knock out Senate Majority Leader Harry Reid). And it's true that he's been hammered by a series of unflattering revelations. Security guards for his campaign—who turned out to be active-duty soldiers—were caught on tape detaining and handcuffing a journalist. That was because the journalist, Tony Hopfinger, had asked him about his past, which Miller had said he wouldn't answer questions about, a strange stance for any candidate (how are voters to judge, for example, the sincerity of his platform?). But he's now admitted he lied and improperly used computers while working as a local-government lawyer. Earlier, it emerged that Miller and his family have received government benefits and subsidies of the kind he has blasted; his wife received unemployment benefits he's described as unconstitutional. He also had a short-lived feud with Todd Palin.
The question, as the Alaska Dispatch asks, is whether Alaskans care—and it looks like the answer might be no. Polls show a very tight race, with Murkowski and Miller neck-and-neck and Democrat Scott McAdams trailing. But looking at poll averages, it's hard to portray that as a vast sea change. Only Pollster.com's averages show a huge jump in Murkowski support since she threw her hat back in the ring; even then, Miller keeps a lead. TPM's average shows Murkowski's support rising, but it appears to be coming from undecided voters, since Miller's backing has dropped only a couple of points.
One reason: voter fatigue. What seems like an avalanche to watchers in the Lower 48 is more like a steady hum in Alaska. "The people who will want to use [the latest revelations] to discredit Miller have had other things to use, so it's just a continuous stream," says Jerry McBeath, a professor of political science at the University of Alaska, Fairbanks, who follows state politics. "The people who are his hard-core supporters tune out all the bad news about him. And I don't think this last bit of information—it's been out for almost a full week—is going to have a decisive role in the campaign."
McBeath also points out that polls in this race have to be taken with a grain of salt. Write-in campaigns are always tough to gauge; while survey respondents may recognize Murkowski's name as familiar, there's a lot of daylight between picking her name out of a list of three on the telephone and actually walking into a voting booth, filling in the write-in bubble, and spelling her challenging surname closely enough for vote counters to deem it sufficient. "It's still too close to call," McBeath says, but adds, "If I were a betting man, I'd put my money on Miller." (UPDATE, 10/28: However, voters will now be allowed to carry lists of write-in candidates into voting booths, a possible boon for Murkowski.)
It doesn't help that one of Murkowski's biggest selling points—her seniority—is in question. She's insisted that only a veteran senator can bring the federal funds on which Alaska has long depended; if she were to lose, Democrat Mark Begich would be the state's senior senator, with just two years of service. But Republican leaders have threatened to strip her of seniority if she wins her write-in bid and caucuses with them. Meanwhile, she's burned through nearly twice as much cash as Miller. Both have benefited from outside-group spending, with Miller doing slightly better. He's benefited particularly from the backing of the Tea Party Express, one of the largest groups of its type. TPE didn't respond to a request for comment, but it doesn't seem to be deserting its candidate. (Murkowski, meanwhile, just premiered a somewhat ghoulish ad that the revered former senator Ted Stevens cut for her before his death in a plane crash in August.)
So for now, Miller still seems to have the edge. Murkowski might be able to find one more ace up her sleeve, though: desperate, terrified Democrats, for whom she makes a play in a new ad this week. The pitch: every vote for McAdams makes it more likely that Miller makes it to Washington.
While it's not hard to believe that Alaska Democrats wouldn't be fond of Miller, it will take a lot for them to hold their collective nose and vote for a staunch Republican who's the daughter of a long-time GOP powerhouse. It will become clear whether it's enough on Tuesday.
UPDATE, 5:45 p.m.: Tea Party Express spokesman Levi Russell tells NEWSWEEK his group is about to launch a major TV and radio ad buy during the final days of the campaign. Russell says the campaign, which will likely begin late this week, will mimic a three-day, $300,000 advertising blitz the group launched before the primary, helping Miller top Murkowski. "I'm not sure if it's going to be that big, but it's designed to sway anyone who was waiting," he says. "We're telling people that Miller is the only candidate talking about the issues that matter."