Joe Mixon's Sister Speaks Out Over Shooting in Anderson Township
The Anderson Township home of Cincinnati Bengals running back Joe Mixon was entered early Tuesday morning by Hamilton County police deputies responding to a "shots fired" call.
Mike Dardis, news anchor for WLWT News 5 in Cincinnati, tweeted that Mixon's sister, Shelonda, told the media outlet that her brother was not involved in the shooting that left a juvenile injured.
Dardis tweeted: "#Police tape wrapped in front of home listed as Joe Mixon's in early February incident report in another case. Tonight I spoke with Mixon's sister Shelonda. She tells me Joe was not involved in the shooting Monday night that injured a teenager. Deputies are still there."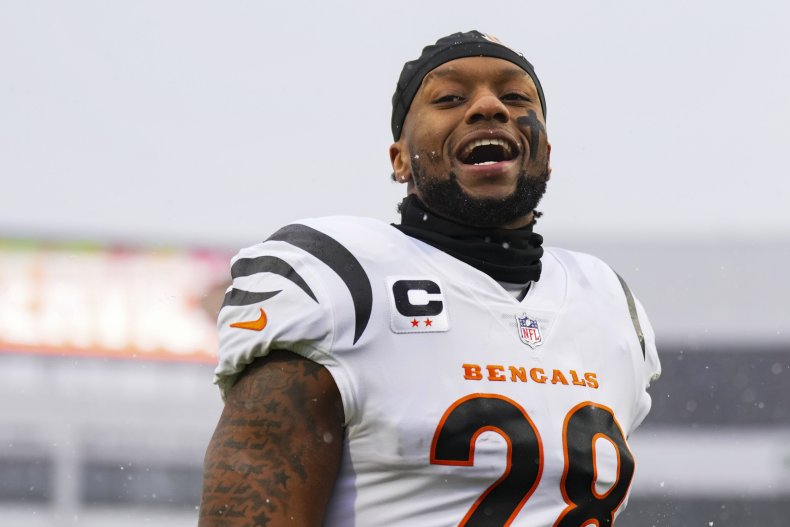 WLWT News 5 has reported that the sheriff said deputies were responding to the 7900 block of Ayers Road after a report of shots being fired at around 8:30 p.m.
Crime scene tape was placed around the house and a teenager was taken to hospital with minor injuries, though it is not yet clear as to how the youth was injured.
According to Hamilton County Auditor records, WLWT News 5 reports, the address is the same as the one listed for Joe Mixon on an arrest warrant that was issued for his arrest last year.
Cincinnati Police Department said in a statement about the warrant that it was a procedural misstep and was issued prematurely and the charges were dropped.
WLWT News 5 has stated in its report that there is at least one evidence marker in the yard of Mixon's home and by 11 p.m., deputies had extended the crime scene tape across the whole of his home.
A car was allowed into the driveway at around 12:15 a.m. after it was reported that the deputies were seen banging loudly on the door of Mixon's home and asking for the homeowner to come out of the property.
An envelope of documents was brought by a law enforcement officer about an hour later and deputies entered the house.
WLWT News 5 reported that flashlights could be seen in the house and further deputies arrived with note-taking supplies, some 30 minutes after the house had been entered.
Around 3:20 a.m., the deputies left the building without making an arrest and the crime scene tape was removed from the property.
Mixon was a second round pick in the 2017 NFL Draft and has rushed for over 5,300 yards in his Bengals career as well as scoring 40 touchdowns for the team that was beaten by the Kansas City Chiefs in last season's AFC Championship game.
Do you have a tip on a sports story that Newsweek should be covering? Do you have a question about the NFL? Let us know via entertainment@newsweek.com.