Joe Morrissey's Wife Helps Him Win Pardon for Teen Sex Crime Against Her
Virginia State Senator Joe Morrissey has been pardoned for sex crimes against his now-wife the he committed when she was a teen.
The controversial state senator, who has weathered scandals that would sink most politicians, was pardoned by Governor Ralph Northam on Thursday for his conviction of contributing to the delinquency of a minor. That pardon was secured with the help of the woman he was accused of committing the crime against.
The conviction stems from an illicit relationship Morrissey, then 56, had with his then 17-year-old law office intern, Myrna Pride, that began in 2013. After the relationship came to light, Morrissey pleaded guilty to the charge in 2014 and resigned his seat in the Virginia House of Delegates.
By then, Pride was pregnant with their first child. Two years later they married and now have four children. The now Myrna Morrissey submitted an affidavit in December 2021 supporting her husband's application for a pardon, along with pictures of him with their smiling children.
"Joe and I entered into a relationship which was entirely consensual and at no time did Joe ever manipulate, coerce or in anyway intimidate me into engaging in a relationship," she wrote.
The petition argued that Myrna Morrissey was exceptionally mature, the relationship was consensual "and the law and the spirit of the law was not violated."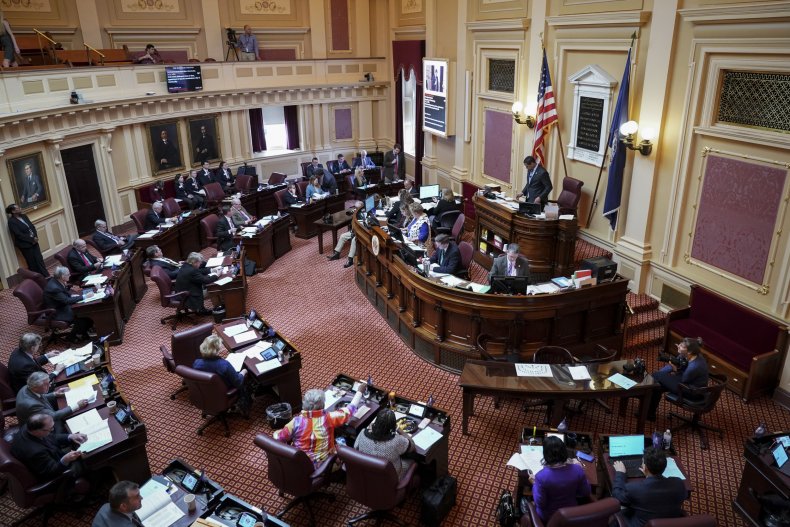 Myrna Morrissey wrote that she had matriculated from high school at the time and was taking college-level courses. Both her mother and grandmother knew about the relationship and she told prosecutors she did not want her now-husband to face charges, "as I was a mature woman who knew exactly what I was doing."
"This prosecution continues to hang over our family," she wrote. "My oldest children are starting to reach ages where they understand the significance of criminal prosecutions, can use the internet to explore and have friends who do the same."
Both her mother and grandmother submitted affidavits supporting his pardon, saying he shouldn't have been prosecuted. Myrna Warren, her grandmother, wrote that "Joe is one of the greatest fathers that I have ever seen and the relationship that he has with his children is unparalleled."
Northam, who is nearing the end of his term, announced on Friday that he had granted more than 1,200 pardons.
"Virginians are forgiving people, who believe in second chances," Northam said in a statement. "When people make mistakes, and pay their debts, they deserve the opportunity to return and be productive members of society."
Joe Morrissey's pardon petition notes that he is a "politically polarizing figure," describing him as "an assertive and passionate defense attorney, state Delegate, and State Senator."
After his conviction, he served three months in jail. While serving his sentence, Morrissey retook his House of Delegates seat in a special vacancy election.
Known by the nickname "Fighting Joe," Morrissey has previously been cited for contempt of court, jailed or arrested five times and had his law license suspended multiple times. A former client represented by his law office alleged he pressured her for sex.
In 2019, Morrissey was elected to the Virginia Senate as a Democrat representing an area around Petersburg.
Newsweek reached out to Morrissey for comment.