A host of jokes have flooded social media following the news that Aaron Rodgers' debut season with the New York Jets has ended prematurely after he sustained an injury on the field earlier this week.
During his team's showdown against the Buffalo Bills on Monday night, Rodgers, 39, was seen getting assistance off the field after his left foot twisted awkwardly in a fall. The quarterback's team confirmed the following day that an MRI revealed he had suffered a torn Achilles and would require surgery.
The news has come as a massive blow for the Jets, who hold the unfavorable record of a 12-season postseason drought—the longest active brought in the National Football League (NFL). Four-time MVP Rodgers' injury has also raised questions about his future in football overall, given the stage of his career.
While football fans mulled the more sobering elements surrounding Rodgers' injury, a host of social media users took the opportunity to mock the fact that the sportsman previously spoke of getting medical advice from podcaster Joe Rogan.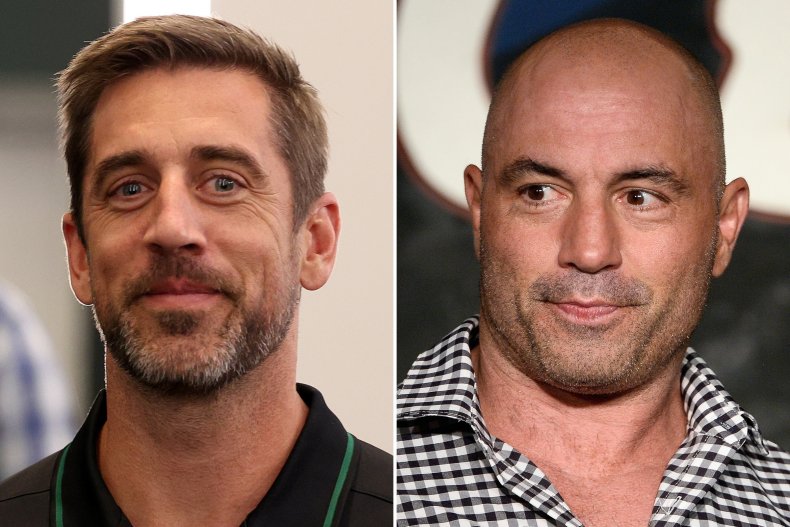 After testing positive for COVID-19 in 2021, Rodgers said that he had been taking the anti-malaria medication hydroxychloroquine and the anti-parasite medication ivermectin to treat his symptoms. According to medical authorities, neither medication has any proven effect on alleviating COVID symptoms.
At the time, he also said during an appearance on SiriusXM Radio's The Pat McAfee Show that he had leaned on the advice of Rogan, who in the past has faced accusations of spreading misinformation surrounding the novel coronavirus.
"I consulted with a now good friend of mine, Joe Rogan, after he got COVID," Rodgers said at the time. "And I've been doing a lot of the stuff that he recommended in his podcasts and on the phone to me."
This revelation by Rodgers was not lost on the several social media users, who flocked to X, the platform formerly known as Twitter, to share imaginary scenarios of the advice they pictured Rogan giving the sportsman in light of his injury.
Author Craig Rozniecki wrote: "Good news for Aaron Rodgers; if he goes on the Joe Rogan show and takes Ivermectin and hydroxychlorine, while rubbing peyote on his wound, he will be fully immunized from injury."
Illustrating his post with a GIF of Rodgers down on the field, Rozniecki concluded with the hashtags "#COVIDIOT" and "#GetVaccinated."
Historian and professor Kevin M. Kruse also joined the tongue-in-cheek discourse, commenting: "Sources tell me Aaron Rodgers is on the phone with Dr. Joe Rogan. Apparently, all he needs to do is ingest a half cup of Mister Clean and a dozen marbles."
Another X user shared a photo of Rodgers being tended to on the field.
They captioned the image: "I'm assuming Aaron Rodgers will forego the opinion of an orthopedic surgeon and instead seek medical advice from Joe Rogan?"
"BREAKING: Aaron Rodgers' season-ending ankle injury is said to have been caused by the fact that he has ingested so much horse paste that his feet are turning into hooves," said another. "His physician, Joe Rogan, could not be reached for comment. Developing... or should I say, mutating..."
Read another post on the matter: "RUMORS: Aaron Rodgers insisting on being treated with horse dewormer and rectal bleach injections. Waiting on Joe Rogan to confirm."
Newsweek has contacted representatives of Rodgers via email for comment.
In late 2021, the then Green Bay Packers quarterback faced criticism when, after testing positive for COVID-19, he revealed that he had not been vaccinated as he expressed skepticism about the efficacy of the vaccines.
Rodgers' comments were all the more controversial at the time because he told reporters back in August 2021 that he had been immunized against the virus, though he didn't detail how. He isolated for 10 days in November 2021 after testing positive for COVID-19.
During an appearance on the Aubrey Marcus Podcast in August 2022, Rodgers spoke about how he was viewed by each side of the political aisle after revealing his position on the vaccines.
"All the right was like, 'He's our champion now' and all the left was, 'He's the enemy,'" he said. "Look, politics is a sham first of all, I think. And I wouldn't do CNN just like I wouldn't do Fox News. I have no desire to be a part of this.
"I'm sharing a personal opinion, based on my own health and what I think is best for my body. You can disagree with it all you want. You can agree with it and champion it. But I'm not saying it to gain favor with one side and hate from the other.
"I mean, actually, my opinion became very polarizing because people feel strongly on both sides about it. But I hope at the bare minimum that there was conversation that could be had—civil conversation. And if you still disagree, then it's OK to disagree. But we've taken out I think in our society a lot of that ability to have differing opinions."
Uncommon Knowledge
Newsweek is committed to challenging conventional wisdom and finding connections in the search for common ground.
Newsweek is committed to challenging conventional wisdom and finding connections in the search for common ground.
About the writer
Ryan Smith is a Newsweek Senior Pop Culture and Entertainment Reporter based in London, U.K. His focus is reporting on pop culture and entertainment. He has covered film, TV, music, and Hollywood celebrity news, events and red carpets. Ryan joined Newsweek in 2021 from the Daily Mail and had previously worked at Vogue Italia and OK! magazine. Languages: English.
You can get in touch with Ryan by emailing r.smith@newsweek.com.