Joe Rogan Blasts Claim Obesity Is Caused by Genetics—'Bonkers Thing to Say'
Joe Rogan thinks it is "bonkers" that a White House medical expert claimed the No. 1 cause of obesity is genetics.
The podcaster said the scientific community are up in arms about a 2023 claim made by Dr. Fatima Cody Stanford. The government has named her as one of the members for the 2025 Dietary Guidelines for Americans Advisory Committee.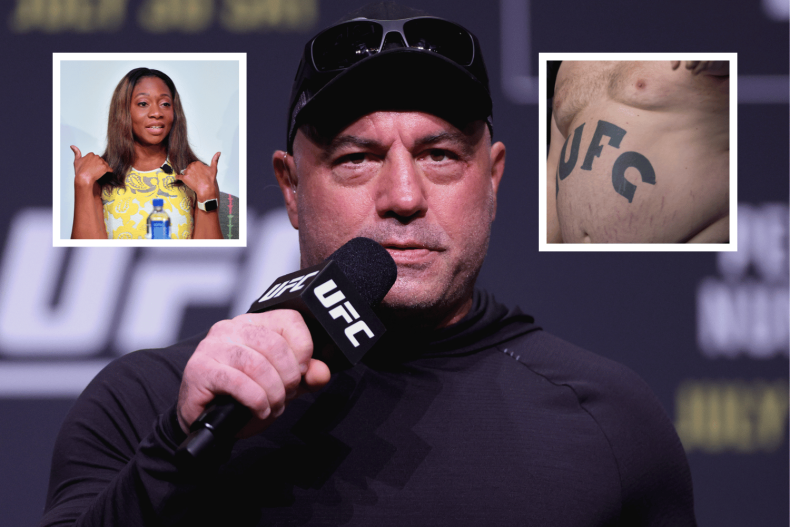 Comedian and podcast host Rogan regularly talks about health and fitness on his podcast. As well as his links to the Ultimate Fighting Championship, he's also a black belt in two forms of jiujitsu. On the January 31 episode of The Joe Rogan Experience with his guest, scientist Lex Fridman, Rogan discussed the validity of Stanford's argument.
During an interview with 60 Minutes, Stanford weighed in on what she believes to be contributing factors to being overweight.
"The No. 1 cause of obesity is genetics. That means, if you were born to parents that have obesity, you have a 50 to 85 percent likelihood of having the disease yourself, even with optimal diet, exercise, sleep management, stress management."
Stanford went on to suggest that "79 to 90 percent of physicians" in the U.S. have "significant bias" towards overweight patients. "Doctors do not understand obesity," Stanford said.
Rogan replied to Stanford's comments: "The health experts went [...] nuts. Like that's not what the data shows."
Stanford had also said that families who are obese together are misunderstood, but Rogan criticized that theory, too.
He said: "The data shows that most people who are obese have obese parents, and they come from obese family, but they're all doing the wrong thing.
"It's not there's not like a person in that family that's eating grass-fed steak and running marathons and lifting weights and getting up at six in the morning and getting a cold plunge, doing all these different things, but it's still fat [...] That's not real," Rogan added.
"To say that and to say it on 60 Minutes... There's this weird thing going on, where people want to say, 'It's not your fault, and it isn't your fault.' If you believe in determinism, if you believe in the impact of the people around you and the environment that you're in, which is most certainly real." Rogan said.
"But to say that all obesity is just genetic is bonkers. That's a bonkers thing to say. And it discredits all these people that we know that were obese, and without surgery, lost all that weight and look great."
Rogan brought up his friend, actor Ethan Suplee, known for roles on My Name Is Earl, Remember the Titans and The Butterfly Effect. Suplee has lost over 200 pounds, which he credits to diet and exercise, and he recently had a role as a bodyguard in Damien Chazelle's Babylon.
Rogan's guest Fridman, a podcaster and research scientist at the Massachusetts Institute of Technology (MIT), agreed that Dr. Stanford's comments aren't incentivizing.
"It's also not inspiring. If you say it's all genetics, or it's significantly genetics, then you're encouraging people to be more accepting of the challenges of other people's lives." Fridman added, "Just because it's easy for you to exercise doesn't mean it's easy for others to exercise."
"Sort of, but aren't they also saying you don't even have to walk that road because it's not helping?" Rogan asked.
Fridman said: "So that's a very poor statement of that. It's different philosophies of, 'pull yourself up by your bootstraps,' right? It's a really inspiring, powerful, empowering philosophy. But, you know, sometimes it's harder."
Rogan and Fridman discussed a wide range of topics during their three-hour podcast, including Fridman's area of expertise, artificial intelligence. Rogan also expressed his shock to his guest at the bodycam footage released from October's Paul Pelosi attack. He was surprised that there was "no security" and "no gun" in the house.