Joe Rogan Calls Trudeau 'Creepy F****** Dictator' Over Trucker Protests
Controversial podcaster Joe Rogan, once a fan of Canadian Prime Minister Justin Trudeau, said on the Thursday episode of The Joe Rogan Experience that Trudeau's handling of the trucker protest earlier this year made him change his mind about the "creepy f****** dictator."
Rogan spoke to Concordia University professor Gad Saad about Canada and how his views on the prime minister had changed as a result of the three-week protest that shut down central Ottawa. The truckers were protesting against a COVID-19 vaccine mandate and occupied the center of the Canadian capital from January 28 until the demonstration was broken up by police on February 20.
Rogan said that Canada providing better healthcare and education than the United States by imposing higher taxes once "seemed like a great system" that made people "friendlier."
"But then, when you have a creepy f**king dictator for a prime minister, that's what [Trudeau] is," Rogan said. "The way he behaves, the way he behaved during this thing, the disingenuous way that he communicated, it freaked me out, because I never thought that guy was like that."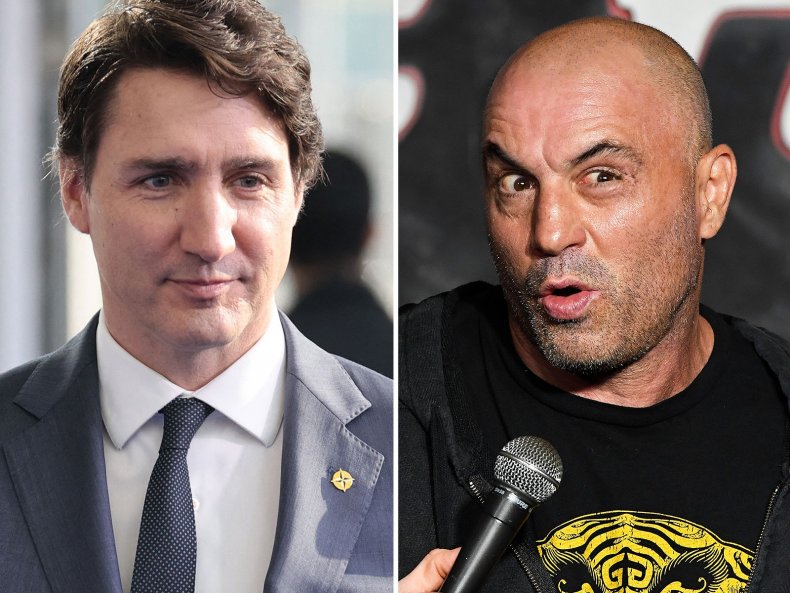 "I thought he was a handsome fella with a good vocabulary and seems like a nice guy," Rogan said. "Before he really leaned into the woke stuff, I thought he was a kind, sensitive guy, and I thought that's probably a good disposition to be a leader.
"But just the way he labeled those truckers as racist for no reason, the people that were protesting against mandates, he decided that they were misogynists and racists," he went on.
"The way he did it. He just cast a pejorative label on them with no evidence, with no provocation, it was just like 'I'm going to label them this so that I can impose laws to stop them from doing what is essentially a peaceful protest,'" Rogan said.
Rogan may have been referring to remarks Trudeau made on January 31 about the appearance of Nazi-themed imagery on some of the signs at the protest. Some of those signs compared COVID-19 measures to the Holocaust.
"Freedom of expression, assembly and association are cornerstones of democracy, but Nazi symbolism, racist imagery and desecration of war memorials are not," Trudeau said. "This is not the story of our pandemic, our country, our people. My focus is standing with Canadians and getting through this pandemic."
The protest, which was referred to as the Freedom Convoy, was ended by police on February 20 with 76 vehicles being impounded and 191 arrests.
Newsweek reached out to Justin Trudeau's office for comment.