Joe Rogan 'Consciously Racist' by Using Racial Slur, India.Arie Says
India.Arie has labeled Joe Rogan "consciously racist" for his repeated use of the N-word.
The Grammy-winning singer-songwriter put the spotlight on the podcast host's use of racial slurs on his show over the years last week when she posted a video to social media that featured a lengthy compilation of Rogan using the "N-word."
The host of The Joe Rogan Experience issued an apology and expressed regret while more than 70 episodes of his show were pulled from Spotify.
Arie also shared a clip in which Rogan compared a movie theater in a Black neighborhood to Planet of the Apes, which has since been widely condemned.
Now the artist—whose real name is India Arie Simpson—has discussed the situation with Trevor Noah on The Daily Show, where she arrived at the conclusion that Rogan is "being consciously racist" when he uses such language.
"I was going to say this name I'm tired of saying, but for me when I think about Joe Rogan, I think that he is being consciously racist," she told Noah on Monday's installment of his show.
"I mean, since the early 1900s, we've had an agreement in our society that we don't say the word or you have to suffer consequences. So saying it and going 'what are you going to do?' Or saying, 'I didn't know there was no context under which I couldn't say it,' I believe he knew there was no context, and he was saying it because it got a rise out of people.
"He knew it was inappropriate. The fact that he did it repeatedly and was conscious and knew—I think that is being racist, and I don't like even saying that because I'm a sensitive old soul, and I want to believe the best in people."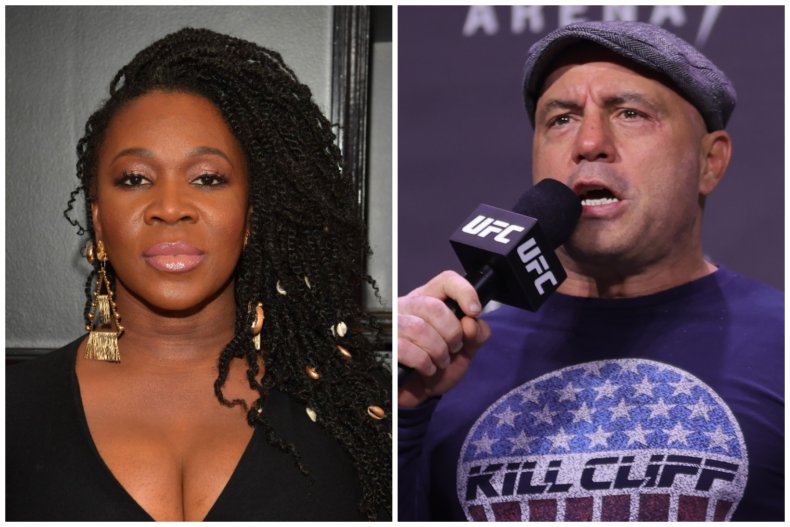 Following the compilation going viral, Rogan took to Instagram to issue an apology.
Rogan said his use of the slur in the video compilation was "the most regretful and shameful thing that I've ever had to talk about publicly."
But he also claimed the clips were "taken out of context" and that he "hadn't said it in years," although he did not specify which years he said the slur.
Noah also took aim at Rogan's "OG racism" over his Planet of the Apes comment.
In the viral video, Rogan told a story about going to see the movie Planet of the Apes in a Black neighborhood.
"We walked into Planet of the Apes, we walked into Africa," he says in the clip.
Noah condemned this comment and said on his show last week: "That video's so bad it actually made me miss the 'N-word' video."
It was reported last week that Arie has been trying to remove her music from Spotify like Neil Young and Joni Mitchell, but her record label is in charge of that decision.
"This Joe Rogan conversation is what people are looking at. But behind the scenes, my journey is still continuing," she told Rolling Stone.
"I'm still getting my music off. They can make the story about him, and I get it. But it's really about the same fight behind the scenes, a Black artist trying to be treated fairly, because [my former label] straight up said no."
Newsweek has reached out to Rogan for comment.