Joe Rogan and Dave Chapelle Forced to Move for Travis Scott at Boxing Match
Joe Rogan shared an amusing story of how he and Dave Chappelle were made to move seats at a recent boxing match so Travis Scott could sit in them.
The podcast host was sitting with the comedian to watch Canelo Alvarez take on Gennady Golovkin in Las Vegas on September 17.
Alvarez went on to decisively win the fight, which Rogan described as "incredible," but the night got off to a shaky start for him and Chappelle.
He described on his podcast, The Joe Rogan Experience how the pair had been allocated "amazing" seats near the front, but organizers soon came over to ask the famous duo to vacate them.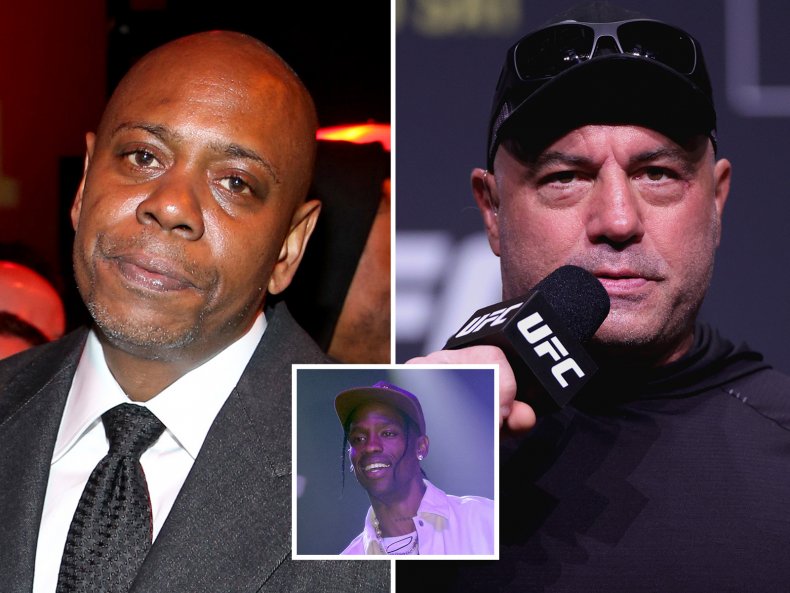 "Dave Chappelle and I were in the third row, which was amazing," Rogan started.
"We were like, right there and then this guy comes over and says, 'You guys have to move. These tickets are not yours.'
"And Dave goes, 'I'm Dave Chappelle. I'm not moving anywhere.' Literally says it like that.
"So the guy comes back and said, 'These seats are actually for Travis Scott, but we want to put you on the ringside.' Dave and I look at each other and we're like, 'Okay!'"
Chappelle and Rogan were then moved to even better seats right in the heart of the action.
"So they take up from the third row to the no row," Rogan explained.
"It's not even a row. You're f***ing right there dude. We're sitting like where the officials sit. It was incredible.
"They [the fighters] were right there. It was really good and we saw, I think the last six rounds like that.
"Something like that, but it was a good fight. It was a really good fight."
Rogan, a long-time UFC commentator and podcaster started his career as a comedian and also hosted The Fear Factor on TV.
The controversial podcast host has triggered repeated calls for people to boycott Spotify, where his show is exclusively available after it paid $100 million for the rights in 2020.
Most recently, appeals for a boycott came after Rogan spoke about his support for the Republican Party in the upcoming midterm elections.
He said business owners who were forced to close during the COVID-19 pandemic should vote for GOP candidates.
"No one that was alive today had ever experienced a true pandemic, and I'm hoping that now that this is over, people are going to recognize that some serious errors were made and not repeat those," he told his guest Aaron Rodgers.
"As far as compensation for all of those people that were forced to close their businesses and keep their doors shuttered and lost everything they had worked for decades to build—no, they're just going to be angry."
Rodgers asked what Rogan thought those business owners should do and he replied, "vote Republican."
Political organization and media outlet, Occupy Democrats, called for people to boycott Spotify following Rogan's comments.
"Influential podcaster Joe Rogan ignorantly urges Americans to 'vote Republican' as a form of supposed payback for businesses closing down due to the pandemic—dangerous rhetoric as the GOP embraces full fascism," it wrote on Twitter before urging people to boycott Spotify.
Rogan also came under fire during the pandemic from some very famous names including, Neil Young and Joni Mitchell for spreading misinformation on COVID-19, especially vaccines.
Some of his guests had incorrectly said things such as people were at greater risk of side-effects if they caught COVID after being vaccinated, Ivermectin can cure COVID, the vaccines can alter your genes and younger people were in greater danger from coronavirus vaccines than the virus itself.
The Joe Rogan Experience is Spotify's most popular podcast with more than 200 million downloads per month.