Joe Rogan is not dead—but the podcaster is the subject of another death hoax on Twitter today in what has become something of a meme.
The controversial host of The Joe Rogan Experience began trending on the platform on Wednesday after a number of tweets about his fake death began circulating.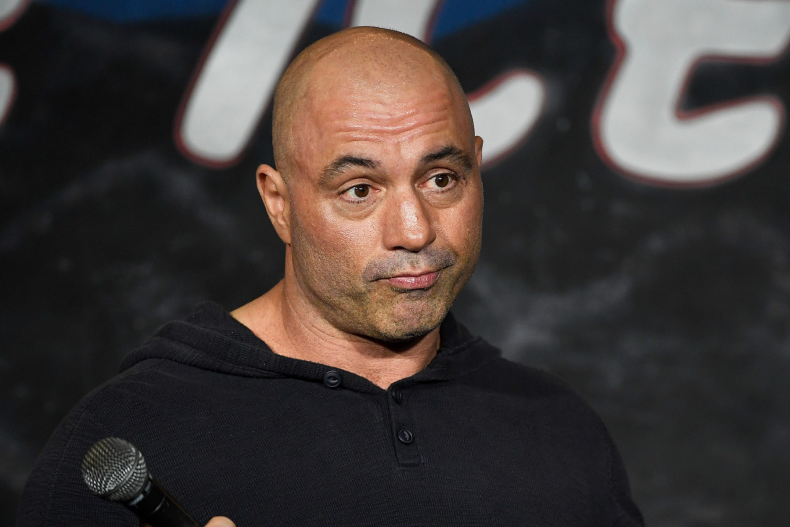 "We are saddened to announce the passing of Joe Rogan," reads one tweet from an account called Joe Rogan Headquarters @joerogannhq. "He died peacefully in his home this afternoon, we will provide more details as they arrive, with respect to his family's wishes."
While another fake screenshotted tweet, purporting to have been posted by the official UFC account and signed by Dana White, reads: "The entire UFC family is devastated to hear of Joe Rogan's passing. Our thoughts and prayers are with his family she loved ones, and we will make sure to continue his legacy." - Dana White"
Another prankster shared what they claim to be a statement from Rogan's family announcing his death, which reads in part: "Joe accomplished so much during his short time here and we take solace in knowing that he inspired so many of you as much as he was able to inspire us."
Newsweek can confirm that Rogan has not died and these death hoaxes are a long-running joke among the 54-year-old's fans and detractors.
The Rogan death hoaxes have been a frequent social media event online in recent years, so much so that #RIPJoeRogan is listed as a meme on Know Your Meme.
"Over the years, several instances of people on social media either claiming or falling for death hoaxes with Rogan have appeared alongside the use of the hashtag "#RIPJoeRogan,", particularly on Twitter," the platform states.
Although it is a well-known hoax, this time around, fans and Twitter users have still been joking around about the ridiculous topic.
"Really not cool to start a Joe Rogan is dead hoax. So many people getting their hopes up," reads one joke.
While another added: "wait is Joe Rogan actually dead? Does this mean i have to go to college now?!!"
Rogan himself seemed to poke fun at the hoax and tweeted on Tuesday night: "I'm pregnant."
Last week, Rogan ​​vowed to quit podcasting if he has to "walk on eggshells," as the controversial host railed against the increased scrutiny of The Joe Rogan Experience in recent months.
"I will quit," the 54-year-old said in a new episode of his show.
"If it gets to a point that I can't do it anymore, where I have to do it in some sort of weird way where I walk on eggshells and mind my p's and q's, f*** that!" Rogan told his guest, MMA fighter Josh Barnett.