Comedian and podcast host Joe Rogan has said he will not have Donald Trump on his show as he is not interested in helping the former president.
Rogan made this announcement while speaking with podcaster Lex Fridman, who released a video of their conversation on his YouTube page on Monday.
Ahead of this statement, Rogan was reflecting on the state of politics in America and the deep division seen during both Trump's presidency and Joe Biden.
"The right-wing people tended to not want to be vaccinated whereas the left-wing people, for whatever reason, all of a sudden are trusting pharmaceutical companies explicitly. It was weird, it was a weird time.
"I think over time, as it gets analyzed and we break it down, it is going to be one of the weirder moments for shaping human culture.
"Unfortunately [one of the moments that] threw gasoline on this already burning fire of conflict between the various factions of thought in this country.
"It is already a weird time, post-Trump, the Trump era is also going to be one of the weirder times when people look back historically about the division in this country."
Rogan went on to say that Trump proved to be so polarizing that some people "abandoned their own ethics and morals" in order to criticize the president and his supporters.
"When people look back historically about the division in this country, he's such a polarizing figure that so many people felt like they could abandon their own ethics and morals and principles just to attack him and anybody who supports him because he is an existential threat to democracy itself," Rogan said.
The comedian also spoke about the possibility of Trump running for Presidential Office in 2024. Trump has not officially said he will be in the running but has hinted at the possibility.
"He is going to run again, things are going to get weirder, he is running against a dead man," Rogan said.
"Biden shakes hands with people that aren't even there when he gets off stage, I think he is seeing ghosts."
This is a reference to an incident in April earlier this year, where Biden appeared to shake hands with thin air after concluding a speech in Greensboro, North Carolina.
In the video, that went viral, Biden appeared to linger on stage while turning to his side while extending his hand, as if to shake hands with someone, before stepping off the stage.
Rogan continued: "Did you see him on Jimmy Kimmel the other day? He was just rambling.
"If he was anyone else, a Republican, if it was Donald Trump doing that, every f***ing talk show would be screaming for him to be off the air.
"By the way, I am not a Trump supporter, in any way, shape or form.
"I have had the opportunity to have him on my show, more than once, and I have said no every time,
"I don't want to help him, I'm not interested in helping him."
Fridman then questioned Rogan and said he did believe that the comedian would eventually have the former president on.
Fridman added that Rogan has long toted the importance of simply having a discussion, regardless of who the guest is. Fridman used rapper Kanye West as an example of a guest who can be viewed as divisive that was on Rogan's show.
While Rogan agreed this was true, he noted that the people he speaks to do not dictate the direction the country moves in.
"Kanye West is an artist, Kanye doing well or not doing well doesn't change the course of our country, Rogan said.
When asked about whether he bears responsibility for this after a conversation, Rogan said that guests on his podcast can see their image revitalized and rehabilitated in a way that was shocking.
Newsweek has contacted Trump's office for comment.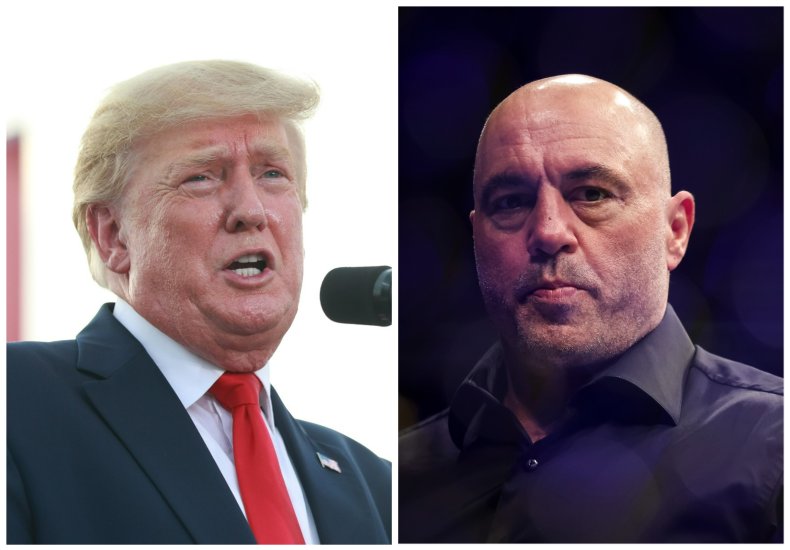 Correction, 7/6/226, 10 a.m. EDT: This article originally said that Rogan called Trump an "existential threat to democracy itself." Rogan was saying that Trump's opponents see him as such, not that he himself does.