Joe Rogan Podcast Deletes Alex Jones, Chris D'Elia Episodes In Spotify Move
The Joe Rogan Experience podcast launched on Spotify today but not every episode has been aded to the platform.
Users noticed pretty early on that a number of installments of the long-running podcast were missing—many are episodes that could be considered controversial.
Among these are episodes with including episodes with InfoWars' Alex Jones, Milo Yiannopoulos and Censored.TV's Gavin McInnes.
Other missing episodes include ones with disgraced comedian Chris D'Elia, Jordan Peterson's daughter, Mikhaila Peterson, Louis Theroux, Owen Benjamin and Joey Diaz.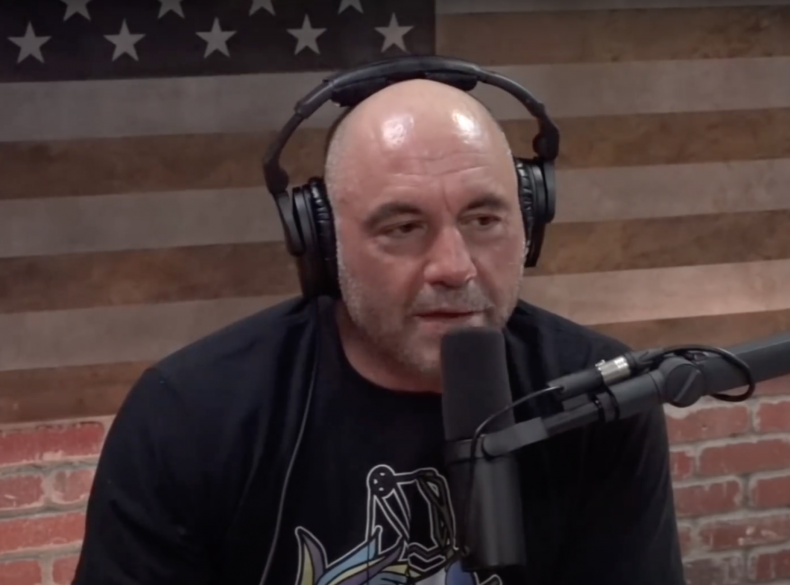 A number of listeners have taken to Twitter to complain about the removal of the episodes.
One fan tweeted: "Yo @joerogan wtf is this s***? I thought part of the deal with @Spotify is that they wouldn't censor you? Where is Alex Jones and many others?"
While another added: "Damn dude. This is extremely disappointing."
Newsweek has reached out to Spotify for comment.
Rogan signed am exclusive $100 million licensing deal with Spotify back in May. The podcast will still be available on YouTube until it becomes exclusive to Spotify at a later date.
Speaking about his move to Spotify after the announcement, Rogan said via Instagram that his podcast will be the "exact same show."
"It will remain FREE, and it will be the exact same show," he wrote. "It's just a licensing deal, so Spotify won't have any creative control over the show. They want me to just continue doing it the way I'm doing it right now."
The list of every The Joe Rogan Experience episode that did not get added to Spotify, per Reddit is:
The Joe Rogan Experience - #1461 - Owen Smith
The Joe Rogan Experience - #1458 - Chris D'Elia
The Joe Rogan Experience - #1456 - Michael Shermer
The Joe Rogan Experience - #1303 - Tommy Chong
The Joe Rogan Experience - #1296 - Joe List
The Joe Rogan Experience - #1255 - Alex Jones Returns
The Joe Rogan Experience - #1182 - Nick Kroll
The Joe Rogan Experience - #1164 - Mikhaila Peterson
The Joe Rogan Experience - #1093 - Owen Benjamin & Kurt Metzger
The Joe Rogan Experience - #1033 - Owen Benjamin
The Joe Rogan Experience - #998 - Owen Benjamin
The Joe Rogan Experience - #980 - Chris D'Elia
The Joe Rogan Experience - #979 - Sargon of Akkad
The Joe Rogan Experience - #920 - Gavin McInnes
The Joe Rogan Experience - #911 - Alex Jones & Eddie Bravo
The Joe Rogan Experience - #820 - Milo Yiannopoulos
The Joe Rogan Experience - #750 - Kip Andersen & Keegan Kuhn, producers of Conspiracy
The Joe Rogan Experience - #710 - Gavin McInnes
The Joe Rogan Experience - #702 - Milo Yiannopoulos
The Joe Rogan Experience - #640 - Charles C. Johnson
The Joe Rogan Experience - #582 - David Seaman
The Joe Rogan Experience - #538 - Stefan Molyneux
The Joe Rogan Experience - #524 - Rickson Gracie
The Joe Rogan Experience - #520 - David Seaman
The Joe Rogan Experience - #487 - David Seaman
The Joe Rogan Experience - #463 - Louis Theroux
The Joe Rogan Experience - #461 - David Seaman
The Joe Rogan Experience - #454 - War Machine
The Joe Rogan Experience - #441 - Brian Dunning
The Joe Rogan Experience - #368 - David Seaman
The Joe Rogan Experience - #361 - Dave Asprey, Tait Fletcher
The Joe Rogan Experience - #331 - Dr. Steven Greer
The Joe Rogan Experience - #303 - Matt Vengrin, Brian Redban
The Joe Rogan Experience - #275 - Dave Asprey
The Joe Rogan Experience - #256 - David Seaman
The Joe Rogan Experience - #239 - Adam Kokesh
The Joe Rogan Experience - #213 - Eddie Bravo
The Joe Rogan Experience - #199 - Joey Diaz
The Joe Rogan Experience - #182 - Bryan Callen, Jimmy Burke, Brian Redban
The Joe Rogan Experience - #128 - Joey Diaz, Brian Redban
The Joe Rogan Experience - #119 - Jan Irvin
The Joe Rogan Experience - #108 - Joey Diaz, Brian Redban
The Joe Rogan Experience - #98 - Daryl Wright & Brian Whitaker
The Joe Rogan Experience - #97 - Freddy Lockhart, Brian Redban
The Joe Rogan Experience - #81 - Pete Johansson
The Joe Rogan Experience - #57 - Jayson Thibault, Brian Redban