Joe Rogan Goes Viral after Edwards' 'Perfect Head Kick' UFC 278 Knockout
Joe Rogan's stunned reaction to Leon Edwards' knockout blow against Kamaru Usman to win the welterweight championship at UFC 278 has gone viral on social media.
Usman appeared to be seconds away from a 16th consecutive victory on Saturday night at the Vivint Arena in Salt Lake City, when Edwards dropped him with a kick to the head and neck in the final minute of the fifth round.
Rogan, a long-time UFC commentator and podcaster, was among those awed by the finish. He was seen grabbing the commentators on either side of him with a wide-eyed expression of shock on his face.
Videos of Rogan's reaction were shared widely on Twitter, prompting his name to trend on the platform.
"The reaction is priceless," said a tweet alongside a clip of the moment that has amassed more than 1.9 million views so far.
Some were unsurprised by Rogan's reaction, with Barstool Sports tweeting: "Joe Rogan is everyone right now."
Another Twitter user wrote: "This reaction from @joerogan sums up the finish to the fight. Wow!"
Rogan later praised Edwards' "perfect head kick" and "flawless technique."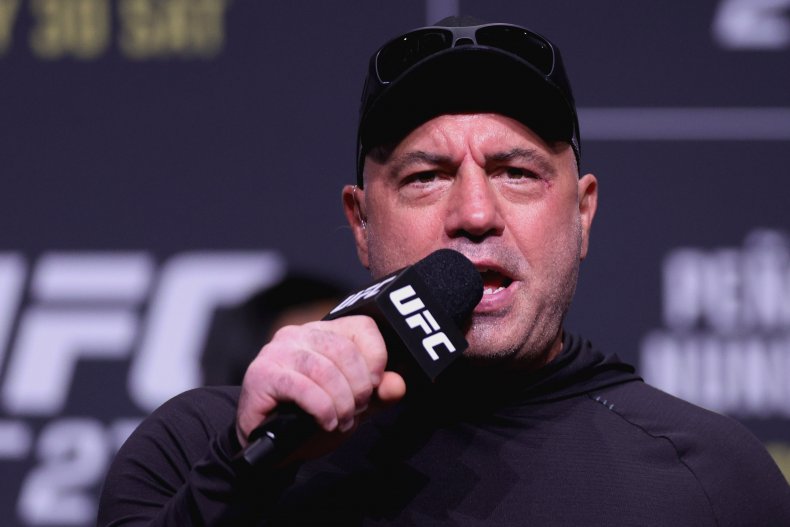 "Nothing compares, nothing compares," Rogan said on the broadcast after the fight. "It's the greatest head kick knockout in the history of the sport with the most consequences, the most at stake, the most doubt, the most people counting him out, including us."
Some were not particularly impressed by the footage of Rogan.
"Joe Rogan has the same reaction to every finish in the UFC the last 10 years... he's awful at his job," said one Twitter user.
"The Joe rogan reaction shot replay was awesome and pure once but now it's played out," wrote Vince Mancini. "It's time to let it go."
Some joked about Rogan's reaction, with author Chris Palmer writing that Rogan "literally turned into an emoji" and Daena Kramer comparing him to the title character from animated film The Boss Baby.
Many also noted that Rogan's reaction clip could be meme fodder for years to come.
"The first time you and the fellas saw boobs in a movie back in the day," Barstool Sports wrote in another tweet alongside the clip.
"Joe Rogan when he found out saunas and Ivermectin don't cure Covid," another Twitter user wrote, referencing Rogan's comments about the drug.
Others joked about Rogan's outfit for the fight: a white shirt with a loosened black tie.
"Good lord! Joe Rogan looks like he just left a brutal 7-hour negotiation with a customer over a 2002 Saturn SC2 at the local car lot," wrote Troy Hughes.
Rogan "looks like he's just finished a long shift at his depressing office job," another user wrote.
Rogan has been contacted for further comment.