Controversial podcast host Joe Rogan nearly got vaccinated a few months ago, but couldn't make the appointment due to logistical challenges.
Rogan told CNN Chief Medical Correspondent Dr. Sanjay Gupta the story as proof he isn't necessarily "anti-vaccine" during a three-hour interview on The Joe Rogan Experience. Rogan told the neurosurgeon that he had an appointment to receive the shot in Las Vegas but never showed up.
"I'm a healthy person, I exercise constantly, I'm always taking vitamins, I take care of myself," Rogan said as his reasons for not getting the vaccine, believing that he would be largely unaffected if he contracted the virus.
Speaking of his own COVID-19 diagnosis in August, Rogan continued, "I felt like I was going to be okay and that was true. That was correct. I'm happy I got through it, I don't wish it upon anyone, it wasn't fun. But it wasn't the worst cold I've ever had and I got over it fairly quickly, relatively speaking."
Gupta pushed back against Rogan and advised him that it's "not a strategy to recommend people get infected." The host said that isn't what he's doing to which the doctor responded that people should get vaccinated.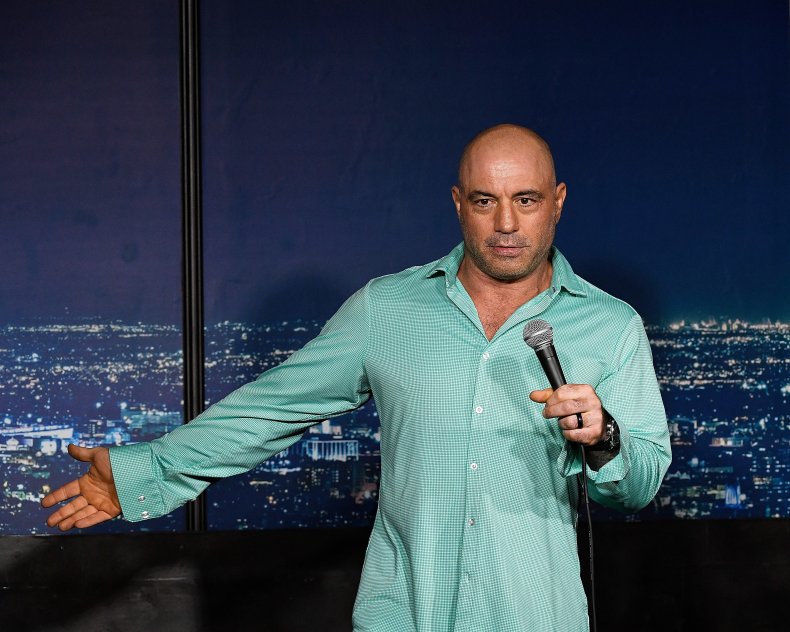 Rogan often questioned the legitimacy of the coronavirus vaccines on his show and told Gupta that "older people, fat people, a lot of those folks" are the people that need to receive the vaccine.
The doctor said that he made the decision to go on the show in an attempt to reach Rogan and his audience.
Gupta continued to tell Rogan that it would be better for someone to never have the virus, or become infected, but that someone who recovered from the COVID-19 should still receive the vaccine.
"I think it would be better to get the virus and recover and have amazing immunity," Rogan responded. He continued, "You know what I think you should do? I think you should get vaccinated and then get sick. This is why: because then you got the vaccine protects you from a bad infection and then you get COVID so then you get the robust immunity that's imparted from having the actual disease itself."
Gupta told the host that following that argument, Rogan should go get one shot of the vaccine. Rogan continued to argue with the doctor by claiming that he has better immunity from having been infected with COVID-19—however, medical experts are unsure how long natural immunity lasts or how it differs from person to person.
While the doctor said he initially hoped to have an open dialogue with Rogan and help change his mind about vaccines, after the interview, it was clear "his mind was made up, and there would always be plenty of misinformation out there neatly packaged to support his convictions."
Newsweek reached out to Rogan for comment.