Alex Jones on Joe Rogan Podcast Sparks Outrage, People Cancelling Their Spotify Accounts
Joe Rogan is facing backlash from a number of Spotify listeners after hosting far-right conspiracy theorist Alex Jones on his podcast this week.
With one week to go until the U.S. election, The Joe Rogan Experience platformed the controversial guest leaving many people who are upset at the nature of what was discussed declaring their intentions to cancel their accounts with the streaming platform.
Jones was banned from a number of platforms, including Spotify, last year and his previous appearances on The Joe Rogan Experience have not been added to Spotify as part of Rogan's deal.
The three-hour episode saw them discuss topics including vaccine conspiracies and Hunter Biden's laptop.
Jones has claimed that the Sandy Hook shooting was staged as well as other increasingly bizarre claims and behavior.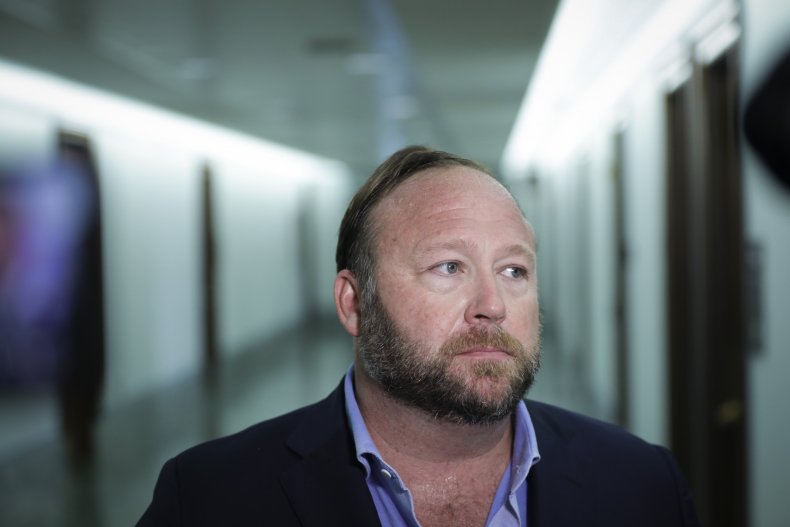 Spotify said in a statement in 2019, that Jones' site Infowars "expressly and principally promotes, advocates, or incites hatred or violence against a group or individual based on characteristics." (per Vox.)
Newsweek has reached out to Spotify for comment on Jones' appearance on The Joe Rogan Experience.
Needless to say, Rogan platforming Jones after he had been famously de-platformed has not gone down well on Twitter.
"Joe Rogan hosted far-right conspiracy theorist Alex Jones on his podcast today," Activist Nathan Bernard tweeted. "They pushed anti-vaxx conspiracies and broadcasted banned Infowars videos. Rogan continuing to platform these far-right sickos is incredibly gross and dangerous."
He added: "Joe Rogan says kids are 'getting polio from taking vaccines' after Alex Jones spreads conspiracy that Bill Gates is trafficking vaccines that get 100 percent of people sick. Great work hosting this, @spotify."
Along with many others, digital media commentator Xeni Jardi confirmed she had canceled her Spotify account as a result.
"Why I quit Spotify when they announced this deal with Joe Rogan. Because F him and Alex Jones. And F @Spotify."
Science YouTuber Kyle Hill added: "Joe Rogan again gives a voice and platform to dangerous nonsense and egregiously uncritical thinking. If you're a fan, give this episode a pass. Do better Joe."
Attorney, author and activist Christine Pelosi, daughter of Nancy Pelosi, tweeted: "Alex Jones posted death threats against me. He called Sandy Hook a hoax and harassed mourning families. Now he is lying about COVID vaccines. His hate speech is not just vile—it's dangerous. WTH Spotify?"
However, many Rogan supporters have defended his choice to feature who he wants as a guest on his show and railed against censorship from the streaming giant.
Podcasters Holli and Michael tweeted: "Absolutely disagree w/Alex Jones, however,I believe in free speech, even if I'm disgusted by what's said. STOP trying to censor people! You forget, when you're censored, no one will be left to defend you. Enough! Change the dial. @joerogan can have guests, you don't have to listen."
Podcaster Saagar Enjeti added: "@joerogan flexing on Spotify employees and letting them know who's in charge (for now)."
While another Twitter user wrote: "Much respect to Joe Rogan for having Alex Jones back on. Eventually we need to reclaim free speech on all social networks or leave these authoritarian sneaks in the dust."
Several people have either canceled or claimed they will cancel their Spotify accounts to protest Jones' appearance on The Joe Rogan Experience.
Spotify employees have reportedly been unhappy with some guests on The Joe Rogan Experience these past few months, specifically over an episode that featured an interview with Abigail Shrier, author of Irreversible Damage: The Transgender Craze Seducing Our Daughters.
In a statement, Spotify CEO Daniel Ek expressed that the company had reviewed the episode and decided against removing it from the platform.
"In the case of Joe Rogan, a total of 10 meetings have been held with various groups and individuals to hear their respective concerns," Ek said (via Industry Observer). "And some of them want Rogan removed because of things he's said in the past."
"Others have concerns specifically over a recent episode," Ek continued. "And Joe Rogan and the episode in question have been reviewed extensively. The fact that we aren't changing our position doesn't mean we aren't listening. It just means we made a different judgment call."