Joe Rogan's Podcast Keeps Mysteriously Disappearing From Spotify
The Joe Rogan Experience, at the center of a fierce controversy over censorship and misinformation, briefly disappeared from Spotify on Monday for unexplained reasons—the second time in days that the show has mysteriously vanished.
For a short period on February 21, Spotify users were unable to access the show from the streaming platform's website, iPhone app and Android app.
The show now appears to be available again and it is not clear why it vanished. But the disappearance is certainly noteworthy given the controversy around the podcast and its host—under fire over COVID-19 misinformation and use of racial slurs—and the removal of dozens of episodes.
Newsweek has reached out to Spotify for comment but received no response by the time of publication.
The Joe Rogan Experience is exclusively available on Spotify, with Rogan famously signing a reported $200 million deal.
Earlier this month, Spotify CEO Daniel Ek confirmed that Joe Rogan himself had removed 113 of his past episodes from the platform over his use of racially insensitive language in old installments as well as episodes with controversial guests that were removed in 2021.
Spotify has maintained support for the flagship show despite intense criticism.
Monday's brief disappearance is not the first time the show just vanished from the platform.
Just last week, on Friday, February 18, the podcast also vanished from Spotify but reappeared minutes later.
At the time, a spokesperson for the streaming giant blamed "technical issues" for the mishap.
"It's a technical issue affecting a number of our shows and should be resolved soon," a spokesperson told The New York Post.
Several high-profile artists including Neil Young and Joni Mitchell have recently removed their music from Spotify in protest at the "deadly misinformation about COVID" discussed on The Joe Rogan Experience.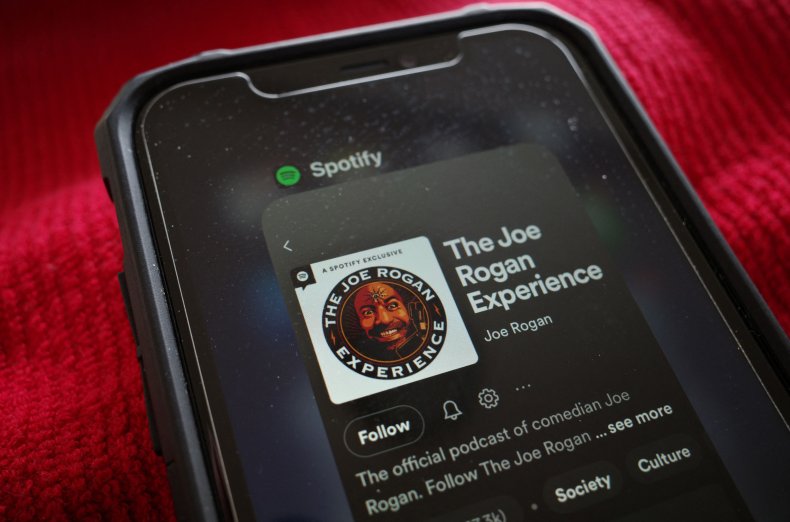 "Spotify represents 60 percent of the streaming of my music to listeners around the world," Young said in a statement on his website.
"Yet my [record label] stood with me, recognizing the threat the Covid misinformation on Spotify posed to the world—particularly for our young people who think everything they hear on Spotify is true. Unfortunately, it is not."
Meanwhile, Rogan has also been embroiled in a controversy over his use of the n-word in dozens of past episodes.
His use of such language was pointed out by Grammy-winning singer India.Arie when she posted a video to social media that featured a lengthy compilation of Rogan using the N-word.
India.Arie has labeled Joe Rogan "consciously racist" for his repeated use of the word.
"He knew it was inappropriate. The fact that he did it repeatedly and was conscious and knew—I think that is being racist, and I don't like even saying that because I'm a sensitive old soul, and I want to believe the best in people," she said on The Daily Show.
Rogan issued an apology on Instagram and said his use of the slur in the video compilation was "the most regretful and shameful thing that I've ever had to talk about publicly."
But he also claimed the clips were "taken out of context" and that he "hadn't said it in years."
Rogan has also defended himself against criticism of his decision to give a voice to vaccine skeptics on his podcast.
In a statement posted to Instagram last month, Rogan apologized and said: "I'm not trying to promote misinformation, I'm not trying to be controversial. I've never tried to do anything with this podcast other than just talk to people and have interesting conversations."
He added that he would "do my best to make sure I've researched these topics" and "try harder to get people with differing opinions" on his show.
The Joe Rogan Experience is currently up and running on Spotify as normal.