Joe Rogan Says Drag Queens Are 'Sexualized' and Shouldn't Perform for Kids
Joe Rogan has called drag shows "sexualized," suggesting they are not for children and compared them to "family-friendly strip shows."
The comedian and controversial podcast host was speaking to his guest, comedian Bridget Phetasy, about the topic of drag performers and children on The Joe Rogan Experience.
Rogan and Phetasy were discussing issues relating to trans women being sent to women's prisons, which led them down the path of discussing other topics relating to the LGBTQ community.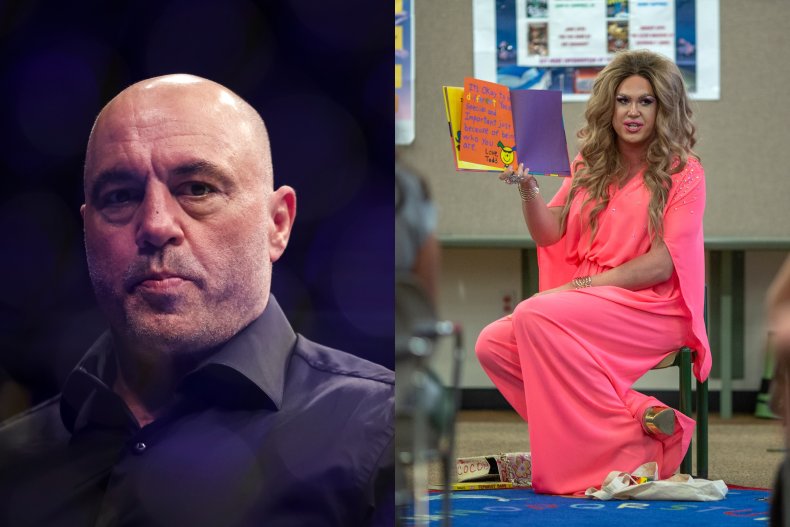 "Drag queen shows for kids, like family-friendly drag queen shows, which is a very bizarre thing," Rogan said on a recent episode of the podcast. "It's not a singular event. There's a lot of that going around.
"I've seen this argument where people are saying like, 'I would want my child to grow up and know that you can express yourself in any way possible.' Well okay, how would you feel about family-friendly strip shows, right?" Rogan continued, asking, "Where you have biological women that are sticking their ass out and—'Put a dollar in her G-string, Billy.' You'd be weirded out right?"
"It's not much different because it's sexualized. A drag queen show in a lot of ways is sexualized and so you're sexualizing this idea of these men—many of them have autogynephilia. [Meaning] they get a sexual kink out of dressing up as women, and then they're doing that in front of children," Rogan claimed.
He added that it's fine for there to be the shows, acknowledging that people love them, but he draws the line at encouraging children to go, participate and give them money.
When reached for her thoughts on Rogan's views, British drag queen La Voix said: "As Dolly Parton would say, 'Of course I have my opinion about everybody and everything, but I learned a long time ago to keep your damn mouth shut if you want to stay in show business. I'm not in politics. I'm an entertainer.'" She added: "I do my best to stay away from politics, I try to focus on entertaining."
Continuing with his thought, Rogan questioned whether the "rise" of such shows is a side effect of "openness and tolerance."
Phetasy interjected at this point, stating that there's Drag Queen Story Hour which is a different type of event. Created in 2015 by author and activist Michelle Tea in San Francisco, it involves a drag queen going to a library and reading stories to kids.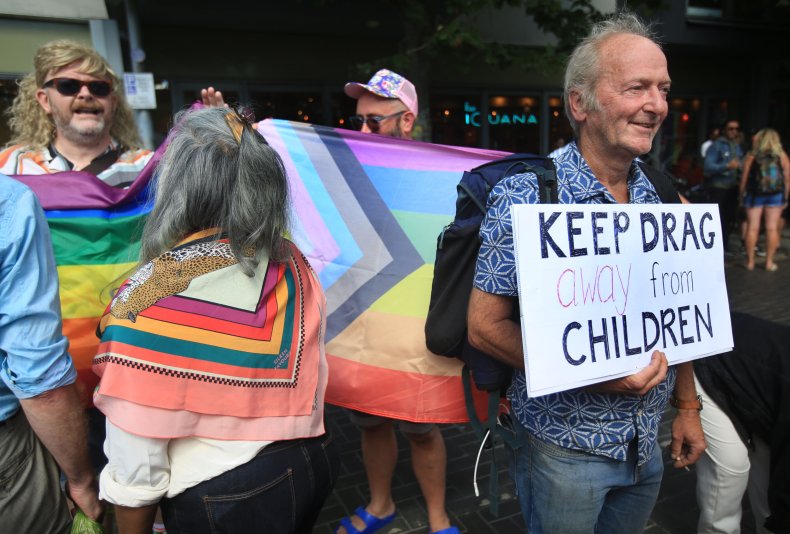 "I think this is where two things are getting combined as one. Drag Queen Story Hour is like you go to a library and there's a drag queen reading a story to your kid. The drag queen shows that we're seeing kids taken to, I don't know what that is," Phetasy said.
Rogan suggested one evolved into the other. "I think that's what comes out of Drag Queen Story Hour when people take it to the next level. Someone's dressed like a woman and reading? Who cares, like what's the big deal?"
He went on to say it could be a beneficial experience for children who are part of LGBTQ families that are only used to seeing traditional mother-father relationships.
Newsweek has reached out to Rogan for further comment. We've also reached out to a number of LGBTQ and drag organizations for their take on Rogan's comments.