Joe Rogan Says He Doubts He'd Even Get Into Canada Without Vaccine After Canceling Show
After canceling his sold-out show in Vancouver, podcast host Joe Rogan said he doubts he would have even been able to get into Canada because he is not vaccinated against COVID-19.
"I should probably say this because I haven't yet. My 4/20 show that's sold out in Vancouver—I don't think that's happening," Rogan said on a December 24 episode of his podcast. "I don't think I can even get into the country. I'm not vaccinated. I'm not gonna get vaccinated. I have antibodies. It doesn't make any sense."
Rogan, who had COVID-19 in September, was scheduled to appear at the Rogers Arena in Vancouver, British Columbia, on April 20.
Federal laws would likely allow for unvaccinated foreign nationals, like Rogan, to enter the country for work-related purposes—as long as they can produce a negative coronavirus test. But those determinations are made by whichever government official is at the port of entry.
Under current travel requirements, unvaccinated foreign nationals, which include Americans, are barred from entering Canada for leisure or optional purposes even if they test negative for the virus.
However, provincial COVID protocols could present a greater challenge for the unvaccinated podcast host.
In British Columbia, several indoor businesses and event spaces, including the arena Rogan was scheduled to appear at, require individuals 12 and older to provide proof of vaccination upon entry. According to the Rogers Arena's policy, guests must be fully vaccinated to attend events.
The venue also announced earlier this month that capacity would be reduced to 50 percent beginning December 20, following the implementation of the province's new restrictions.
In the new podcast episode, Rogan added that he didn't "trust that Vancouver's not going to follow suit along with what Toronto did, where they cut capacity to 50 percent."
Ticketmaster, the event organizer, has confirmed on its website that the show has been canceled. Ticket holders will get a refund within 30 days, the site says.
A post on Rogan's Facebook page says the show has been rescheduled for October 24.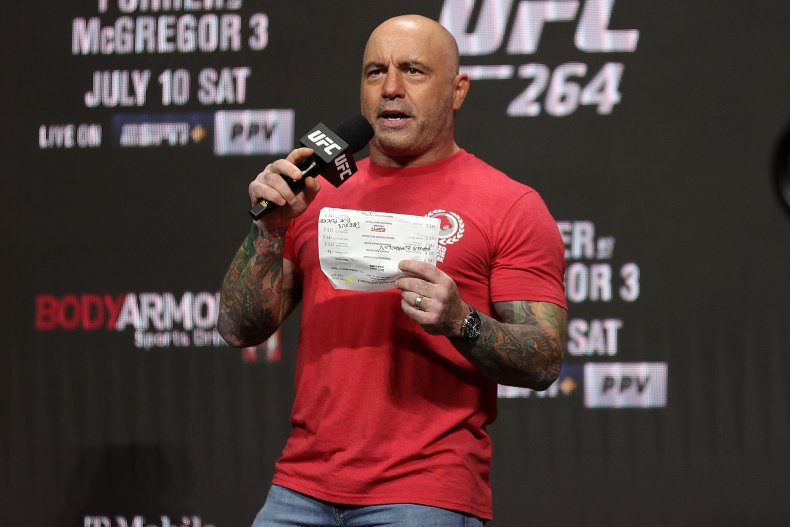 Rogan has been publicly outspoken about vaccine mandates, repeatedly saying he is not vaccinated but is not anti-vaccine.
He has also slammed Canada for its handling of the pandemic, saying that "Canada's f***ed" because of the country's lockdown measures.
"They're so locked down, and I don't understand why they think that's good," he said on the April 28 episode of his podcast.
After he became infected with COVID-19, Rogan publicly described various therapies he received, including monoclonal antibody treatments, vitamin drips, Z-Pak, prednisone and ivermectin. The latter has not been recommended as a COVID treatment by the Food and Drug Administration.
Rogan has continued to refuse to get vaccinated after recovering from disease, citing his natural immunity.
Health experts have warned that individuals who have had COVID-19 are susceptible to reinfection.
A Centers for Disease Control and Prevention study found that unvaccinated individuals who have had COVID-19 are twice as likely to be reinfected, compared with vaccinated people.
Newsweek reached out to the Rogers Arena for comment but did not hear back before publication.