Joe Rogan has weighed in on Johnny Depp's court victory over Amber Heard following their defamation trial, calling the verdict "good for all people who believe in the truth."
Depp, 58, filed a $50 million lawsuit against ex-wife Heard, 36, over a 2018 op-ed in The Washington Post, in which she said that she was a domestic abuse survivor.
Following a six-week trial, the jury on June 1 awarded Depp $10 million in compensatory damages and $5 million in punitive damages. The judge adjusted the punitive damages to $350,000, as Virginia law limits punitive damages.
Heard, who had countersued for $100 million, was awarded $2 million by the jury, which found that Depp's former attorney, Adam Waldman, had made defamatory comments about the Aquaman star.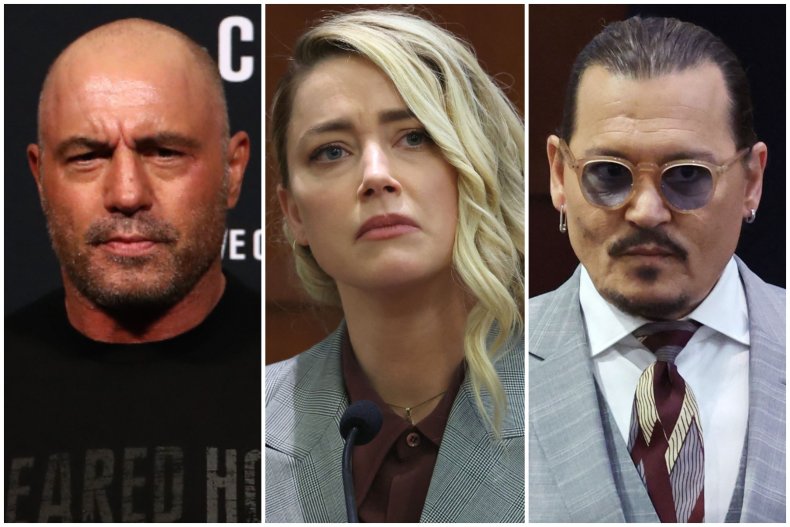 During the proceedings at Virginia's Fairfax County Circuit Court, the former couple hurled a host of allegations at one another, including accusations of domestic violence. Both stars denied the claims.
With the dust continuing to settle from the high profile dispute, Rogan, 54, shared his take on the matter during an appearance on the YouTube show of comedians Andrew Schulz and Akaash Singh, Flagrant.
"I think it was probably good for all people who believe in the truth," Rogan said when asked for his thoughts. "And the problem is there's like this boys versus girls narrative that I think we all get into on these things.
"There's a lot of guys who wanted a guy to win one of these things. But it's just not good to not be honest. And if you're doing that, and you're doing it to try to hurt someone."
"Like if you're purposely changing reality, you're lying about what happened just to try to hurt somebody, you're doing a f***** up thing," the TV personality and podcaster continued. "Because you're pretending you're a victim and so it's not as simple as you're just lying.
"You're turning someone into a criminal, you're pretending you're a victim. And if it's all not true, it's a really bad thing. It's really bad. It's just bad for all of us."
Following the verdict, Heard said in a statement that the "disappointment I feel today is beyond words. I'm heartbroken that the mountain of evidence still was not enough to stand up to the disproportionate power, influence, and sway of my ex-husband.
"I'm even more disappointed with what this verdict means for other women. It is a setback. It sets back the clock to a time when a woman who spoke up and spoke out could be publicly shamed and humiliated. It sets back the idea that violence against women is to be taken seriously."
With many having reiterated her stance on the effect the verdict may go on to have, Rogan said during his appearance on Flagrant: "Someone said that the verdict is bad for women, I'm like that's crazy. It's just not good to do s*** like that, to pretend some guy beat you up."
When asked if he believed that every allegation made against Depp was untrue, Rogan responded: "You know, you watch the trial and you form your own opinions. Unless you're there, unless there's direct evidence and other than the evidence of like the conversations that they had that they were both recording, which is wild."
Shortly after the trial had started in April, Rogan chimed in on the proceedings on his Spotify podcast, The Joe Rogan Experience.
"I'm watching this trial, like it's a cautionary tale about believing in bulls***, like forming a narrative in your head like, 'We're rebels together,'" Rogan told comedian Jessica Kirson. "And then you're seeing it all play out in court like you're seeing all the crazy come out. [Depp] talked about [Heard] s***ting in his bed. Yeah, that's great...That's a real problem. Hard to forget."
Broadcaster Rogan went as far as to call Heard "full of s***" as he also questioned her mental health.
Rogan then drew up Newsweek's April article about Depp testifying that Heard had deliberately defecated on his bed as he and Kirson laughed at video footage of the actor detailing his allegations while on the stand.
While Heard's lawyer has stated that the Texas native plans to appeal the verdict, one of Depp's attorneys has hinted that the damages owed to their client could be waived.