Joe Rogan Shocked Paul Pelosi Had 'No Security, No Gun' at Time of Attack
Joe Rogan is baffled that Nancy and Paul Pelosi had "no security" and "no gun" in their house when the former House speaker's husband was attacked in October.
Rogan, who never shies away from political issues on his podcast, The Joe Rogan Experience, was discussing the break-in at the Pelosi home in San Francisco. The attack forced 82-year-old Paul to undergo emergency surgery after he was hospitalized with a fractured skull and other injuries seemingly caused by a hammer.
New police bodycam footage from the incident has been released and shows suspect David DePape standing with Pelosi before attacking him. DePape has been charged with multiple crimes including assault, attempted homicide, and attempted kidnapping and pleaded not guilty to all state charges.
Rogan discussed the incident with his guest, fellow podcaster and MIT research scientist Lex Fridman.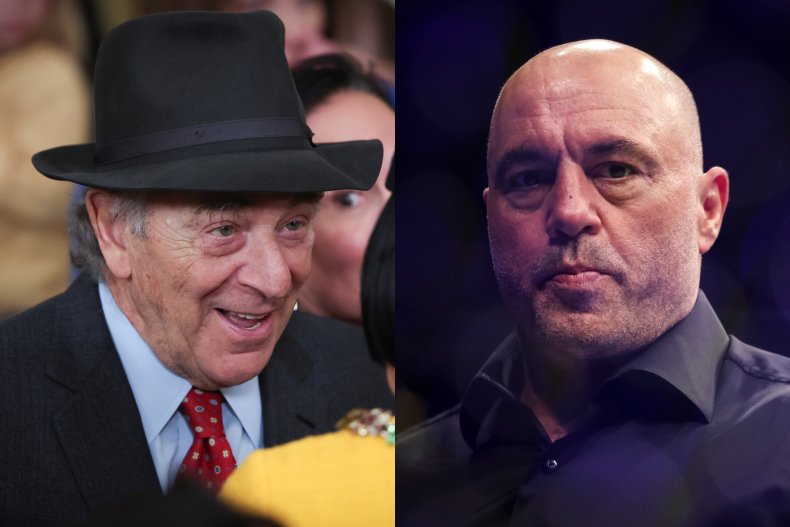 "How does he not have security?" Rogan asked when the Pelosi family came up in conversation. "They're worth hundreds of millions of dollars," he said before bringing up aspects of their businesses and profitable investments.
"They have an exorbitant amount of money. A huge amount of money, and meanwhile, [Paul Pelosi's] just like hanging out in the house with no security, no gun, and everybody knows where the house is. It's kind of crazy that this was the first time a really nutty person [did something]," Rogan said.
"That's a terrifying video by the way," Fridman said, referring to the recently released bodycam footage. "Everything felt calm."
"The look in that guy's eyes did not feel calm," Rogan said of DePape. "When the cops shone a light on him, he was making decisions you could see it in his eyes. He was making rash decisions very quickly."
Former President Donald Trump shared his reaction to the video on his social media Truth Social. "Wow, that's weird, and nasty," Trump wrote. "Not good!"
"With Paul Pelosi, that's a terrible thing, with all of them it's a terrible thing. Look at what's happened to San Francisco generally," he said. "Look at what's happening in Chicago. It was far worse than Afghanistan."
Rogan also commented on his podcast about how bad he thinks San Francisco, the location of the Pelosi home, is right now.
"San Francisco is...overwhelmed with crazy people, man. The streets are filled with fentanyl addicts. You got people that are dying on the streets of overdoses every day. It's a...disaster there."
In March 2022, the San Francisco Department of Public Health issued a health alert in response to a series of overdoses, both fatal and nonfatal, among people inadvertently exposed to fentanyl while using cocaine.
Paul Pelosi's attacker DePape has previously stated he was looking for the then-Speaker of the House Nancy Pelosi when he went to their home.
DePape is currently in the San Francisco County Jail, but he still managed to call the KTVU news station serving California's Bay Area on Friday. In the alarming phone call, he said he was "sorry [he] didn't get more of them" and that he "should have come better prepared."