Joe Rogan Slams Stephen Colbert For 'Weird' and 'Strange' Vaccine Song
Joe Rogan has slammed Stephen Colbert for his behavior during the COVID-19 pandemic.
Rogan discussed the talk show host on The Joe Rogan Experience with his guest, MMA fighter Jake Shields. The conversation has gone viral with thousands of fans of both Colbert and Rogan sharing their take online.
The topic of Colbert came up when Rogan was reflecting on his own career, insisting that he wouldn't have been as popular if he was performing as a comedian in another era. This led Rogan to admit that he would never be given a gig as a late-night talk show host.
Rogan and Shields then discuss their current distaste for Colbert. "It's sad seeing like Stephen Colbert because I used to think that he was funny. And seeing him now is cringe," Shields said. Rogan replied, "He's weird, right?"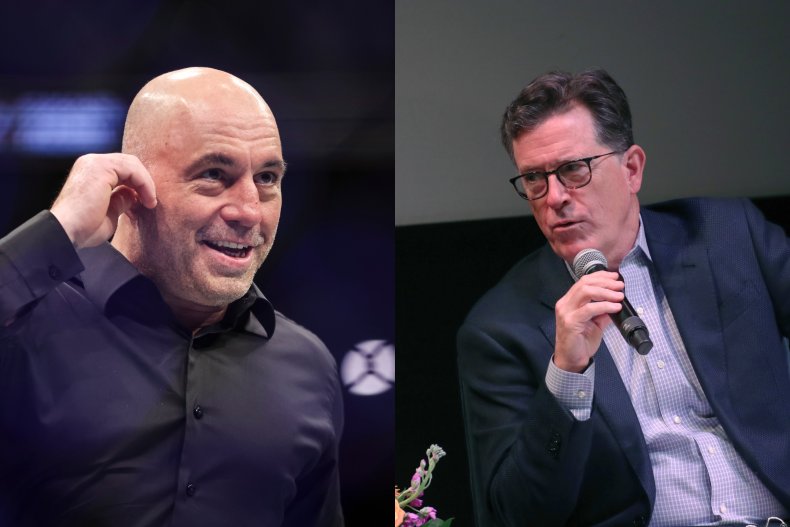 They bring up a 2021 skit that Colbert performed on The Late Show with Stephen Colbert, where he danced with humans dressed as vaccines. It was a recurring skit called The Vax-Scene and in this one, they changed the lyrics of "Tequila" by The Champs to "Vaccine."
"That was strange. I want to be in the meeting when they pitched that," Rogan said of the skit. "Like, where's the joke? People are gonna watch this?"
When Shields points out that Colbert may do it for the fame and money, Rogan talks about the pros of being a late-night host for Colbert.
"I bet it's, for sure, very lucrative. He gets a lot of money. I bet he enjoys being the star of a show. He enjoys being on the 'in,' he's 'in' on the 'in-crowd,'" Rogan said.
They also brought up a clip of Colbert dancing with Senate Majority Leader Chuck Schumer in 2021 at an event where people were wearing masks but the pair were high-fiving. Rogan called the incident an example of "mass psychosis."
Online reaction to Rogan's comments
Twitter seems to be split down the middle with as many people coming out in support of Rogan as they are for Colbert.
User @griffbrand wrote "Stephen Colbert literally used to be my favorite. Crazy what happened to this dude," while @ladhdurham took the opposite view and said of Colbert, "He rocks . People love his comedy. Not so much rogan."
@Jaxs_talks claimed Rogan's opinion of Colbert may stem from "jealousy" but @ColostomyBague2 backed the podcast host and said, "Colbert hasn't been funny or correct in a long time."
Another who stuck up for Colbert was the user @LiberalLaugh who said, "Colbert doesn't pretend to be unbiased, nor does he have to be unbiased. He's a comedian, and he knows his audience."