Joe Rogan Urges Donald Trump to Return to Twitter, Mocks Truth Social
Joe Rogan is urging former President Donald Trump that he must return to Twitter if his lifetime ban gets lifted, or risk losing the 2024 presidential election.
Speaking on Tuesday's episode of The Joe Rogan Experience podcast, Rogan called the news of Elon Musk's $44 billion takeover of Twitter "f***ing amazing" and said the move could "change everything" about the social media platform.
"I wonder how quickly it is for Donald Trump's back," Rogan mused, before his producer, Jamie Vernon, reminded him that Trump has already said he has no intention of returning to Twitter and would stick with his Truth Social platform. The former president was banned from Twitter in the wake of the attack on the U.S. Capitol in January 2021 over fears that his tweets could incite more violence.
"Why are we playing around with this Twitter s**t, we should be on Truth Social," Rogan said.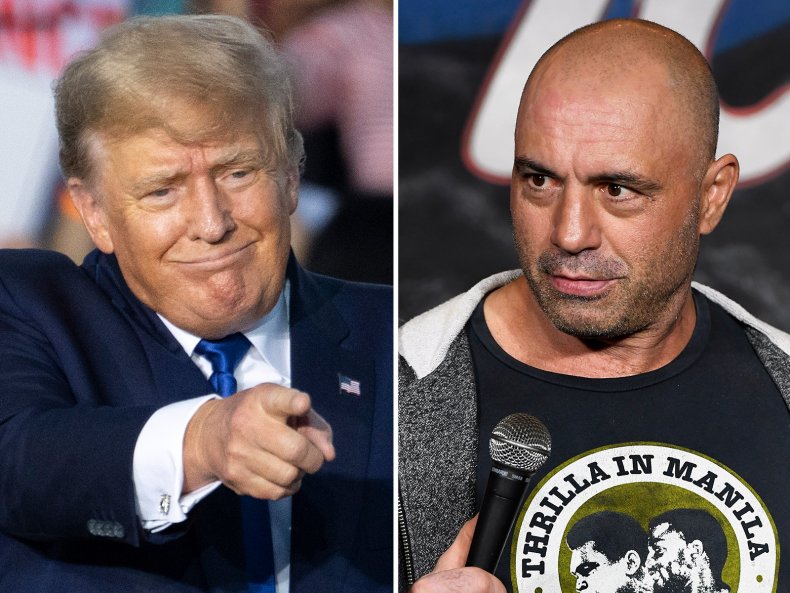 Rogan's guest for the episode, actress Jessica Kirson, asked him if Truth Social is big. In reply, Rogan appeared to mock Truth Social, which has been hit with a number of issues following its launch in February, including plummeting usage and traffic.
"The biggest," Rogan replied before imitating Trump's voice and mocking his tendency to boast. "It is the best. The biggest of all time. They say that Twitter's not as big."
Rogan then read a headline from Variety that states: "Donald Trump says I'm not going back to Twitter. Even with Elon Musk".
"Donald, reconsider," Rogan said. "Can you imagine the f***ing tweet? Look, do you want to win or not? You wanna f***ing win?"
Trump has not formally announced his intentions to run for president again but has teased a possible campaign, and is the overwhelming favorite to win the Republican Party nomination for the 2024 election.
There has been speculation that Musk's apparent desire to lessen content moderation on the platform could see a number of people who had their accounts suspended be allowed back on Twitter.
However, Trump told Fox News he wouldn't return to the platform where he had 88 million followers and instead stay on Truth Social. Trump has only posted once on his Truth Social platform in the more than two months since it launched on the Apple app store.
"We're taking in millions of people, and what we're finding is that the response on Truth is much better than being on Twitter," Trump said. "Twitter has bots and fake accounts, and we are doing everything we can. The bottom line is, no, I am not going back to Twitter."