Joe Rogan's Vaccine Remarks on Podcast Spark Fierce Debate
Joe Rogan has sparked a fierce social media debate after telling young listeners they should not get the coronavirus vaccine.
Speaking to comedian Dave Smith on his podcast on Tuesday, the UFC commentator said that young people don't need to "worry" about the vaccine if they're healthy.
His comments came despite guidance from the Centers for Disease Control and Prevention (CDC), which said all adults aged 16 and over are now eligible to get the coronavirus vaccine in the U.S. Vaccines also prevent transmission of the virus to others and can help towards herd immunity, the CDC added.
The 53-year-old podcaster said: "I think you should get vaccinated if you're vulnerable. I think you should get vaccinated if you feel like—my parents are vaccinated? I've said, yeah, I think for the most part it's safe to get vaccinated. I do. I do.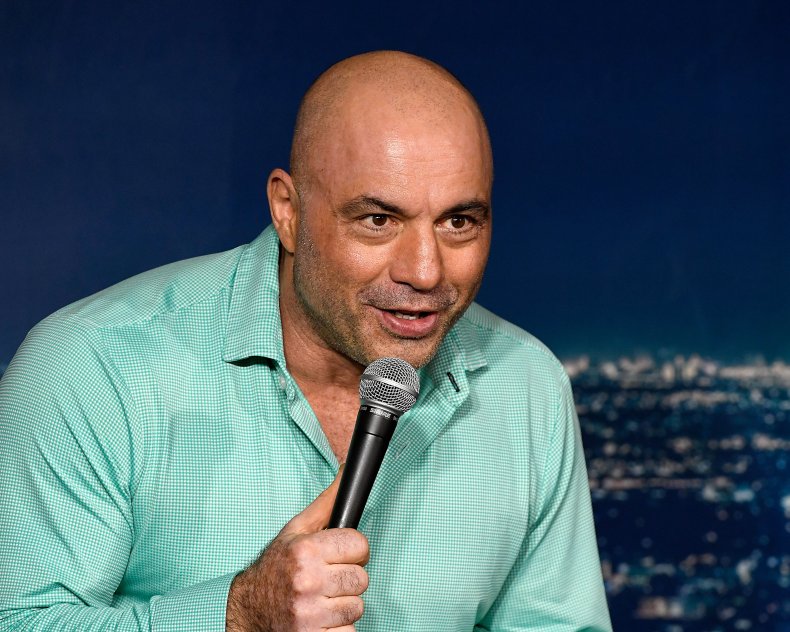 "But if you're like 21 years old, and you say to me, 'should I get vaccinated?' I'll go 'no.' Are you healthy? Are you a healthy person? Like, look, don't do anything stupid, but you should take care of yourself. You should—if you're a healthy person, and you're exercising all the time, and you're young, and you're eating well, like, I don't think you need to worry about this.
Smith, who also slammed vaccine passports on the podcast, said: "Yeah. I tend to agree with you."
But comedians, celebrities and commentators immediately slammed the remarks, telling social media users not to take medical advice from the comedian.
Sports commentator Keith Olbermann led the criticism, tweeting: "If you're like, a sentient being more biologically advanced than an amoeba and you say to me, should I take medical advice from @joerogan? I'll go no."
He shared Sports TV producer Casey Pratt's similar comment, which read: "If you're like 21 years old, and you say to me, should I take medical advice from Joe Rogan? I'll go no."
Podcaster Ethan Klein joined them, saying: "Healthy young people DEFINITELY SHOULD get the vaccine. That's how we stop the spread. Not rocket science guys. It's about returning to normal and saving lives. In India they are literally burning bodies in the street while people like Joe Rogan encourage people not to vaccinate."
Writer William Oremus added: "Do people like Joe Rogan who frame masking and vaccines as individual health choices really not understand that they're as much about protecting *others* as protecting yourself?
"Or are they just pretending not to understand it because it's easier than admitting they don't care?"
New York Times columnist Farhad Manjoo also tweeted: "if you're 21 years old and you say to Joe Rogan, should I get a vaccine? I'll go, wtf are you doing asking Joe Rogan?"
Political commentator Judd Legum added: "My feeling is that, no matter what your age, you should not take medical advice from Joe Rogan."
But many Twitter users were quick to rebuttal these comments, saying that Rogan is "correct" about young people not getting the vaccine.
Rapper Zuby tweeted: "Joe Rogan said that he doesn't think healthy 21 year olds should take the 'rona jab. That makes perfect sense.
"I actually think that's why the usual weirdo mob is attacking him. Because he's correct. They hate that. Psychopaths all over this app."
Conservative commentator Liz Wheeler added: "Joe Rogan is correct about the COVID vaccine for kids & young healthy people."
Author Tim Young added: "Uh oh... Joe Rogan basing vaccine decisions off of actual statistics instead of fear has upset the cultists."
Meanwhile, conservative commentator Steven Crowder said: "There is nothing inaccurate, out of line or even remotely radical about Joe Rogan's statements."