Joe Scarborough Rips Brett Kavanaugh's 'Lack of Humanity' for Snubbing Parkland Victim's Father's Handshake
MSNBC's Morning Joe co-host Joe Scarborough slammed Supreme Court nominee Brett Kavanaugh on Wednesday for appearing to snub the father of a Parkland shooting victim by refusing to shake his hand at his confirmation hearing the previous day.
Morning Joe aired footage of Fred Guttenberg, who became a gun reform activist after his 14-year-old daughter Jamie was killed in the February mass shooting in Florida, approaching Kavanaugh for a handshake. Guttenberg tweeted that he introduced himself as a victim's father and that Kavanaugh "pulled his hand back, turned his back to me and walked away."
"I guess he did not want to deal with the reality of gun violence," Guttenberg added in a message in line with Kavanaugh critics' belief that his confirmation would bring about laws against stricter gun control.
"It's one thing that the guy can't get Congress to do the right thing and even pass reasonable background checks. Here, he can't even get a judge to shake his hand," Scarborough said of Guttenberg.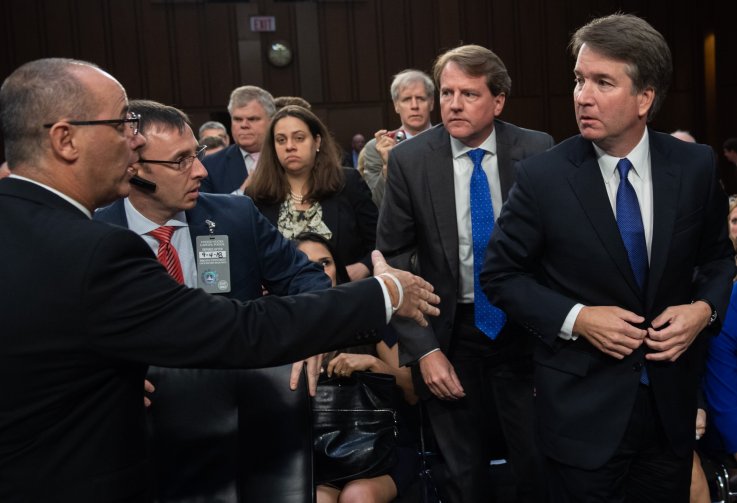 "He's the one who had to go to his 14-year-old daughter's funeral and go to the grave site and bury his 14-year-old daughter, and go there instead of going to her school events this year," Scarborough said. "In what should have been a joyous year, he has to go take flowers to her graveside and Brett Kavanaugh can't shake the guy's hand and then 20 minutes after he sends his security detail out to harass him."
Scarborough then spoke out against the pro-life community, many of whom are also pro-gun.
"Please, please, get on your blog this morning and defend that lack of humanity, because you're pro-life," the television host said. "Please, come at me. Attack me with your stupid words, because you're pro-life.
"Why don't you just get sucked down into this drain of this inhumane Trump world that we live in right now, in politics? Why don't you defend Kavanaugh? Okay? Why don't you enable him to be hateful to other people?" Scarborough continued. "Or perhaps you could say, hey you know what, judge? We support you. You really screwed up yesterday and owe Fred an apology. Now are you that much of a human to do it? I doubt it. Because I've read your work before."
In response to Guttenberg's initial tweet, White House Deputy Press Secretary Raj Shah said that Kavanaugh was heading out for his lunch break when "an unidentified individual approached him. Before the Judge was able to shake his hand, security had intervened."
In an interview with Newsweek earlier on Wednesday, Guttenberg said Senator Dianne Feinstein, who invited him to the hearing, had introduced him and that he "wasn't looking to create a viral moment."
He added: "I wanted to look another person in the eye who cares deeply about his family and to tell him my story."
Joe Scarborough Rips Brett Kavanaugh's 'Lack of Humanity' for Snubbing Parkland Victim's Father's Handshake | U.S.