Joe Scarborough Says Donald Trump is the 'Little Fat Guy Behind the Curtain in the Wizard of Oz'
MSNBC host Joe Scarborough has called Vice President Mike Pence a liar for enabling President Donald Trump to exaggerate the threat of illegal immigration.
The Morning Joe presenter said that Pence was guilty of teaming up with Trump in promoting a false idea about the immigration threat that the president says exists on the border with Mexico.
Read more: Trump Called a 'Motherf***er' for Second Time in 3 Days
Trump has refused to budge on his demand for funding for his border wall, leading to an impasse which has led to a government shutdown that is now in its 16th day.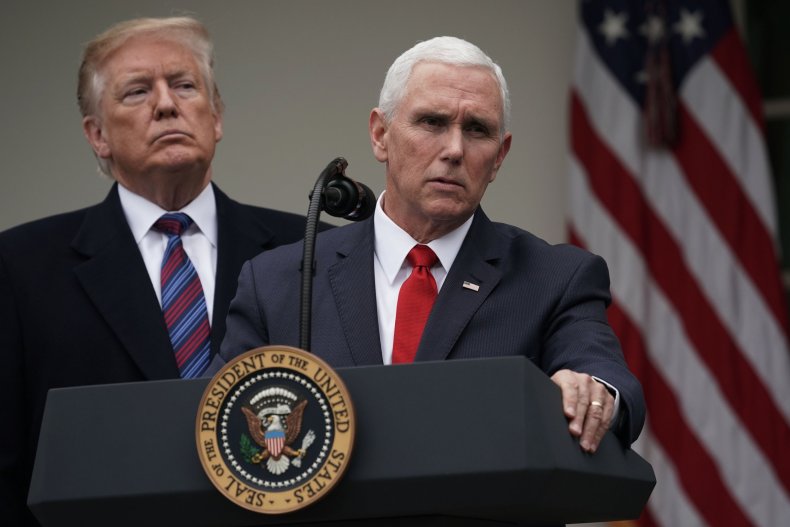 Scarborough said that Pence was helping Trump to peddle lies about the illegal immigration threat, pointing out that the government's own statistics were at odds with the claim that 4,000 "terrorists" were coming across the southern border.
On Monday's program, Scarborough said: "There's actually a negative net flow going back into Mexico. You could literally go line by line by line, the president talking about applying for citizenship at the southern border. That's not where you apply for citizenship at the southern border."
He then referred to an article in The New York Times, claiming that in 2014, Trump's advisers came up with the idea of promising to build a wall on the campaign trail simply as a memory trick to remind him to talk about immigration.
"Their entire ruse of this wall, which we found out in fact was just a memory device so the president would remember to talk about illegal immigration, it's all a farce," Scarborough said.
"It's all the little fat guy behind the curtain in 'The Wizard of Oz,' except he's no wizard, he's a shameless reality TV game host turned demagogue and our country is in a shutdown because of it."
"Mike Pence (was) lying through his teeth last week, and Mike Pence knows he was lying through his teeth last week when he talked about the crisis at the sudden border, this caravan, this invasion of illegal immigrants.
"The number has gone down steadily over the past decade."
Trump has reiterated he would not reduce his demand for $5.6bn in funds and has threatened to declare a national emergency. More than 800,000 federal workers are affected by the impasse as Democrats continue to refuse to back Trump's demand.
However, some conservative voices are concerned that Trump's focus on the wall could be to the detriment of other, more effective immigration policies.
"I've always thought it created a danger that he would trade almost anything in order to get the wall—I think that's still a potential danger," Mark Krikorian, the executive director of the Center for Immigration Studies, told the NYT.
And the conservative commentator Scott Jennings, who usually defends Trump, said on CNN that he could not understand why the White House was insisting terrorists were pouring through the southern U.S. border.
"I don't understand (why) the White House is transitioning to a different argument on Sunday on this border wall. You know, this has been an illegal immigration debate heretofore, that's what's worked for the president… Now they're transitioning to a debate over terrorism," he told the network on Monday.
Correction 1/7, 9:45 a.m.: The headline on this story mistakenly identified Pence as the subject of Scarborough's "little fat guy" comment.