'Watch Out, Obama': Joe Walsh's War on Black Lives Matter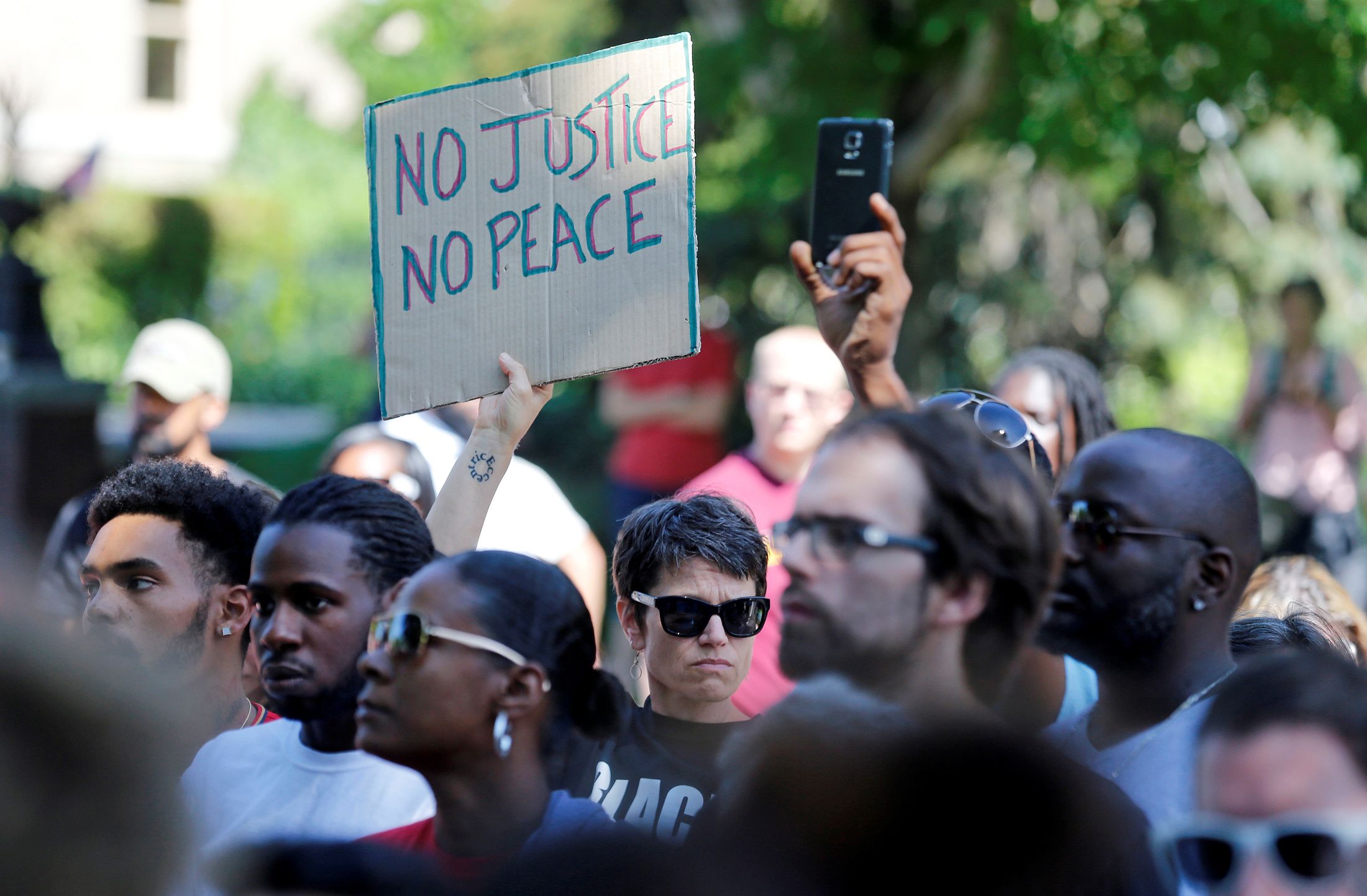 "I'm not some crazy guy," says the man with the Midwestern accent on the other end of the line.
As we speak, the television in the hotel room plays gruesome scenes from Dallas the night before. I am watching, and he is probably watching, and so are millions of others, vacillating between grief and outrage and disgust, trying to make sense of not only the police shot in Dallas but also the shootings of black men earlier in the week in Minnesota's Twin Cities region and Baton Rouge, Louisiana, and of viral videos that seem to show a nation infected by some virus of violence and hatred.
"Respect cops," the man on the line says he'd advise blacks. "Don't resist arrest. I have never heard Obama tell black Americans, 'Don't ever resist arrest.'"
This is far more measured than what Joe Walsh had said only hours before. Walsh, a former Republican politician from Illinois who now hosts a conservative radio show, sent some of the more incendiary tweets in the wake—in the midst, really—of the Dallas attacks. One tweet (later deleted), told Obama and Black Lives Matter "punks" to "watch out" because "Real America is coming after you."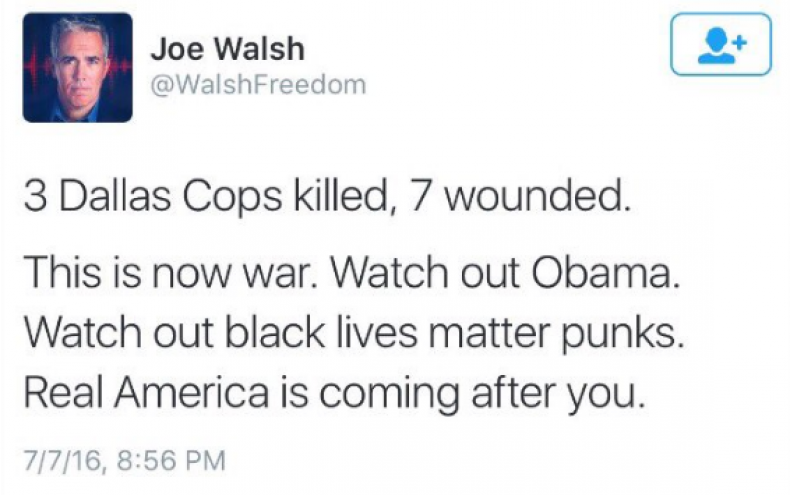 The tweets that followed, and which remain in full public view, are hardly less strident. "You did this Obama," said one. "You did this liberals."
Like many others on Twitter, I expressed outrage at his suggestion that some "real America" would revolt against President Barack Obama and Black Lives Matter. Like many others, I mocked him—Twitter is best for mockery and outrage and not much else. But then, at some late hour of the night, I went to Walsh's website and sent him a note through the "contact" form, thinking that some intern would surely delete the request.
I was surprised when, the following morning, an Illinois number appeared on my iPhone.
Walsh tells me he does think the "principal blame" for the killing of those five officers in Dallas lies with "the person who pulled the trigger." Yet he doesn't back down from the previous night's criticism of Obama and the Black Lives Matter movement.
"All the hatin' on cops has caused thugs to kill cops," Walsh says, dating the rise of anti-police sentiment to the protests in Ferguson, Missouri, which took place two years ago, after black teenager Michael Brown was killed by white officer Darren Wilson. "His initial response to Ferguson set the tone," says Walsh of Obama. "He sent a mixed message at best," one that Walsh believes is directly responsible for what happened in Dallas.
But when I press him on the particulars of Obama's inflammatory rhetoric, Walsh falters. Obama was criticized for saying little about Ferguson at first. Months after the initial protests, when a Missouri grand jury declined to indict Wilson, Obama urged protesters to keep calm and praised law enforcement officers: "Understand, our police officers put their lives on the line for us every single day."
These facts aren't likely to convince Walsh and others who are certain Obama is stoking a "war on cops." For many conservatives, any questioning of an officer's use of force is an implicit denunciation of all police. For example, Walsh tells me that Minnesota Governor Mark Dayton is "cowardly" for suggesting that the killing of Philando Castile in a Twin Cities suburb was motivated by race. "The governor of Minnesota convicted that cop yesterday afternoon," Walsh says with disgust that comes across the line with perfect clarity.
Walsh's greatest scorn, though, is reserved for Black Lives Matter, a protest movement he believes explicitly encourages violence against police officers—and which he suggests could be in league with or infiltrated by Islamic radicals.
The response to his tweets has only hardened Walsh's convictions. "The silent majority is gonna begin to stand up and defend our cops," he says. The "real America" he referenced in his most inflammatory tweet (since deleted), he says, is not some white supremacist fantasy but, rather, a multiracial coalition whose members support law and order and are willing to fight against "the crazies on the left and the haters in Black Lives Matter." (He makes clear, though, that he does not advocate for violence.)
Toward the end of our conversation, I ask Walsh if America is a racist nation.
"God, no," he says. He acknowledges that racism still exists but says directing animosity toward law enforcement is only hurting the cause of equality. "I wish black Americans would get off this."